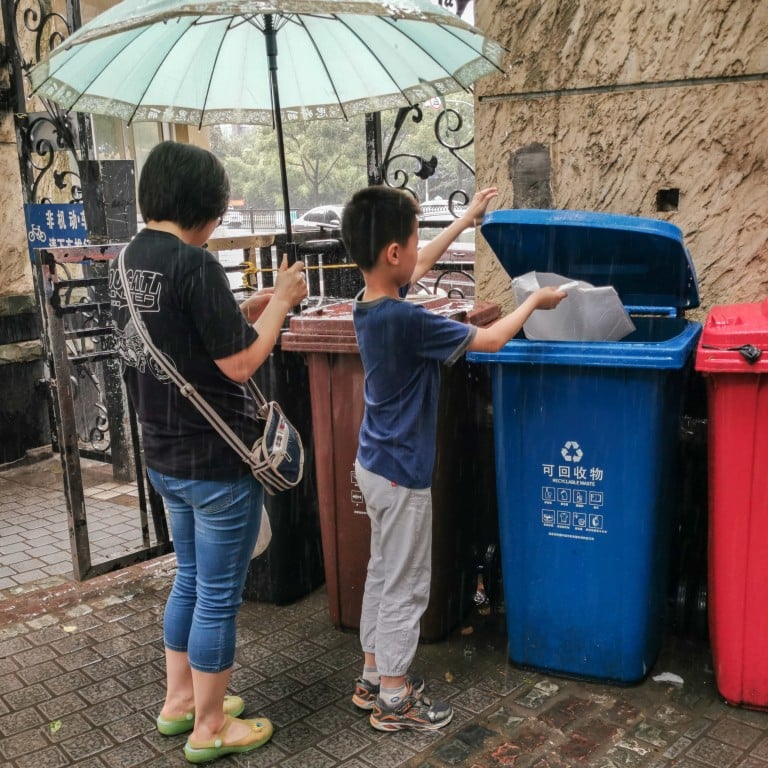 China's plastic problem: lack of circular economy stifling 'necessary' reform of high-pollution industry
As the world's largest manufacturer and exporter of plastic, China is in urgent need of more efficient methods of plastic recycling and reuse, new study finds
China's existing plastic-packaging policy still lacks compulsion and uniformity, and it is costing billions of US dollars a year
China lacks substantial impetus in its push to implement a circular economy for its plastics industry, leaving the root cause of plastic pollution largely unchecked, industrial experts and research have implied.
China's plastic-packaging industry should move to an efficient and resource-saving circular economy from the current linear economic model, according to a report by the Ellen MacArthur Foundation and Tsinghua University that was released last week.
This report, in line with the country's goal of creating a waste-free society during its 14th five-year plan period from 2021-25, called for focusing on source reduction, the enhancement of the waste-plastic-packaging recycling system, and the development of a high-quality recycled-plastics market.
"We are at a special time when extreme weather events across the country are causing concern, but in the near future the fight against plastic pollution will receive the same attention as climate change in China," said Li Jinhui, a professor with the School of Environment at Tsinghua University, and executive director of the Basel Convention Regional Centre for Asia and the Pacific.
Confronting the current plastic pollution and economic losses caused by the plastic-packaging industry, the report said that transforming the plastics recycling economy is of urgent importance for China.
For more than a decade, China has been criticised as one of the largest contributors to plastic pollution. Overseas studies in recent years indicated that China produced one-fifth of the world's single-use plastic, and that its subpar waste management had led to an increased risk of those plastics making it to the ocean.
In 2020, China's production of plastics in their primary form surpassed 105 million tonnes, accounting for nearly one-third of global plastics production, and around half of the plastics were used in packaging production, according to data released by the National Bureau of Statistics (NBS) and Wood Mackenzie, an energy and commodities consultancy.
The United Nations Environment Programme conservatively estimates that the environmental cost of inefficient plastic-packaging recycling is around US$40 billion globally, and approximately 95 per cent of the value of plastic packaging material is wasted due to single use, resulting in a direct economic loss of nearly US$80 billion to US$120 billion per year.
By 2040, the development of a circular economy for plastics is expected to prevent 80 per cent of plastics from entering the oceans while reducing global greenhouse gas emissions by 25 per cent annually, compared with the current linear model, according to the report.
If China implements a circular economy for plastic packaging, reducing the use of just one tonne of plastic packaging at the source can reduce about 3.5 tonnes worth of greenhouse gas emissions, while for every tonne of recycled plastic used, 1 to 3 tonnes of carbon emissions can be reduced, said the project manager for the Ellen MacArthur Foundation's study, Jia Zhongnan.
"We've been talking about carbon reduction and carbon neutrality these years, and a plastics circular economy can contribute to our country's goal of reducing carbon emissions," Jia said.
In March, China said it expects its carbon emissions to peak by 2030, and that it will achieve net-zero greenhouse gas emissions by 2060.
"China has set ambitions for creating a low-carbon society … To realise these ambitions, creating a circular economy is necessary," the Ellen MacArthur Foundation plastics team leader, Sander Defruyt, said at an event celebrating the report's release.
The world's top producer published a five-year plan on plastic pollution in September 2021, calling for the creation of a control mechanism covering the entire production and consumption chain by 2025.
China's existing plastic-packaging system still lacks compulsion and uniformity, making it difficult to form a real industry standard.
The Ellen MacArthur Foundation's study also said more consistent standards are needed to guide industrial development.
The foundation offers recommendations for achieving a circular economy in the plastic-packaging industry from government, industry associations and businesses perspectives, including systematic policy development, guidance and assistance to different sectors of the market, and guidance to consumers.
Bao Chen, director of public affairs for Mars China, said during the study-release event that the company has been experimenting with a reusable packaging business model in southern and eastern Chinese cities such as Shanghai and Wuhan since last year.
"We offer our consumers chocolate beans in bulk and metal boxes to take their chocolate, if they come back to the shop with the same box, a discount will be offered," Bao said. "We want to incentivise consumers to use reusable packaging in this way, and we are still gathering feedback to see how well it is received by consumers."
As the spokesman for the Chinese arm of Mars, one of the world's largest food producers, Bao also called on regional governments to launch pilot projects for a circular economy in plastic packaging ahead of Beijing, thereby promoting the development of the industry and the eventual implementation of policies.
Zhao Nana, assistant director of the Basel Convention Regional Centre for Asia and the Pacific, agreed that the implementation of a plastics circular economy by local governments is lacking, as the related policies issued by the central government are not complete and mandatory enough, according to her research in various regions.
"Everyone may well realise it's time to make changes, but when it comes to actually breaking the existing state of affairs to make improvements, local authorities need to be more proactive," Zhao said.