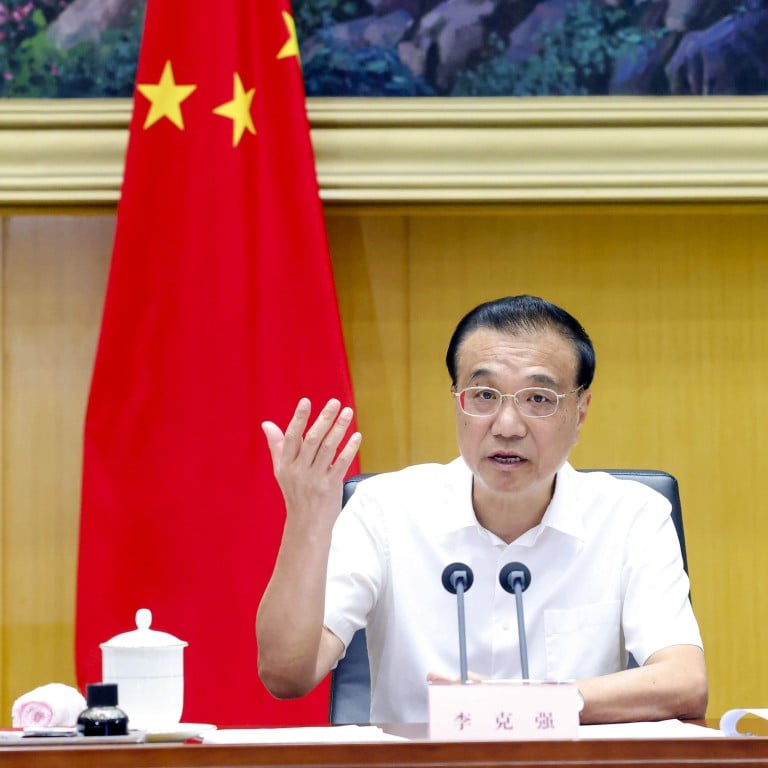 China pledges greater economic support ahead of Party Congress, firms 'facing more difficulties' than 2020
Li Keqiang says one crucial way to stimulate the market is reform, and Beijing will unveil details of new support policies in coming days
Li's comments follow a similar warning about stalling economic growth in May and come ahead of the 20th party congress in October
Premier Li Keqiang has sounded another warning about China's economy ahead of the 20th party congress, saying companies are "facing more difficulties than in 2020" – during the initial outbreak of the coronavirus – while calling for more reform.
Speaking at a State Council meeting on Wednesday, he said "market entities" were struggling and China was at a critical point in its economic recovery, so effective delivery of support policies was important.
In the face of downward economic pressure, the premier said the government will unveil details of new policies in the coming days.
"Reform is an extremely important tool in the policy toolbox. [We need] to adhere to reform to further reduce the institutional transaction costs of market entities," he said, according to a summary of the meeting by the official Xinhua News Agency.
Li's comments follow a similar
warning in May
and come as China enters the last month of the third quarter, with economic expansion stalling and the government's annual growth target of "around 5.5 per cent" looking increasingly out of reach.
China suffered its worst coronavirus outbreaks since the onset of the pandemic over spring, leading to partial shutdowns or lockdowns in several manufacturing and commercial hubs, including Shanghai, Beijing and Shenzhen.
In his speech, Li emphasised the role of local governments in economic stabilisation.
Beijing has dispatched high-ranking officials, including cabinet ministers, across the country to supervise local governments in implementation of economic policies. But Li said local governments must also take responsibility for themselves.
In mid-August, the premier urged wealthy provinces to "take a lead and play a key role in supporting a stable economy" during a visit in Shenzhen.
The governor of the People's Bank of China, Yi Gang, and the housing minister Ni Hong last week travelled to Henan and Fujian, respectively, provinces which have been affected by the real estate crisis.
Last month, Li rolled out 19 new support policies for the economy. The stimulus package is worth 1 trillion yuan (US$146 billion) and focused largely on infrastructure. Some 300 billion yuan of which has been earmarked for the development of policy-based financial instruments.
The premier said a timetable to stabilise the economy would be unveiled before the country's twice-a-decade party congress on October 16.
"The implementation rules should be out in early September, focusing on expanding effective demand, promoting investment and consumption to increase employment, and consolidate the foundation of economic recovery," Li said.
China has prioritised social and economic stability ahead of the party congress, a pivotal political event that will usher in new leaders and is likely to see President Xi Jinping cement a third term as president.
In July, Xi said the country must "maintain the general stability of economic and social development and create a good environment for the 20th party congress", state media reported.