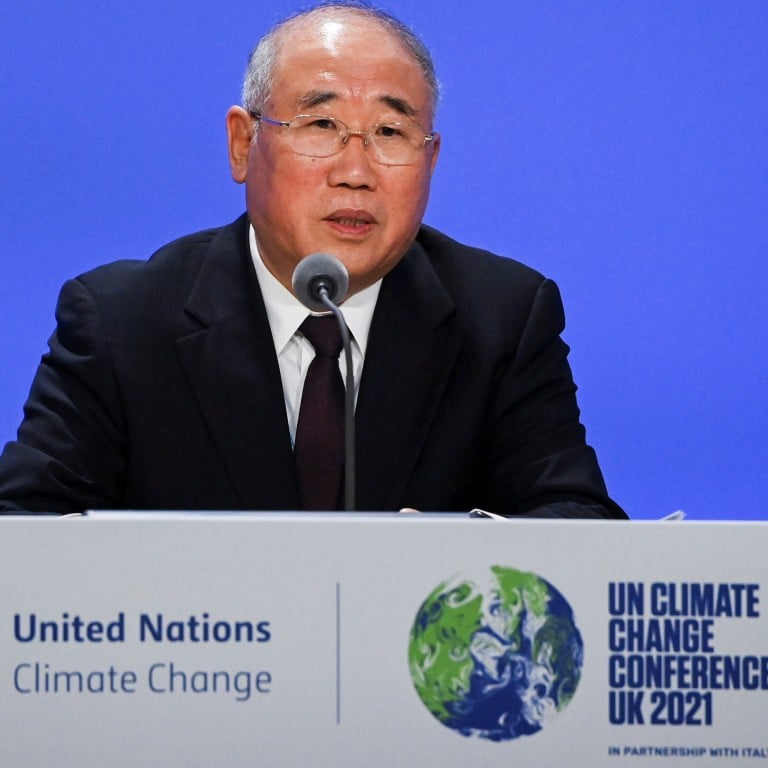 US climate bill still falls short of China's clean energy investment, says Beijing envoy
Xie Zhenhua, China's special envoy for climate change, says developed nations have failed to contribute US$100 billion per year to combat climate change
Xie's US counterpart, John Kerry, this week urged President Xi Jinping to resume climate change discussions that were suspended by Beijing in August
The US will still trail China in clean energy investment even after passing a landmark climate bill last month, according to Beijing's special envoy, adding developed nations are falling short of their climate finance commitments.
By 2021, China had invested US$380 billion in clean energy – "ranking first in the world" – more than the US$370 billion allocated for climate spending in the US Inflation Reduction Act, which President Joe Biden recently signed into law, said Xie Zhenhua, Beijing's special envoy for climate change.
China's installed non-fossil fuel energy capacity reached 1.12 billion kilowatts by the end of last year, on par with total US installed energy capacity, which was about 1. 1 billion kW, Xie said on Thursday.
Last month, Beijing suspended dialogue on climate-change issues with Washington as a part of the response to US House Speaker
Nancy Pelosi's visit to Taiwan
.
Xie's US counterpart, John Kerry, urged Chinese President Xi Jinping to resume suspended discussions on Tuesday in an interview with the Financial Times.
The former US Secretary of State also said that he was hopeful the countries could "get back together" ahead of the United Nations' Climate Change Conference in Egypt in November.
Xi told a United Nations summit in September 2020 that China – the world's largest emitter of greenhouse gases – will strive to peak carbon dioxide emissions before 2030 and
achieve carbon neutrality before 2060.
In 2009, wealthy countries pledged to contribute US$100 billion per year to combat climate change by 2020. But Xie pointed out they had not met the commitment, with the current level around US$80 billion.
"There has been a lack of political mutual trust on the issue of funds," Xie said while addressing the Climate Economy Summit at the China International Fair for Trade in Services.
He also said that developed countries had not made enough effort to reach carbon neutrality by 2045, with only Germany having set such a goal.
Amid the energy crisis, some developed countries have stepped back from their climate policies and taken measures to increase the consumption of coal and other fossil fuels, Xie added.
China has also seen a surge in approvals for coal-fired plants – the dirtiest energy source – following a power shortage last year, with provincial governments set to add 8.63 gigawatts of power in the first quarter of 2022 alone, nearly 50 per cent of the capacity approved in the whole of 2021, according to a
report from Greenpeace East Asia
in July.
Xie urged all countries to continue with their climate pledges in the face of multiple challenges including geopolitics, energy and food security and coronavirus controls.
"To implement the Paris Agreement, it is hoped that all parties will promote multilateral process and pragmatic cooperation with creating a stable political environment, an open economic and trade environment and an inclusive public opinion environment," he said.
"Developed countries should earnestly fulfil their obligations to take the lead in substantially reducing emissions, meet their commitments of capital contribution and technology transfer and maintain political mutual trust among all parties.
"No matter what changes in other countries' climate policies, China will always hold the strategic ground to actively deal with climate change."
China might need to invest more than 130 trillion yuan (US$18.8 trillion) before achieving carbon neutrality, which could create "very good development opportunities" for the industry of green and low-carbon transformation and employment within the industries, he said.