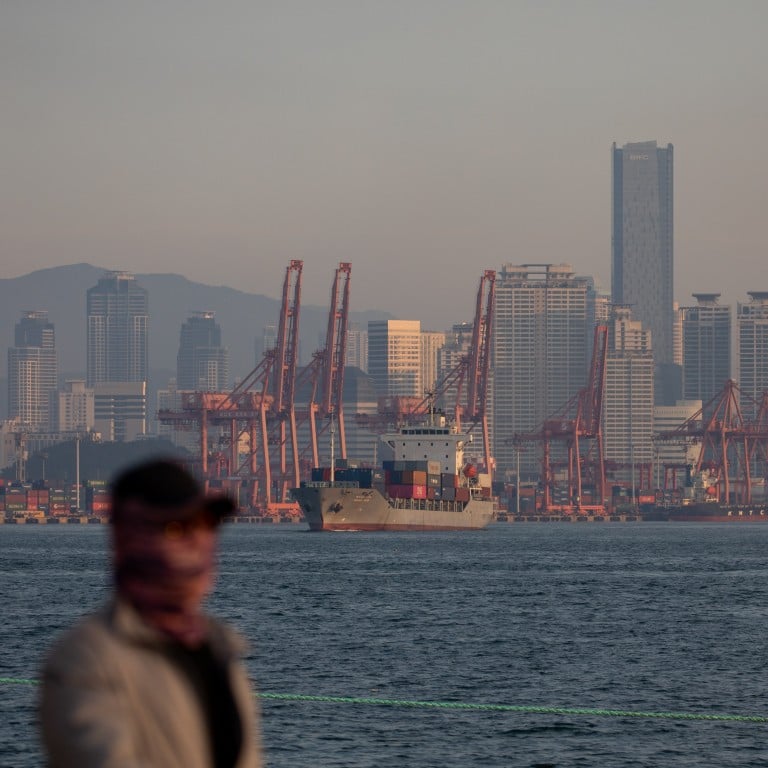 South Korea vows action on falling China exports after posting record trade deficit in August
South Korea's overall deficit hit US$9.47 billion last month, the highest figure since records began in 1956
August also marked four consecutive months of trade deficit with the world's No 2 economy, its biggest trading partner
The South Korean government has identified slowing trade with China as a major risk and vowed to strengthen economic cooperation with its neighbour after the country logged its highest ever trade deficit in August.
South Korea's overall deficit hit US$9.47 billion last month, according to the South Korean Ministry of Trade, Industry and Energy, the highest figure since records began in 1956. It also marked four consecutive months of
trade deficit with China
, its biggest trading partner, following decades of surpluses.
Analysts said China's stringent coronavirus policies were to blame for the widening bilateral deficit, but gradual changes to the structure of trade between the two countries needed long-term strategies from Seoul.
The Korean government on Thursday said the direct reason for the trade deficit was increased energy prices, although it added it was taking imminent risks seriously and announced a comprehensive "strategy to strengthen export competitiveness".
Slowing trade with China, strengthening the country's semiconductor competitiveness and managing energy import demand and efficiency are "three key risks" South Korea must deal with, according to the government.
South Korean exports to China were worth US$13.1 billion in August, which was 5.4 per cent lower than the same period last year. The government again blamed Beijing's zero-Covid policies, which have hurt China's industrial output and consumption, for the decline.
"Some items, such as steel and petroleum products, saw an increase in exports to China," a Korean government official, who was not identified, told local media.
"But the trade loss resulted from China's domestic demand and production slowing and our imports from China increasing mainly for intermediate goods such as semiconductors and fine chemical raw materials."
To enhance trade with China, Seoul plans to strengthen economic cooperation in areas that both countries are strategically nurturing, including information and communication technology convergence, advanced materials, parts, equipment and services.
"In line with China's carbon-neutral 2060 and zero-Covid policies, we will support export of strategic green industries such as smart cities and renewable energy and strengthen digital marketing support for Korean consumer goods," the trade ministry said.
The government also vowed to hold ministerial-level meetings with China later this year on industry and commerce, as well as regular economic meetings at a ministerial level to "stably support Korean companies' export activities to China".
Analysts said the government efforts were headed in the right direction, but a more fundamental revamp of trade was required for South Korea to maximise its economic relationship with China.
"We need to pay attention to the mid- to long-term pattern of trade relations between the two countries instead of just focusing on the recent few months," said professor Oh Ji-hye at Korea University, who specialises in China's economy.
Oh noted that while the value of Chinese imports to South Korea increased by almost 13 per cent over the year to August, export value to China decreased steadily during the same time period.
"In particular, display exports are already on a downward trend, and as the price of semiconductors, the number one export item to China, is expected to fall in the second half of the year, a trade deficit with China is inevitable this year," Oh said.
"This shows the structural problems and crisis in the structure of the Korea-China trade structure that relies too much on semiconductor exports despite the discussion of a recession in the semiconductor market for several years."
Professor Kim Dong-ha, an expert in China-South Korea bilateral economic relations at Busan University of Foreign Studies, said the structure of trade between the two countries has gradually changed as China's economy has advanced.
"Our trade surplus with China will continue to dwindle, as long as the current trend continues of our exports to China lowering in price and the price of the goods that we import from China increasing," said Kim.
"These issues will not be changed or stopped by short-term policy measures, and Korea will have to utilise coming Korea-China FTA investment, follow-up negotiations in the service sector, and the [Regional Comprehensive Economic Partnership] to which Korea and China have already joined, in high value-added fields that we have not been able to penetrate.
"It will be necessary to secure an export structure through which Korea can generate profits."