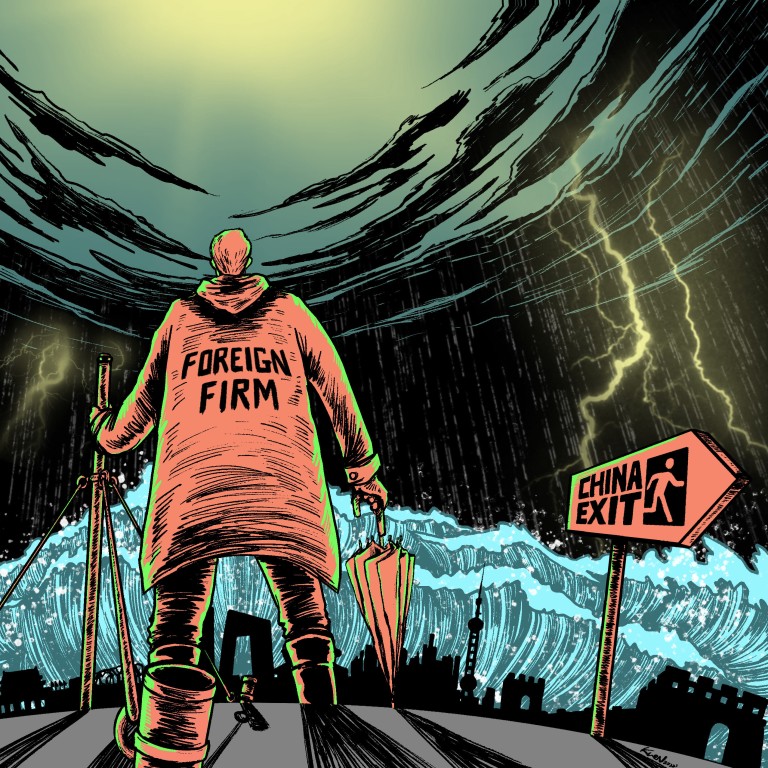 China's foreign firms, struggling to survive, hunker down for whatever comes next
Greater Bay Area insiders say many multinational firms are scaling back plans in the southern business hub, but many will do all they can to maintain a China presence
Persistent zero-Covid restrictions, supply-chain upheavals and geopolitical conflicts have taken some of the shine off China's appeal as a foreign investment destination
Sitting on the fence may appear to be a precarious position for China's foreign businesses in a time of unprecedented difficulties and uncertainties. But for some, the wait-and-see approach remains their safest option – at least for now.
Even in one of China's most economically dynamic regions – the Greater Bay Area – several foreign firms that are intent on maintaining a presence in the country continue to put off expansion plans or have begun scaling back operations, according to business insiders and representatives.
This comes after more than two years of strict and sometimes unscientific coronavirus controls, supply-chain problems, and a deterioration in bilateral relations with Western countries.
"Japanese companies and other foreign companies are downsizing their operations in China," said Tace Chen, a senior executive at a Japanese consultancy firm in Guangzhou who declined to identify her business due to the sensitivity of the issue.
Despite Beijing's vow to leverage the Greater Bay Area and create a megacity cluster in southern China, where Chen's office operates and potentially stands to benefit from such attempts to
bolster the regional economy
, she said supportive policies cannot "offset" the powerful impact of China's hardline zero-Covid policy.
"We will not leave China unless we have to, but we also lack the motivation to increase investment," Chen said.
This type of waning confidence among foreign investors – and the potential impact it has on China falling out of favour as an investment destination – is on the minds of policymakers in the lead-up to next month's
20th party congress
, when leaders will outline the nation's focus of development for the next five years.
External factors such as the war in Ukraine and tensions across the Taiwan Strait are among those creating conundrums for China on multiple fronts while also diminishing its appeal among multinationals.
"An ever-growing list of political developments is now having an impact on business," said Joerg Wuttke, president of the European Union Chamber of Commerce in China. "For example, a third of European businesses report that China has become a less-attractive investment destination following Russia's invasion of Ukraine."
Wuttke also said China's stringent virus-control policy suggests that Beijing is "prioritising ideological factors at the expense of its economy".
China's economic growth during the year's second quarter was a mere
0.4 per cent
, weighed down by heavy-handed restrictions and large-scale lockdowns in major cities such as Shanghai.
"Companies are assessing what impact a blockade or war would have on their global operations, particularly if they had to completely withdraw from the China market in the same way that many did from Russia," Wuttke said.
An annual survey by the US-China Business Council similarly showed that American corporations in China were in "wait-and-see mode", not planning to make any changes over the next 12 months.
The survey revealed record-low optimism about business conditions in China, with American firms citing weak domestic consumption, supply-chain disruptions and strained bilateral relations between the two countries.
Tommy Wu, lead China economist at Oxford Economics, also said internal and external factors are clearly affecting the investment decisions of multinationals in China.
"It just means that they will be more careful – not putting all of their eggs in one basket by implementing the 'China plus one' strategy," he said, noting how some foreign investments are being diversified elsewhere.
The most recent figures show that investment from the United States slumped by 23.8 per cent in 2020, compared with 10 years earlier, and that investment from the European Union fell by 11.8 per cent in 2020 from the previous year.
However, Liu Wei, a partner at the Pinsent Masons law firm in Shanghai, clarified that while some international companies are worried about macro issues, "it depends a lot on specific industries and specific companies".
He pointed to electric vehicles (EVs), for example, calling it "a hot industry" in which many of his firm's clients "are actively investing". Foreign capital is flowing into the manufacturing of original EV equipment, batteries and fast-charging services, Liu noted.
"For those multinational companies with strong demand in China, or with a deep interest in acquiring manufacturing capabilities, technologies or distribution channels, their investment decisions have not been affected too much," Liu said.
But even in the Greater Bay Area – a hi-tech manufacturing hub with aspirations of becoming an economic powerhouse by 2035 – foreign investors are still running into hurdles in their attempts to grab a piece of the artificial intelligence and new-energy segments in the Chinese market.
Alfonso Ballesteros, the founder of the Hong Kong-based consulting firm Crossbow, which advises companies on investments in the Greater Bay Area, said anti-pandemic measures have made it "remarkably difficult, and in some cases impossible" for expatriate staff members there to conveniently move across the border or visit other markets in the region.
"This has had a cooling effect on investment," he explained. "Some projects have been put on hold, and some have had to be cancelled."
The Greater Bay Area, comprising nine cities in Guangdong province plus Hong Kong and Macau, recorded a combined gross domestic product (GDP) of US$2 trillion in 2021, according to IHS Markit. That's about the size of Canada's GDP last year.
But practicalities remain an issue. Peter Burnett, chairman of the British Chamber of Commerce in Hong Kong, said that the region would benefit from the "alignment of standards" for moving services, goods and finance.
After seeing "real progress" in terms of creating physical infrastructure, Burnett said now is the time to "focus on the next stage of policy alignment by facilitating research and development, as well as supporting start-ups".
Navigating China's regulatory policies, often affected by political circumstances, also creates new challenges that weigh on the decision-making of foreign investors, according to Hugh Chow, a partner at the Greater Bay Area-focused Radiant Tech Ventures.
"Investors will often monitor more closely whether a project is sensitive, as far as the regulatory regime is concerned, and they will also try to get a better handle on the backgrounds of their investment partners," he added.
But despite these challenges facing multinationals, Beijing continues to paint a rosy picture to play up the Chinese market as an investment destination.
Sun Xiao, secretary general with the China Council for the Promotion of International Trade, noted how EU investment in China increased by 15 per cent, year on year, in the year's first half, as companies such as BMW, Audi and Airbus expanded their China operations.
The council also cited its survey released last week, featuring responses from 160 European multinational companies. It found that 65 per cent had maintained the scale of their production operations, 15 per cent had reduced the scale of their production operations, and 1 per cent said they would leave China.
And Lu Jinyong, director of the University of International Business and Economics' China Research Centre for Foreign Direct Investment, said China remains a lucrative market for foreign companies.
"There's a track record of international businesses earning money in China," he said. "Along with the comprehensive rules and regulations, the estimation of the middle-class size growing from 500 million to 800 million by 2030 gives China a competitive edge that can entice overseas investors."
The overall inflow of foreign direct investment (FDI) increased 21.5 per cent, year on year, to US$123.92 billion for the first seven months of this year, with a steady increase in investment from South Korea, the United States, Japan and Germany, according to the Ministry of Commerce.
The ministry expects that the recent batch of "stabilisation policies", which broaden areas for foreign investment in hi-tech manufacturing, technology and service sectors, "will encourage growth and maintain the steadiness of foreign investment", Guo Ting Ting, an assistant to the minister, said on August 30.
But that remains to be seen, particularly with no end to China's zero-Covid policy in sight.
In the meantime, as they continue to straddle the fence like many of their international counterparts, juggling risks and trying to seize opportunities, "European companies will not fully decouple from China", assured Wuttke at the EU chamber. The market is simply too big, with great potential for big multinationals that have the resources.
"While there is still a handful of very large companies willing to make large investments, there is a growing discrepancy between them and the smaller companies that … either put investment plans on hold or consider shifting investments to other more reliable and predictable markets," he added.