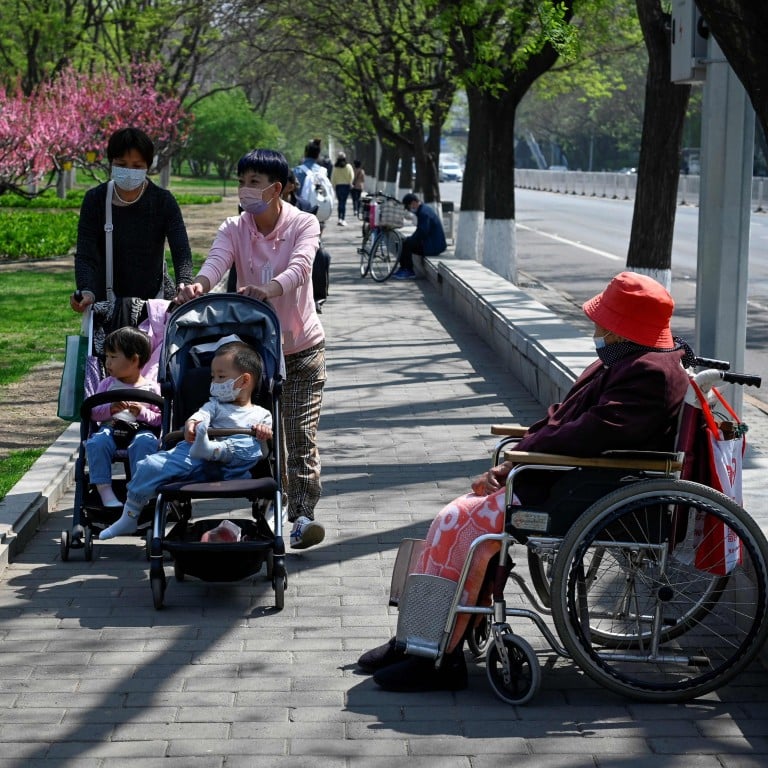 China population: urbanisation offers 'huge' source of untapped labour and consumption
As China's fertility rate falls and its population becomes increasingly older, dwindling consumption presents 'a brand new challenge that China has never faced before'
With a middle class of about 400 million people, China is increasingly trying to tap into its domestic market to help drive economic growth
The world's most populous country –
at least for now
– is expected to see a decline in its population next year, according to a leading Chinese demographic economist who is calling on Beijing to support urbanisation as a means to boost China's labour supply and increase the consumption pool.
Cai Fang, with the Chinese Academy of Social Sciences, said that the country's fertility rate is already "infinitely close to zero" and poised to enter negative growth next year.
The demographic challenge, he added, has curbed the nation's economic growth and consumption potential.
"[Dwindling consumption] is a brand new challenge that China has never faced before," Cai said at an economic forum on Wednesday.
He said this was largely due to the
elderly's lack of willingness to spend
, adding that sluggish consumption will be a major constraint on China's economic growth as this group accounts for an increasingly large share of the total population.
People older than 60 account for more than a fifth of residents in 13 of China's 31 provincial-level jurisdictions, and people aged over 65 represent 14.2 per cent of its total population, official figures show.
Chinese mothers gave birth to 10.62 million babies in 2021, an 11.5 per cent fall from 2020, and China's census showed that its 2020 fertility rate was 1.3 children per woman – below the replacement level of 2.1 needed for a stable population.
According to an estimate from a team of demographers, including Liang Jianzhang, Ren Zeping and He Yafu, as China did not release an official figure last year, for China's population of 1.4126 billion, the fertility rate in 2021 was 1.15, down from an official figure of 1.3 a year earlier.
Consumption accounts for more than half of China's gross domestic product, and consumer spending contributed 65.4 per cent to the economic growth.
China has been tapping the domestic market, especially its 400-million-strong middle-income class, to grow its economy. Beijing has also supported more
inward-facing economic policies
as relations with Western nations have soured in recent years.
But leaders are now facing a fragile economic recovery and weak consumption due to the disruption of strict coronavirus controls under Beijing's zero-Covid policy.
Meanwhile, as they lower their economic outlooks for China, foreign financial institutions have raised alarms about the nation's demographic challenges – including its low fertility rate and ageing population – and their potential impact on the nation's labour pool.
But Cai said such institutions have made a "mistake" in their assessment.
"They don't know China has another source of labour," Cai said, pointing to the "huge potential" of China shifting large numbers of agricultural residents to more urbanised areas.
Cai said China's agricultural workforce currently stands at 23 per cent of the nation's total labour force, so this leaves room for around 20 per cent of the workforce to be transferred to non-agricultural sectors, based on an average agricultural workforce of just 3 per cent in developed countries.
Urbanisation could accelerate the replenishment of the labour force and increase consumption by moving more people to larger cities.
Cai also pointed to the Organisation for Economic Cooperation and Development revealing that consumption levels could increase by 30 per cent if the labour force moves from rural to urban areas, and by a further 30 per cent if those rural people are given an urban hukou, or local household registration.
"This is closely related to our mission of
common prosperity
," Cai said, adding that accelerating urbanisation could help narrow the income gap and foster more middle-income groups.
"We have [lifted] roughly 100 million rural people out of poverty, plus the original 160 million members of the low-income group. So, if we don't want them to return to poverty on a large scale, we need to focus on cultivating them as a middle-income group."