Yuan
Get more with myNEWS
A personalised news feed of stories that matter to you
Learn more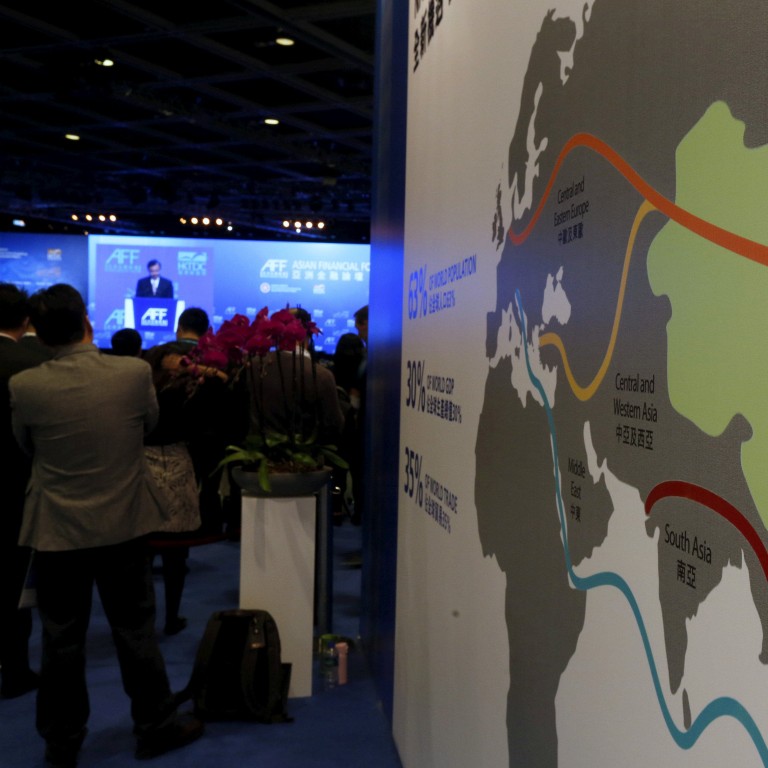 Explainer

|
How are China-Kazakhstan relations, and how strategically important is the Central Asian nation to Russia, the US and Europe?
Chinese President Xi Jinping will visit Kazakhstan on his first overseas trip since the start of the coronavirus pandemic next week
Strategically located between China and Europe, Kazakhstan is an important node on Xi's Belt and Road Initiative and a major international transit hub
Strategically located between China and Europe, Kazakhstan is an important cross-continental transit route, rich in mineral and oil reserves. Given its geographic position, President Xi Jinping chose to launch the Belt and Road Initiative there in 2013, setting in motion a new era of economic ties between the neighbours.
The Chinese president will meet his Kazakh counterpart Kassym-Jomart Tokayev for talks the host government said were "aimed at further deepening the eternal comprehensive strategic partnership and developing political, trade, economic, cultural and humanitarian cooperation".
Xi's visit could be followed by a trip to Uzbekistan to attend the Shanghai Cooperation Organisation summit, though that has not yet been confirmed by Beijing.
How are relations between China and Kazakhstan?
Sharing a border of more than 1,700km with Xinjiang Uygur autonomous region, Kazakhstan is one of China's most important neighbours.
Beijing established diplomatic relations with Nur-Sultan after it gained independence from the Soviet Union in 1991.
Since then, China has become resource-rich Kazakhstan's second largest trading partner, and number one export destination.
In 2021, the value of bilateral trade reached US$25.25 billion, up 17.40 per cent from US$21.51 billion the year previous, according to Chinese customs data.
China invested US$19.2 billion in Kazakhstan between 2005-20, according to the Chinese embassy in Kazakhstan. Some 56 China-backed projects worth nearly US$24.5 billion are due to finish by 2023.
The two countries are also founding members of the Shanghai Cooperation Organisation, which cooperates on a plethora of issues from trade and education to military exercises and counter terrorism.
Founded in 2001 in Shanghai, the SCO comprises eight member states: India, Kazakhstan, China, Kyrgyzstan, Pakistan, Russia, Tajikistan and Uzbekistan, plus four observers and six "dialogue partners".
What areas do China and Kazakhstan cooperate in?
Energy, mining, transport and logistics are the main sectors of cooperation between China and Kazakhstan, especially since 2013, when two countries established an investment framework under the Belt and Road Initiative.
In 2014, Kazakhstan became the first country to reach an agreement with China on "production capacity cooperation", which saw Beijing set aside US$2 billion from its "Silk Road" infrastructure fund for industrial projects.
In 2019, the Kazakhstan government said there were 55 major Chinese investments in the country, with chemicals, petrochemicals and energy accounting for 59.03 per cent of spending, and the mining industry 21.67 per cent.
China is also one of the biggest investors in Kazakhstan's transport infrastructure. Since launching the belt and road plan, 11 international transport routes have been established through Kazakhstan to Europe, Iran, Southeast Asia and China.
What regional risks do China and Kazakhstan share?
In August last year, the Taliban regained power in Afghanistan after the withdrawal of US and Nato troops. Neither China or Kazakhstan have officially recognised the militant Islamic group as legitimate rulers.
Analysts have warned that instability under the Taliban could again turn Afghanistan into a terrorists' haven, with the potential for spillover into Central Asia and China's western Xinjiang region, which is home to a large population of Muslim ethnic monitories.
Following the protests, President Tokayev vowed to implement sweeping political reforms and share more powers with a bolstered legislature.
How important is Kazakhstan to Russia, the US and Europe?
Though China and Kazakhstan share security issues and have strong trade ties, the Kazakh government has also sought a constructive relationship with Europe, the US and neighbouring Russia.
Kazakhstan, a former Soviet republic shares a 7,644km border with Russia, which sees the country as part of its sphere of influence. Russian President Vladimir Putin has even declared Kazakhstan a "Russian-speaking country", in comments eerily reminiscent of those he made about Ukraine.
In 2021, Russia accounted for 8.01 per cent of foreign direct investment (FDI) into Kazakhstan, more than China's share at 7.8 per cent, data from the Kazakhstan central bank showed.
Europe is also taking a growing interest in Kazakhstan. Total FDI inflows into Kazakhstan from the European Union (EU) and Britain amounted to almost US$11.2 billion in 2021, an increase of 23.8 per cent year on year, according to financial consulting firm Finprom.
FDI from the EU accounted for 42.61 per cent of Kazakhstan's total last year, central bank data showed.
Kazakhstan is strategically and economically important to the US too, which has billions of dollars of investment in the country from American energy companies, including ExxonMobil and Chevron.
The US accounted for 11.81 per cent of FDI into Kazakhstan last year and the two countries hold regular meetings of the US-Kazakhstan Working Group on Economic Cooperation.
US engagement with the country has stepped up in recent years. In 2018, the Trump administration strengthened cooperation on political and security issues, trade and investment through an "enhanced strategic partnership".