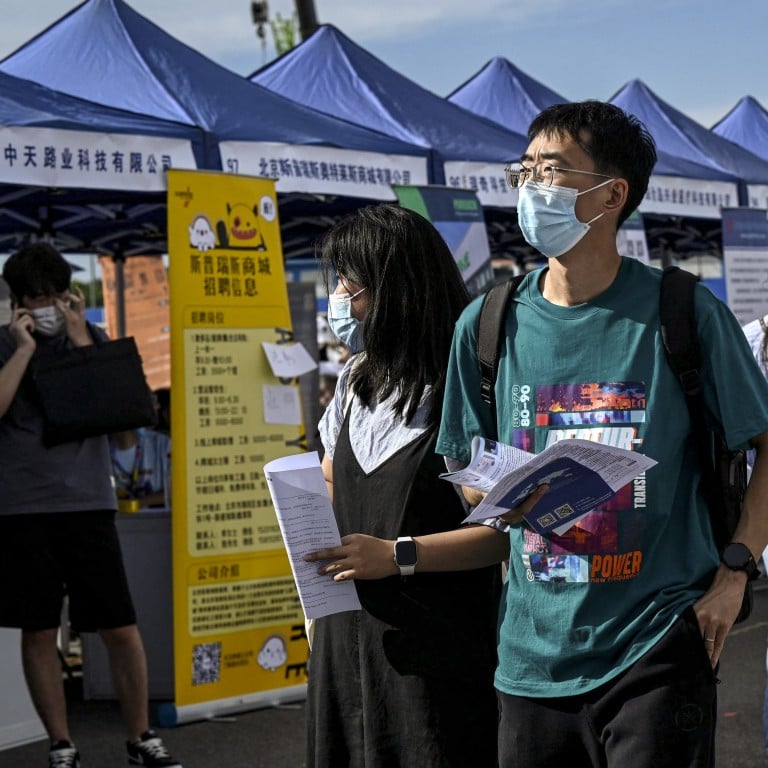 China looks to plug job market damage from tech crackdown with more support for internet economy
The State Council has promised to scale up support for start-ups and ordered banks to extend special loans to companies in the platform economy
China's official surveyed jobless rate for youth hit a new high of 19.9 per cent in July, above that of the United States and many European countries
China is rolling out more support for internet giants to help stabilise the economy and create jobs, just months after easing a crackdown on its tech sector that wiped hundreds of billions of dollars in value off some of its biggest companies.
Economists are warning about the risk of long-term "scarring" from cyclical unemployment if Beijing does not do enough to improve conditions in China's labour market.
China's zero-Covid policy has delivered a hammer blow to the economy, but Beijing's regulatory crackdown on its internet giants, which form the backbone of the platform economy,
led to lay-offs
and is widely considered to a prime reason for mounting pressure on employment.
The State Council, China's cabinet, said on Thursday it would scale up support for start-ups to help create jobs, which are the "foundation" of people's well-being, according to a memo issued by the official Xinhua News Agency.
The government also ordered financial institutions to extend special loans to key
platform companies
, and promised subsidies for workers struggling in the gig economy and college students yet to find work two years after graduation.
"The current employment situation is generally stable, but there are concerns as well," said Premier Li Keqiang, who chaired the State Council's Wednesday meeting.
The State Council issued similar messages of support for the platform economy when unveiling a 19-point policy package two weeks ago, and after a July meeting of the Politburo, China's top decision-making body.
Beijing is determined to stabilise employment ahead of the 20th party congress next month, which will usher in a new generation of leaders.
It is also wary that a record 10.76 million college graduates will be entering the labour market this year.
China's official surveyed jobless rate for youth hit a new high of 19.9 per cent in July, above that of the United States and many European countries.
"The State council conferences have repeatedly focused on employment, innovation and infrastructure investment, and the meeting this time continued its previous tone with a greater focus on stabilising growth," analysts with China Construction Bank wrote in a note on Friday.
"It is expected that the policy environment of the platform economy will further improve ahead."
Policymakers on Wednesday called on government-financed business incubation bases to provide venues for start-ups free of charge, encouraged insurance funds to invest more in venture capital firms and floated the idea of extending the loan repayment period for start-ups.
The State Council also vowed to increase credit support for parts of the service sector, such as education, tourism, fitness, old-age care, domestic services, accommodation and catering, to
help consumption recover
via investment.
New jobs created in March, April and May – traditionally considered peak hiring season – were at a low level, according to Liang Zhonghua, chief macro analyst at Haitong Securities.
"China has about 16 million new urban workers that need a job this year, the highest in many years, which also means that the subsequent employment pressure cannot be ignored," he wrote in a note published on Friday.
Cai Fang, a policy adviser to the Chinese central bank, said job losses could be "significantly underestimated" since many were not included in official indicators.
"If the measures to deal with cyclical unemployment are not timely, not comprehensive and inappropriate … it may leave a 'scar' on employment," he said in an article first issued in late-August but which was republished on social media on Friday.