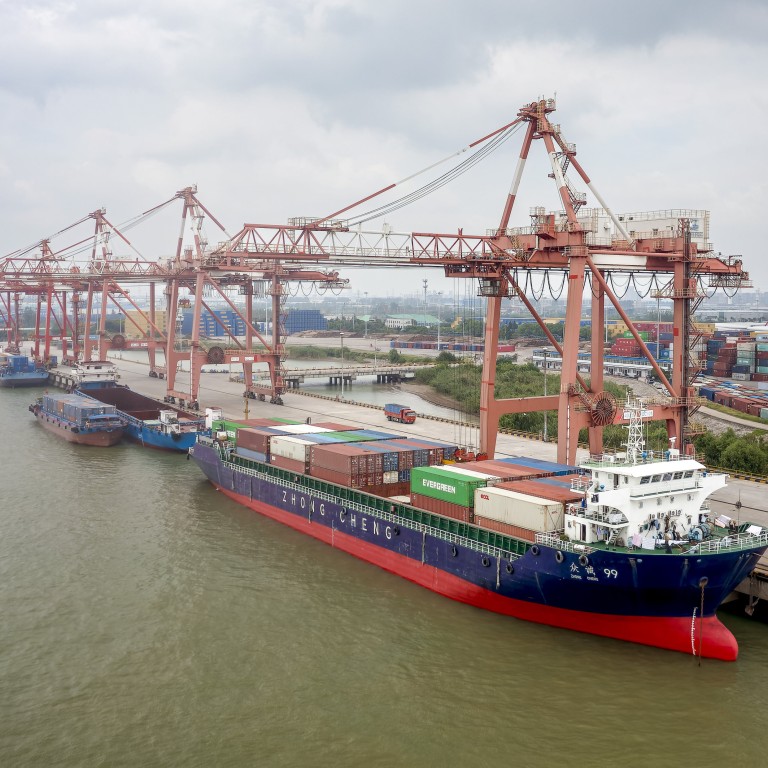 China shipping: exporters lament 'plummeting' demand as peak season turns off-season
Exports, long an anchor of China's economy, typically surge before seasonal holidays in the West, but shipping agents are struggling to find enough cargo this year
Some analysts have no doubt that China's exports will keep declining in the coming months, as 'the turning point has already come'
After China's weakened exports surprised the market on the downside in August, shipping agents across China are struggling to find cargo during what is traditionally the peak shipping season ahead of Western holidays.
"We are, in fact, seeing an off-season at present," a Jiangsu-based shipping agent said on condition of anonymity. "The overall shipping demand from customers is plummeting."
Another agent, based in Tianjin, likened shipping prices to "cliff diving", because of their sharp descent.
The weakened export demands are reflected in the slowdown in China's exports growth, which fell to
7.1 per cent in August
, year on year, from
18 per cent in July
, while exports to the United States saw a year-on-year decline for the first time since May 2020.
Exports have been a major anchor for China's economic growth for years, and their prolonged deceleration could threaten to further stymie the country's already sputtering economy amid rising global inflation and recession risks.
According to the Freightos Baltic Index, the spot rate for sending a 40-foot container from Asia to the West Coast of the US dropped by 20 per cent to US$4,345 in the past week, and it is 79 per cent cheaper than this time last year.
"This decrease reflects falling demand for freight, both because of excess inventories among some importers as inflation reduces spending among some consumers, and as others shift to other types of goods and to services as the pandemic recedes," said Judah Levine, head of research at Freightos. "Many retailers pulled peak season orders earlier in the year to avoid delays."
Asia to northern Europe ocean rates also fell this week after being stable from May through early August, Levine said, as demand and volumes decrease on the lane.
"Ocean carriers are cancelling sailings in response," he added.
According to the World Container Index released by maritime research consultancy Drewry, the freight rates from Shanghai to Los Angeles dropped by 14 per cent to US$4,782 per 40-foot container in the past week.
Drewry also expected the index to continue decreasing in the next few weeks.
Exports to major trading partners all slackened in August. Those to the United States saw a year-on-year decline of 3.8 per cent after growing by 11 per cent in July. And year-on-year export growth to the European Union decelerated to 11.1 per cent, compared with 23.2 per cent in July.
The new orders subindex within the official manufacturing PMI has been below 50 since May 2021, meaning that the contraction in new orders has lasted 16 months so far.
Exports have propped up China's economic growth since the onset of the pandemic as the coronavirus disrupted manufacturing activities for the rest of the world while China's economy remained relatively robust.
Last year, net exports of goods and services accounted for 21 per cent of the gross domestic product (GDP), and the percentage rose to nearly 36 per cent in the first half of this year.
However, the outlook for global growth has been deteriorating while external demand for Chinese goods is being curbed by high global inflation, with energy prices surging as a result of the Ukraine war.
The slowdown in exports is set to further dampen a Chinese economy that has already been buffeted by sporadic coronavirus outbreaks and mass lockdowns, a property sector slump and weakened consumer spending.
There is basically no doubt that China's exports will keep slowing down, and a pickup is unlikely in the near term, said Hong Hao, chief economist at Chinese hedge fund Grow Investment.
"The turning point has already come," he said.
China's economy will be mostly
"lying flat"
in the near term, while the nation's GDP growth will not exceed 3 per cent for the year, he added.
The boost from pent-up shipments following the end of the Shanghai lockdown is also fading, weakening China's export momentum, said Lloyd Chan, senior economist with Oxford Economics.
China could be forced to shift its domestic policy to prop up the economy, according to Nomura economists led by Wang Jing.
"Since strong export growth over the past two years provided Beijing with some room to pursue other policy goals. The rapid fall in export growth could perhaps force Beijing to rethink its domestic policy stance on the property sector, its zero-Covid strategy, e-commerce and others," Nomura said in a report on Wednesday. "And, in this regard, falling export growth may not be such as bad thing."