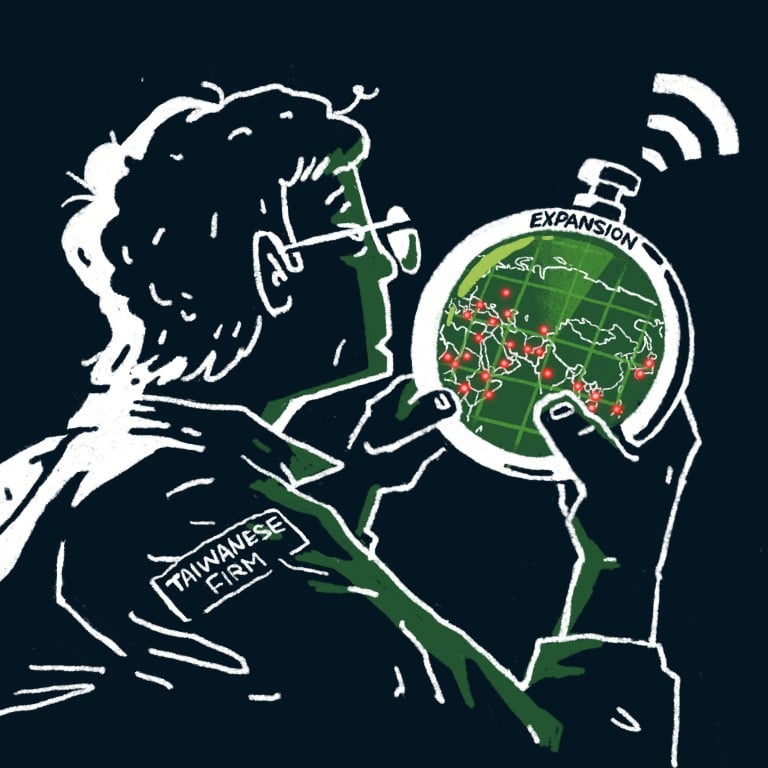 Taiwan's multinationals are expanding from Malaysia to Mexico as they tread water in mainland China
An expansion of mainland operations among Taiwanese firms is 'not on their radar', as zero-Covid policy and geopolitical tensions fuel their shift away from China
But even as they expand operations elsewhere in Asia and even as far as North America, Taiwanese investors still intend to keep their positions on the mainland
Taiwanese multinationals are in a tough spot – it's simply too risky to expand their operations in mainland China, but it would be impractical to abandon the market entirely.
Instead, those with corporate expansion plans are increasingly picking other countries, from elsewhere in Asia to as far-flung as North America.
Yet, despite being beleaguered by business-crippling coronavirus restrictions on the mainland, coupled with considerable uncertainties in terms of cross-strait tensions and supply-chain disruptions, many Taiwanese multinationals that already have a mainland presence are still unwilling to suffer the potential costs of throwing in the towel.
In fact, this rollback of Taiwanese firms' investments on the mainland is not a new trend. It started a few years before the pandemic but appears to have picked up this year as uncertainties and difficulties continue to stem from geopolitical feuds and the mainland's zero-Covid policy.
Today, expansion in China is "not on their radar", said Kent Chong, a partner with professional services firm PwC in Taipei, who noted how both coronavirus restrictions and "worsening" political relations have served to upend the plans of some Taiwanese firms.
In the five years before Covid-19 took hold, Taiwanese investments in mainland China saw steady annual declines, from nearly US$11 billion in 2015 to about US$4.2 billion in 2019, official figures show. There was a bump in both 2020 and 2021 as China's coronavirus-control measures made it a more attractive destination for investments, with about US$5.9 billion in each of those years.
In total, from 1991 to mid-2021, approved investment reached US$193.51 billion. But more and more, Taiwanese entrepreneurs are looking to grow their businesses in places such as Indonesia, Japan, Malaysia, Vietnam, the United States and Mexico.
With mainland investments off the table "for the foreseeable future", Chong said, more Taiwanese are looking to Vietnam, as they have over the past decade, and are making the US a priority amid talk of a
US-Taiwan trade deal.
But their overseas aspirations and expansion plans aside, Taiwanese investors still say they intend to keep their existing positions in mainland China, despite the mounting difficulties and uncertainties.
"Leaving China – the cost is undoubtedly huge, and it would be a last resort," said Liu Kaiming, head of the Shenzhen-based Institute of Contemporary Observation, which monitors working conditions at hundreds of Chinese contract manufacturers. "After all, it means huge losses in equipment, capital, talent and the Chinese market."
Other analysts point to better infrastructure options in mainland China, compared with neighbouring emerging economies in South and Southeast Asia.
The mainland remains the "most popular" location for investments and sales among Taiwanese manufacturers, says Darson Chiu, a research fellow with the Taiwan Institute of Economic Research, who noted the mainland market's proximity to Taiwan, the lack of a language barrier, and the vast potential for market demand.
A factory investor's departure from China would cut it off from a key source of inexpensive talent and some of the world's best industrial infrastructure, such as ports and roads, noted Ker Gibbs, the former president of the American Chamber of Commerce in Shanghai, who spoke to the Post last month.
Taiwanese have invested on the mainland since the 1980s and now run 4,200 businesses in cities such as Dongguan in the Pearl River Delta and Kunshan outside Shanghai. Many investments came during the years when the two sides got along better, politically.
China's zero-Covid policy has stalled business activity this year, including transport and factory work in major cities such as the commercial hubs of Shanghai and Shenzhen. Chengdu, a city of 21 million people in southwest China's Sichuan province, has been under
citywide lockdown
since September 1.
And in the political realm, Beijing launched
trade suspensions
against Taiwan last month, including export and import bans and sanctions on organisations and companies that it said had backed "Taiwan independence". These moves followed a controversial visit by US House Speaker
Nancy Pelosi
to Taiwan from August 2-3.
Beijing sees Taiwan as a renegade province that must be reunited with the mainland by force if necessary. Countries that have diplomatic ties with Beijing, including the US, acknowledge the existence of the one-China principle that holds Taiwan be part of China, but may not explicitly agree with it. Washington does not take a position on the status of Taiwan but opposes any attempt to take the island by force.
An executive from one Taiwanese-invested manufacturer on the mainland said she does not believe that Beijing will put Taiwanese businesspeople, with long-standing investments, in "a difficult situation" because of political matters, as entrepreneurs have not taken a stand against the mainland.
Some Taiwan-invested enterprises are waiting to see whether any of their customers pull out, the company executive said.
"For most [contract] exporters in the mainland, a determining factor is whether their customers – international brands – will abandon China as their main market if the conflict intensifies further," she said, referring to cross-strait frictions.
"But so far, we see no brand making such preparations, because any brand that lacks the Chinese market cannot be called a multinational brand, and its volume and scale will be greatly impacted," the executive said.
In October, Taiwanese electric scooter designer and battery maker Gogoro launched a mainland China joint venture called Huan Huan to operate a battery-swapping programme in the cities of Hangzhou, Kunming and Wuxi.
Suburban Taipei-based Foxconn Technology, the world's largest contract assembler of consumer electronics including iPhones, has 12 factories in nine mainland cities. Workers at the site in Shenzhen's Longhua district number at least 230,000. Future expansion sites include Beijing, Guangzhou, Haizhou, Kunshan, Tianjin and Wuhan.
Any upsurge in "tensions" between Taiwan and the mainland over the coming years might hurt China's more than 1 trillion yuan (US$144 billion) worth of electronics exports, as 60 per cent are linked to Taiwanese-invested contractors, said Liu from the Institute of Contemporary Observation.
If a "titan" such as Foxconn sets up a new supply chain outside China, downstream tech firms would follow, Liu said.
Vietnam began turning its economy around in favour of foreign investors in 2012, positioning itself as a viable
alternative to China for factory work
. Today, the wider, increasingly wealthy Southeast Asian population of 665 million continues to represent a burgeoning market for some Taiwanese investors.
And for more than a decade in the US, top officials have been urging American firms and their foreign contractors to reshore, in an ongoing push to create domestic jobs.
None of the six Taiwanese firms contacted for this report noted any concrete plans to expand on the mainland, but most talked up their non-mainland expansions.
Taipei-based retailer and shopping mall operator Eslite Bookstore will open an outlet in Kuala Lumpur by year's end, marking its first Southeast Asia location, said company publicist Leslie Su. The store, which Eslite describes as a "creative cultural venue", will sell books in three languages alongside handmade goods, themed restaurants and coffee shops.
"The focus will be on showcasing the dynamism and vibrant energy of cross-cultural and creative exchanges between Malaysia and Taiwan," she said.
Eslite Bookstore has 38 locations, mostly in Taiwan but with one that opened seven years ago in the mainland city of Suzhou, located just west of Shanghai. The company's business model, which features "cultural content", has "attracted attention in the mainland China retail and book market", Su said, adding that Eslite subsequently received invitations from other cities, leading it to explore expansion possibilities.
Foxconn has also discussed plans over the past year to grow in at least four countries. The company was exploring India, Malaysia, Saudi Arabia and Vietnam. Last month, Foxconn signed a US$300 million memorandum of understanding to
expand
on 125 acres in Bac Giang province of Vietnam, the company's largest manufacturing base outside China.
And in Indonesia, Taiwan's Gogoro said it is working with a local ride-sharing service on a pilot project that will bring a battery-swapping service to riders.
Taiwanese investors spent US$5.3 billion in Southeast Asia in the first 10 months of last year, or 38.7 per cent of Taiwan's total overseas investments over that period, and the highest proportion in two decades, according to data compiled by AIBP, a unit of the Singapore-based consultancy Industry Platform.
Appier, a Taipei-based software-as-a-service firm, says its "growth potential" in Europe and the United States had become "more considerable" because those regions cover the world's largest digital economies, the company said in a statement to the Post.
According to Claire Ke, growth and marketing specialist for Appier, revenue contributions from those countries grew from 2 per cent to 12 per cent between the second quarters of 2021 and 2022.
Appier has also expanded into the gaming sector in South Korea, Ke added. But she declined to give any details about the company's business in mainland China.
Mexico, which borders the US, offers lower costs and has a free-trade agreement with Washington, is an appealing destination for some Taiwanese, noted Chong from PwC.
In 2019, for example, Taiwanese motor vehicle component maker Taigene broke ground in Mexico after picking the country for its infrastructure and logistics as well as its proximity to customers, investment advocacy group Mexico Industry said.
Mexico is the world's sixth-largest maker of passenger vehicles, with about 3 million produced annually, and most of those are shipped to the United States, according to the US International Trade Administration.
"We have clients considering Mexico as a country for manufacturing," Chong said. "They're going to Mexico because of the United States market."
Some Taiwanese investors were indeed shifting away from China even before Covid-19 and the recent downturn in Taiwan-mainland relations, said Donald Gao, who runs a consultancy that helps Chinese enterprises set up in Vietnam. They have cited labour and land costs, along with stiffening environmental rules and higher tariffs brought on by the China-US trade dispute.
Gao expects most Taiwanese industries to keep looking offshore, especially to the cheaper industrial base of Southeast Asia.
"On the one hand, they are mainly concentrated in the electronics and accessories and footwear industries, and a large percentage have already shifted to Southeast Asia," Gao said. "On the other hand, in China's financial services industry and new strategic industries – such as new energy, artificial intelligence and electric vehicles – Taiwan does not have an advantage, neither technologically nor in terms of talent."