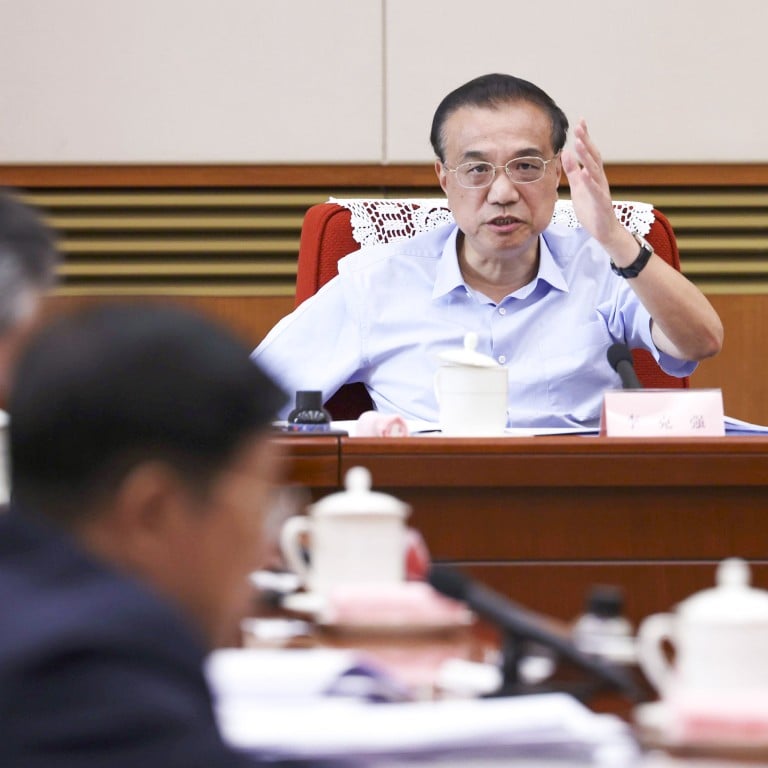 As China vows to boost economy, crippling zero-Covid policy may be 'more zealously implemented'
Premier Li Keqiang vows more economic support measures after provincial investigations, cites 'slight fluctuation' in China's economic recovery
Appearance by Vice-Premier Sun Chunlan, in charge of China's virus-control measures, at special cabinet meeting brings hope of better coordination between virus control and growth objectives
China continues to step up its unconventional policy tools to keep the national economy churning while trying to mitigate the damage from its zero-Covid policy, as control measures remain high on Beijing's agenda ahead of the
20th party congress
.
Premier Li Keqiang has been busy in recent months trying to steer the world's second-largest economy away from a hard landing, including by convening a conference of
more than 100,000 local cadres
in late May, as well as dispatching 16 provincial inspection teams last month to implement Beijing's stabilisation policies.
And at a special meeting of the State Council on Thursday to discuss the ministers' report on the inspection tour, Li vowed to further expand investment to create more demand and lift confidence amid a "slight fluctuation" in China's economy as it recovers.
"We must continue to introduce policies and measures to boost consumption and investment and ensure that they are released quickly and implemented thoroughly," Li said, according to details of the meeting that were released by state media on Monday.
Li, who chairs the State Council, China's cabinet, has tried to reduce coronavirus disruptions, including by telling local authorities to increase their support for market players, to ease travel restrictions, and to step up economy-boosting construction projects.
While the provincial inspection teams – headed by central bank governor Yi Gang, finance minister Liu Kun and other officials – were ordered to continue tackling local economic problems, a new batch of inspections will also soon be carried out.
Such efforts came as the National Health Commission reported 188 new locally transmitted cases and 727 asymptomatic cases on Monday – the latest sign of the virus showing a resurgence in China.
More than two dozen Chinese cities have scrambled to impose certain mobility restrictions to curb the spread of the highly contagious Omicron variant of the coronavirus. Such moves inevitably affect local contact-intensive services and consumption.
And in particular, major cities such as Chengdu and Shenzhen, which had been expected to be drivers of China's economic recovery, are also being hit hard.
Alicia Garcia-Herrero, Natixis's chief economist for the Asia-Pacific region, said this year has been particularly difficult because stubborn zero-Covid policies have ground the economy to a halt, and the real estate bubble burst.
"It seems clear that Chinese policymakers need to react with more stimulus," she said. "Both fiscal and monetary policies are already laxer than last year, but they are clearly not enough to bring the growth rate back to the desired path."
Some investment banks have accordingly lowered their estimates on China's yearly growth, including to 3.3 per cent by Standard Chartered Bank; to 3 per cent by Goldman Sachs and UBS, respectively; and to 2.8 per cent by Nomura.
The appearance of Sun Chunlan, the vice-premier in charge of virus-control measures, at Thursday's cabinet meeting also brought hope of better coordination between virus control and growth objectives.
"We must resolutely rectify excessive policies and the one-size-fits-all approach to minimise the impact on the work and life of the masses," she said on Friday at a separate meeting of the cabinet's pandemic-control group, according to Xinhua.
Sun, the only woman on the 25-member Politburo, has been a loyal implementer of the country's pandemic control policies, such as the lockdown of Wuhan when coronavirus cases were first reported in early 2020, and of Shanghai earlier this year.
Meanwhile, most of the rest of the world reopened markets and borders after widespread vaccinations, choosing to live with the virus.
However, pandemic control measures remain as tight as ever in the lead-up to China's 20th party congress. On Tuesday, Sanhe, a commuter town of 300,000 people east of Beijing, announced a days-long lockdown after one coronavirus case was discovered.
Beijing is due to release August economic data on Friday and its third-quarter data on October 18 – two days after the opening of the party congress.