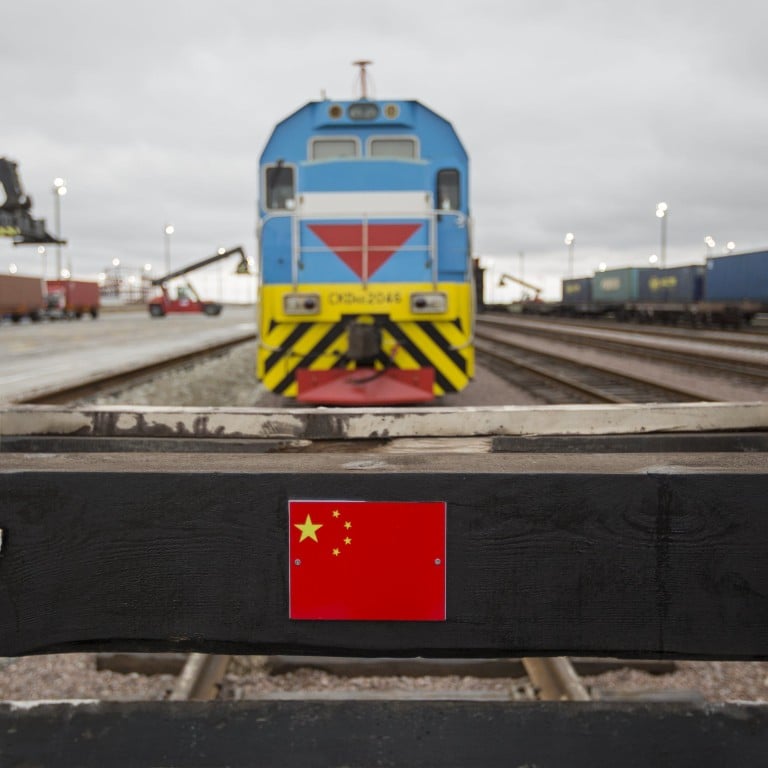 China eyes sunny Central Asia for green energy, natural gas deals as need to bolster power supply grows more critical
President Xi Jinping vows during trip to Kazakhstan that China will use its Belt and Road Initiative to expand green-energy infrastructure there
But analysts expect that the governments of China and Central Asia will probably focus initially on natural gas deals, and on green energy later
China is expected to boost economic cooperation on resources and new energy with Central Asia during President Xi Jinping's first overseas trips since the pandemic began, as Beijing strives to diversify the nation's energy imports to fuel its growth, according to analysts.
While security issues are atop the agenda for Xi's delegation, China is also seeking greater trade and economic cooperation with the region, such as through the
Belt and Road Initiative
, which aims to link economies into a China-centred trading network.
And in two articles written by Xi, published by Kazakh and Uzbek media, he said China and Uzbekistan will jointly develop "new energy". He also pledged that China would use its belt and road plan to expand infrastructure for green energy development in Kazakhstan.
Beijing and governments in Central Asia will probably work first on natural gas, and on green energy later, in keeping with Chinese economic development blueprints, analysts say.
For years, China has aimed to diversify imports of energy and key commodities to fuel growth, in line with its broad national security strategy. The global market turbulence in the wake of Russia's invasion of Ukraine, along with two domestic power crunches within a year, have added more complexity and urgency to its energy-mix strategies.
Central Asia, with its plentiful reserves, sits along China's western borders – meaning relatively low transport costs – and supports Chinese-led infrastructure projects.
An emblematic project is the China-Central Asia natural gas pipeline that has sent more than 39 billion cubic metres of natural gas to China, per figures reported by Xinhua. The pipeline runs through Turkmenistan, Uzbekistan and Kazakhstan on its way to the Khorgos border crossing in China.
Around Central Asia, Turkmenistan is China's second-largest importer of natural gas. Kazakhstan ranks No 8 and Uzbekistan No 9, according to data from The Economist Intelligence Unit's market research firm. The firm says China gets 40.6 per cent of its natural gas from foreign countries.
"Central Asia is important to China due to its geographical proximity, and pipeline gas is cheaper to deliver than liquid natural gas," said Heron Lim, an economist with Moody's Analytics.
Domestic fossil fuel markets serve around 80 per cent of China's own needs, Lim estimated. But Xi said last year that the country would start to "phase down" coal power from 2025 over the following half-decade. Thermal coal was used to produce about 57 per cent of China's energy in 2020.
That pivot would raise demand for natural gas, Lim said.
"China is trying to wean itself off coal, seen as the dirtiest fossil fuel, and natural gas is increasingly seen to be the stopgap," Lim said. "As such, Central Asia will become increasingly important in that, particularly Turkmenistan, as it is now the key pipeline gas supplier for what China imports.
"If there are infrastructure improvements to make, it will be in the exploration of new sources of fossil fuels," he added.
China ultimately hopes "not to rely on one single partner when it comes to natural gas", said Chi Him Chim Lee, an analyst with The Economist Intelligence Unit. But he said existing pipelines "are going to be crucial".
China is aiming to eventually rely more on solar and wind power – another area where Central Asia can help.
The National Development Reform Commission's
14th five-year plan
on renewables calls for doubling the generation of clean-energy sources by 2025, compared with 2020 levels. Consumption of oil and gas will fade in China over the next two decades as it shifts to renewables to address long-standing concerns over energy security, Chim said.
Central Asia can generate abundant solar and wind power because of its wide-open spaces and frequent sunny weather, said Laurence Laurencio Delina, an assistant professor with Hong Kong University of Science and Technology's Division of Environment and Sustainability. China is "well positioned" to support Central Asian countries with related technology, Delina said.
"The grid is very important to ensure that energy is transmitted to demand centres, including Hong Kong," Delina said.
Central Asia's largest wind farm built by a Chinese company was nearing completion in Kazakhstan, Xinhua said earlier this year. China and Kazakhstan have already started working together on renewable energy projects as part of the Belt and Road Initiative, the state-run China Daily said on Tuesday.
China's belt and road push has faced "continued criticism" to date for promoting dependence on fossil fuels in developing nations and investing in "environmentally damaging" infrastructure, a US-based advocacy group, the Natural Resources Defense Council, said in a 2019 study.
"Central Asia could benefit from the development of the production of solar, wind or nuclear materials … if key industries set up shop in the region," said Lim with Moody's.