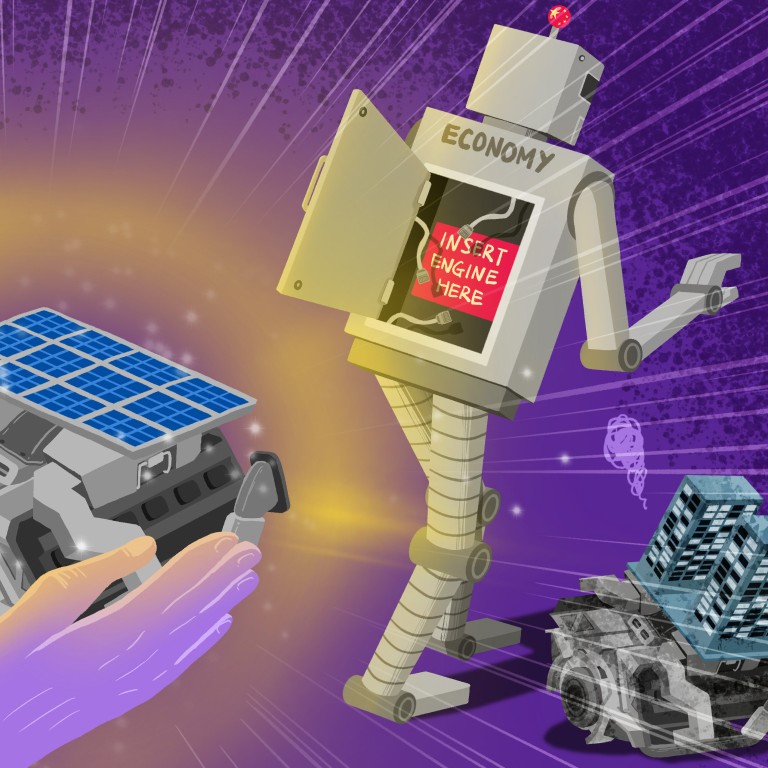 China's new-energy push is accelerating fast, but does it have the power to drive economic growth?
An extensive rooftop-solar-power campaign highlights how China is betting heavily on clean and renewable energy in a time of increasing power crunches and disruptions
Amid China's economic downturn and regulatory uncertainties, the new-energy industry remains a bright spot in China's economy, attracting abundant capital
In a relatively small and mountainous county in southern China, Wang Rongshuo's company is playing a pivotal role in an ambitious new-energy plan that aims to install solar panels on most rooftops, potentially changing the face of the county's power landscape for decades to come.
As one of China's 676 designated pilot sites last year in a national
rooftop-solar-power
campaign, Guangning county – in western Guangdong province – is setting up a photovoltaics infrastructure system that it expects will generate millions of kilowatt hours worth of electricity annually for the county's more than 400,000 people.
The nationwide initiative will span several years and cost hundreds of billions of yuan, creating lucrative opportunities for companies such as Wang's that are keen to cash in on the country's thirst for power at a time when all major economies are pushing to achieve decarbonisation goals.
The shift toward sustainable solar energy is nothing new in China – such projects have become increasingly common across the country in recent years. But the pace appears to be picking up rapidly, and it comes as occasional
power shortages
are taking a heavy toll on China's economy and its people's livelihoods.
In fact, more than half of all solar panels installed across the country in 2021 were on rooftops, according to the National Energy Administration.
"You can see large-scale solar panel projects springing up everywhere – from deserts in barren provinces to fish ponds, orchards, hillsides, commercial and industrial building rooftops in the most affluent provinces," said Wang, who founded Yangshuo Lujian Technology, a Guangdong-based new-energy-facility installer.
Unlike the centralised power-generation format – with electricity produced in a large plant and offered to consumers via a power grid – distributed solar-power-generation projects such as the one in Guangning are installed closer to the end users, who can use the power directly and even sell the surplus back to power companies.
"Copious amounts of capital are pouring into the new-energy infrastructure sector this year, especially for solar power – either in the distributed or rooftop format," Wang said.
Such projects have also become a bit of an investment darling among local-level authorities whom the central government has tasked with boosting their respective economies.
"New-energy infrastructure projects are most welcomed by local governments and banks now, as they are a safe and politically correct choice for lending," said Aron Lin, an actuary with a private bank in Guangdong.
And thus, many local authorities, in addition to investors, are pinning their hopes on the sector becoming a new engine for China's economic growth, especially as another major engine – real estate – has been a drag on the economy over the past year, following a regulatory crackdown by Beijing.
"To drive the economy, a more probable alternative [to property] might be the manufacturing sector, as China is striving to be strong and comprehensive rather than just big in the sector," said Ding Shuang, chief Greater China economist with Standard Chartered Bank.
"In terms of specific manufacturing industries," he said, "some of them are relatively clear, especially those related to new energy, where China should have some obvious advantages now – including new-energy vehicles (EVs), photovoltaics and wind power."
However, some analysts are questioning whether all of these new-energy industries, combined, might be able to offset China's real estate woes and indeed become a real economic engine for the country.
Around the world, governments are increasingly viewing clean energy as an economic boon, especially after the United States invested heavily in a smart energy grid as part of its efforts to revive the US economy in 2009 after the financial crisis, according to Hou Yunhe, an associate professor with the Department of Electrical and Electronic Engineering at the University of Hong Kong (HKU).
But the industry has developed at a much faster pace in China over the past two decades, thanks to the permissive environment and heavy subsidies that create a more accessible market for Chinese manufacturers, while their Western counterparts must comply with stricter employment and environmental regulations.
And it has become one of the very few industries in which China has nearly a total monopoly in the global market.
China currently dominates 80 per cent of the entire global supply chain of photovoltaic products, according to Dennis Ip, regional head of utilities research at Daiwa Capital Markets.
"That is to say, the entire industry in China is very mature. From the silicon material end to the silicon wafer to the battery modules, China is the leader," Ip said.
But despite that dominance, difficulties loom in international markets.
"The challenges are mainly from the US, such as the restrictions resulting from the Uygur Forced Labour Prevention Act," Ip said.
A current positive for China is that most of the solar panel modules it currently exports are for Europe. However, uncertainties remain over the long term, as lawmakers in the European Union are mulling a similar ban on products alleged to be produced with forced labour, Ip said.
"As a result, many Chinese companies have started to purchase raw materials directly from Germany or Southeast Asia, completely avoiding China's industrial chain," Ip said. "So, if there is any concern about the transfer of the industrial chain out of China, the new-energy sector is a very apparent example, as Chinese companies themselves have accelerated their own overseas deployment."
Apart from being the world's largest solar-products supplier, China is also the biggest market, with its cumulative installed capacity reaching 306 gigawatts in 2021 – or roughly 40 per cent of the current total global capacity.
In comparison, Germany's total solar energy capacity reached 59 gigawatts last year. And China's capacity expanded by about that much last year.
Still, photovoltaic power currently accounts for only 3.4 per cent of China's total power supply – too little to play a decisive role in the national grid, let alone in the country's economy.
The variable nature of solar energy makes the electricity supply unstable compared with thermal power, adding pressure on the grid. Thus, power companies are reluctant to accept electricity from the photovoltaics infrastructure, according to experts.
"The key technical barrier to all kinds of new energy is that energy-storage technology has not yet fully developed," said Hou from HKU, adding that such advancements "could help offset the uncertainty and variability" of solar power.
The development of batteries, however, is not only the key to increasing the reliability of new energy, it's also at the heart of EV production – another industry that China may rely on to boost its economic growth, experts say.
The country is tapping into its massive domestic market to become the biggest EV maker, according to Alicia Garcia-Herrero, chief economist for the Asia-Pacific region at French investment bank Natixis.
"Taking into account joint ventures, China's market share increased from 36 per cent in 2020 to 51 per cent in June 2022. It now produces 3.84 million EVs on a trailing 12-month basis," she said.
"So, just imagine if China dominates the market … exporting electric vehicles all over the world."
Counting on government subsidies, Chinese companies also have an upper hand in terms of battery components, as well as in their access to lithium – an essential component in EV batteries.
But this does not mean China has no competitors, as Korea and Japan also play a key role in the supply chain, and they are benefiting from the rising geopolitical tensions between China and the US.
For example, the US requires manufacturers to import some of the raw materials and parts or components for EVs from countries they have free-trade agreements with, to enjoy government subsidies, said Ip from Daiwa.
"[It] could tilt the balance against China and in favour of South Korea and Japan," Garcia said.
Can the property sector void be filled?
A consensus among economists is that China spurned its previous economic engine before a new, comparable one was set up, as neither the EV nor photovoltaic industry can be an immediate successor to the property sector, which was a driving force behind China's spectacular economic growth over the past two decades.
As a result, it will be virtually impossible for China to maintain the same pace of growth in the coming years, they said.
"After all, property and its related industries had accounted for around one-third of China's GDP growth," said Hong Hao, chief economist at Chinese hedge fund GROW Investment Group.
Though manufacturing investment is now bigger, it has a longer lead time than that of property, and the multiplier effect is smaller, he said.
Guan Tao, global chief economist at BOC International China, said China's real estate sector has been a drag on the national economy for four consecutive quarters – the longest stretch in 30 years.
As for manufacturing, where China's private firms are the major players, it does not have the explosive strength to drive the economy, according to Ding from Standard Chartered, as private capital will only come when profitability reaches a certain level.
And in the private sector, Chinese businesses are seeking more stability, especially after Beijing's regulatory crackdowns across multiple sectors last year.
"People were saying that there must be a growth engine for the economy, but China is not short of such planning at the top level," Ding said. "The biggest problem now is that the confidence of the private sector needs to be restored."