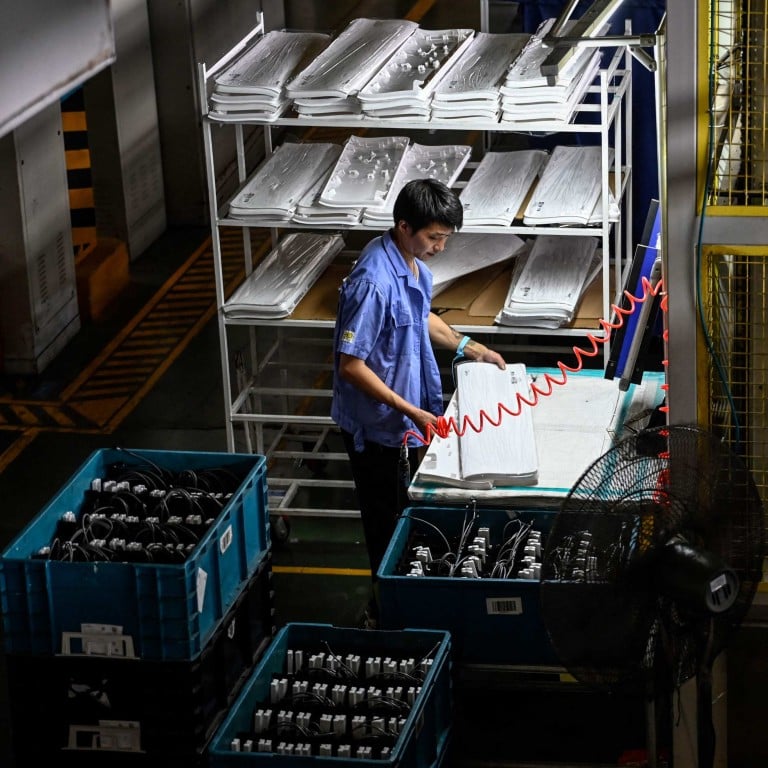 China's Greater Bay Area factories mostly staying put, but many have diversified abroad, survey finds
While most manufacturers said they did not have firm plans to relocate operations outside China earlier this year, external and domestic headwinds have persisted
Greater Bay Area firms choosing to shift factory operations overseas cite improved labour pools and supplies, access to new customers and various other incentives and benefits
Manufacturers across China's main economic and export engine – the Greater Bay Area – have really had to rein in their business plans this year, with small and medium-sized firms in a particularly difficult position, according to an annual survey.
Information on the ground earlier this year indicated that companies in the region had a weak appetite for long-term investments, such as production expansions. And many were shelving or decelerating plans to move capacity outside China or to invest in technological upgrades, according to Standard Chartered's annual survey of manufacturers operating in the Greater Bay Area.
The survey results, released on Monday, reflected interviews with more than 200 manufacturing companies in April and May about their operations and business outlook. Most of the firms are headquartered in Hong Kong, Taiwan and mainland China, with factories in the bay area covered by the development plan.
Back in the year's second quarter, most Greater Bay Area manufacturers also did not have concrete plans to relocate operations out of China, the survey showed.
"The survey results could have been worse, considering that this year's survey was conducted in the two months [April and May] that the Covid resurgence peaked and growth troughed in China," it said. "We believe some of the results could be less favourable if the survey were conducted today, given how many of the external and domestic headwinds have lingered since."
The Greater Bay Area is the Chinese government's scheme to link the cities of Hong Kong, Macau, Guangzhou, Shenzhen, Zhuhai, Foshan, Zhongshan, Dongguan, Huizhou, Jiangmen and Zhaoqing into an integrated economic and business hub.
The hub reflects rapid changes in China's manufacturing industry, and it serves as a litmus test for the public's willingness to invest and consume.
Among the more than 200 manufacturing firms surveyed, 6.7 per cent said they had already moved some of their operations overseas, about 11 per cent said that their moves were already more or less half completed. Meanwhile, 33.7 per cent said they were merely considering relocation plans. The rest, just under half, said they were not considering relocating their factories away from the Greater Bay Area.
When it comes to factors that are driving the companies towards more actively considering moving capacity outside China, about 11 per cent said the coronavirus was a very strong driver, 9 per cent cited US-China tensions, 5 per cent pointed to the Russia-Ukraine conflict, and 4 per cent identified labour and wage challenges.
Vietnam and Cambodia were the top two preferred destinations, with 33 per cent and 21 per cent of the surveyed companies naming them, respectively.
Some 47 per cent of respondents picked production diversification as a key non-wage benefit to be gained from relocation – a modest drop from 58 per cent in 2021 and 56 per cent in 2020.
This was followed by improved labour supplies (32 per cent), proximity to new buyers and customers (28 per cent), attractive tax incentives (28 per cent), better economic outlooks (26 per cent), and because of benefits related to free-trade agreements (22 per cent).
Jeff Wang, who has run a footwear-export factory in Dongguan for years, echoed the survey results, saying that most small and medium-sized enterprises (SMEs) in the region, especially in the traditional manufacturing sector, are facing a dearth of both orders and funds.
"Most SMEs here are trying to survive by cutting operating costs to the lowest level," Wang said. "I heard that not a manufacturer this year is moving factories or investing in automation of production lines."
The low-end manufacturing supply chain has increasingly tight profit margins, making it difficult to operate, Wang added.
Moreover, just 16 per cent of manufacturers said that finding workers this year was less difficult than it was last year – a sharp decline from 33 per cent in last year's survey. However, employment demand among SMEs remains weak due to their underperformance.
Meanwhile, half of the respondents said they were already using the yuan for settling international trade. A total of 38 per cent expected that the exchange rate per US dollar would end the year at around 6.70-7, and 32 per cent were expecting the yuan to reach 6.50-6.70 against the dollar.
"Volatility in the exchange rate is increasing so quickly, far beyond our expectations. Now
it's already 7
. It only brings more risks for SMEs," said Kevin Huang, another export trader, in Foshan.
More companies also said they were planning on decelerating, rather than accelerating, technological upgrades in 2022, the survey also found for a third straight year.