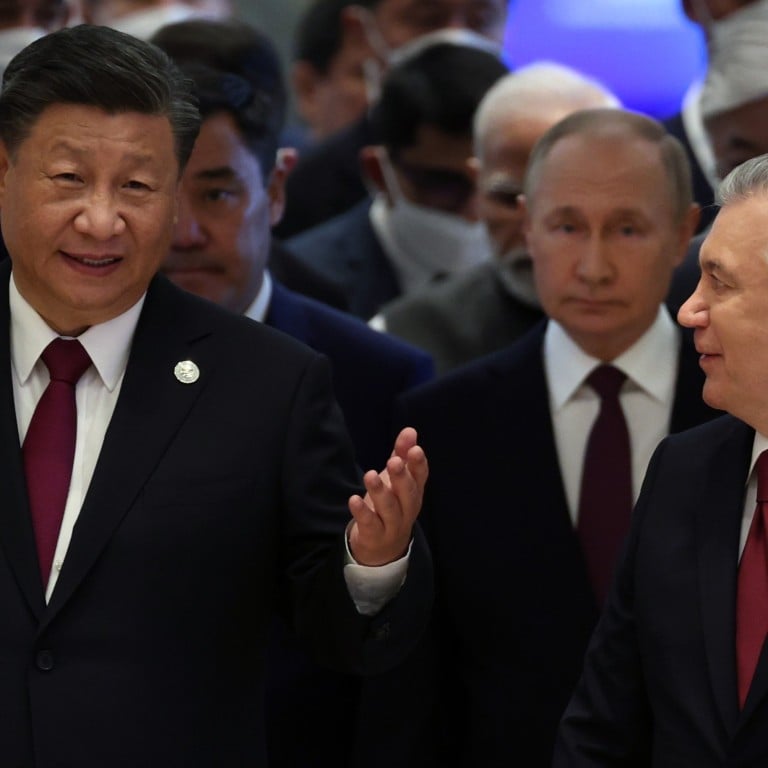 China brings cash to former Soviet republics in bid to win favour with Central Asian 'stans'
New investments and agreements illustrate how deals between China and Central Asia are being increasingly prioritised following President Xi Jinping's visit
China could be looking for 'a new Silk Road', the ancient Eurasian trade network that bypassed what's now Russia to reach parts of Europe
China is manoeuvring to play a more pivotal role in Central Asia, as new investments and agreements further consolidate relationships in the wake of President Xi Jinping's first overseas trip since the coronavirus pandemic began, analysts say as the world's second-largest economy re-evaluates its trade ties amid rising geopolitical tensions and decoupling calls.
There are strong economic complementarities between China and Central Asia – a cluster of often Russian-leaning former Soviet republics – that are expected to open new doors for deeper cooperation on economic matters after Xi's visit last week to Uzbekistan and
Kazakhstan
.
China is a vast, fast-growing market for Central Asia's exports of commodities, as well as a source of manufacturing, technology and investment capital.
The region also guarantees at least 15 per cent of China's natural gas supply.
The landlocked and relatively unadvanced countries of Central Asia need China's money to grow, said Alexander Vuving, a professor with the Daniel K. Inouye Asia-Pacific Centre for Security Studies in Hawaii.
"We are living at a very critical geopolitical juncture when Russia is basically mired in Ukraine. The prestige of Russia has had great damage done," Vuving said.
"Central Asian countries need to get their oil out, and China needs to be connected to the Middle East. And now, with Russia shrinking and isolated, they're going to need to explore a new Silk Road," Vuving added, referring to the ancient Eurasian trade network that bypassed what's now Russia to reach parts of Europe.
China sees Central Asia as its pathway to Europe, with some of its transport lines there already connected to Europe.
The
Belt and Road Initiative
, a US$1 trillion, nine-year endeavour to smooth Sino-foreign trade routes by building up infrastructure around the world, already includes comprehensive infrastructure progress in railways, highways, oil and gas pipelines, and power grids, and it is set to further expand.
As Xi took part in the
Shanghai Cooperation Organisation summit
in Uzbekistan, the governments of China and Central Asia signed about 30 two-way cooperation documents pertaining to finance, water conservancy, the digital economy, and "green" development, among other sectors, China's Ministry of Foreign Affairs said on Friday.
The visit "points the way forward in turbulent times", the ministry said a day later.
The Shanghai Cooperation Organisation, established in 2001 to sort out regional economic and security issues, includes China, India, Kazakhstan, Kyrgyzstan, Pakistan, Russia, Tajikistan and Uzbekistan.
In addition, China's US$40 billion government-run Silk Road Fund will buy a 49 per cent stake in a US$1 billion gas-fired power plant in Uzbekistan. The financing recipient will use that investment to provide power capacity in Uzbekistan after commercial operations begin in 2024, the Silk Road Fund said on its website last week.
The Chinese-funded combined-cycle power plant in Uzbekistan will replace an "old-fashioned, inefficient" gas-fired plant and generate power for nearly a million local people, the fund says on its website.
Combined-cycle plants use gas and steam turbines together to produce more electricity from the same fuel than could be produced in a traditional simple-cycle plant.
A memorandum of understanding last week on a 280km (170-mile) China-Kyrgyzstan-Uzbekistan railway line signified "important progress" in building a major Eurasian transport route, the foreign ministry said.
China's central bank also announced on Tuesday that it has signed a cooperation memorandum with the National Bank of the Republic of Kazakhstan to allow use for cross-border transactions to be cleared in Chinese yuan, which will further facilitate bilateral trade and investment, the People's Bank of China noted.
Analysts believe that fast-growing Central Asia hopes to land more investment, infrastructure aid and natural gas deals from China as it pivots in Beijing's direction during Moscow's war with Ukraine, while China would improve its image as a provider for the region, quench a thirst for Central Asian natural gas and use ties with the "stan" countries to exert more clout in surrounding Russia, India and Europe.
For China, squeezed politically and economically by Western-allied countries, Central Asia and its bordering powers represent a "safe group" because they are "broadly geopolitically aligned", said Stephen Nagy, a senior associate professor of politics and international studies at International Christian University in Tokyo.
Learning from the economic fallouts of rising geopolitical clashes, including the wars in Ukraine and Afghanistan, China is also looking to diversify its imports and trade ties to minimise risks, according to some experts.
However, challenges still abound in the collaboration.
Many Central Asian countries recognise China's "growing economic attractiveness", but incomplete infrastructure in some of the less-developed Central Asian countries could cause "bottlenecks" in economic development within the Shanghai Cooperation Organisation network, cautioned Wang Huiyao, president of the Centre for China and Globalisation, a Beijing-based non-governmental think tank.
Central Asia is also a place where major powers compete, under the influence of both superpowers, such as China, Russia and the United States, and emerging economies, including Iran, Türkiye and India.
"The fierce collisions of strategic interests of major powers have had a great impact on the political situations in Central Asian countries," said Wang Xiaoquan, an advisory committee member with the Citic Foundation for Reform and Development Studies in Beijing.
"To deepen economic cooperation with Central Asian countries, which have limited development experience and poor business environments, it is necessary to continuously innovate cooperation models, to adopt development finance and other methods that have been proven effective in China's development process."
Having roused the West's ire with its nearly seven-month-old war in Ukraine, Moscow has become more active in bolstering cooperation with China and Central Asian countries. For instance,
Russia is looking to China
to buy its oil as Western countries sanction Moscow.
"Although there is a certain degree of competition between China and Russia in some aspects, the two sides have greater potential for third-party cooperation in Central Asia," Wang Xiaoquan said.