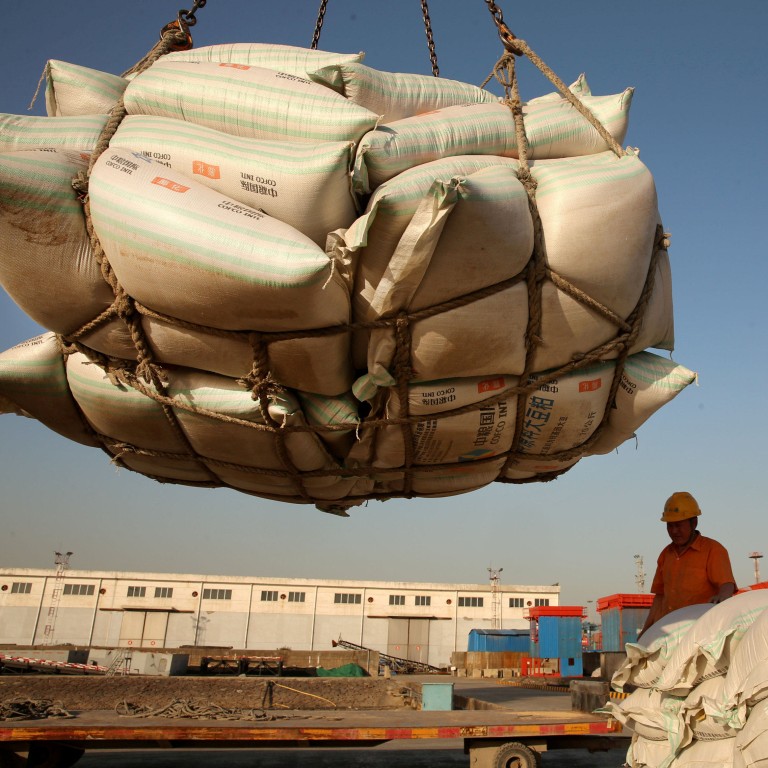 China moves to ensure food security by reducing soybean meal in animal feed
The agriculture ministry says feed crops like soybean meal are the 'contradiction' at the heart of China's food security goals
More than 85 per cent of China's soybean supply was imported last year, with Brazil and the United States the two largest sources
Chinese farmers and local governments have been told to cut back on soybean meal in animal feed to reduce imports in the latest effort by Beijing to boost agricultural self reliance.
The Ministry of Agriculture and Rural Affairs convened a teleconference this week attended by local officials, agricultural companies and academics in which they said feed crops were the "contradiction" at the heart of
China's food security
goals.
"Soybean meal reduction and substitution is not only a passive choice to deal with the uncertainty of external supply, but also an active action … it is of great significance for farmers to save costs, for feed producers to save materials and for industry-wide efficiency and national food security," read a communique from the conference.
Soybean meal is one of the most commonly used protein supplements in animal feed and is produced from the residue left after oil extraction.
The by-product has become a major driver of China's surging
soybean imports
over the past two decades, which has grown to meet rising domestic meat consumption in the world's largest pork-consuming nation.
More than 85 per cent of China's soybean supply was imported last year, with Brazil and the United States the two largest sources.
The cases of eight companies that reduced soybean meal in pig or poultry feed to between 3.3 and 8.4 per cent below the industry average were cited as examples in the meeting.
Beijing is supporting research on unconventional protein feed, expanding the production of microbial proteins, popularising low-protein animal diet technology and increasing the supply of high-quality foraging grass, the agricultural ministry said in another statement published on Monday.
The move is a response to a proposal from a member of the Chinese People's Political Consultative Conference, the country's top political advisory body, on "developing new protein feed resources and reducing soybean imports".
Beijing has been placing an increasing emphasis on
domestic output
to feed its population of 1.4 billion people following the shock of the Trump-era trade war with the US and the Covid-19 pandemic.
The country's heavy reliance on foreign soybeans is viewed as a weak link in overall food security, though it has helped China achieve self-sufficiency in wheat and rice – two staple crops – despite its limited arable land and water resources.
The weight of soybean meal in national feed dropped to 15.3 per cent in 2021 from 17.7 per cent a year ago, equivalent to a drop of 10.8 million tonnes in soybean meal use, or a fall of 14 million tonnes in soybean needs, according to the agricultural ministry.
With effective policy measures, the reduction in soybean demand is likely to reach 30 million tonnes across the farming industry, the ministry said earlier this year. The figure is equivalent to nearly one-third of annual soybean imports last year.
"Due to the high external dependence of soybeans in China … it has become an industry trend to use mixed meal such as cottonseed meal and rapeseed meal to replace part of soybean meal as feed," analysts with China Dragon Securities wrote in a note on Wednesday.
Feed demand for soybean and soymeal will remain the main factor affecting China's food security in the immediate future, analysts with China Reform Securities said in a note on Tuesday.
Still, China approved the imports of Brazilian soybean meal and soy protein in late August and early September after opening its door to the imports of Zambian soybean meal last month.
China imported 37.7 per cent less soybean meal from a year ago in the first eight months of 2022, while the purchases of foreign soybean also declined by 8.6 per cent, according to Chinese customs.