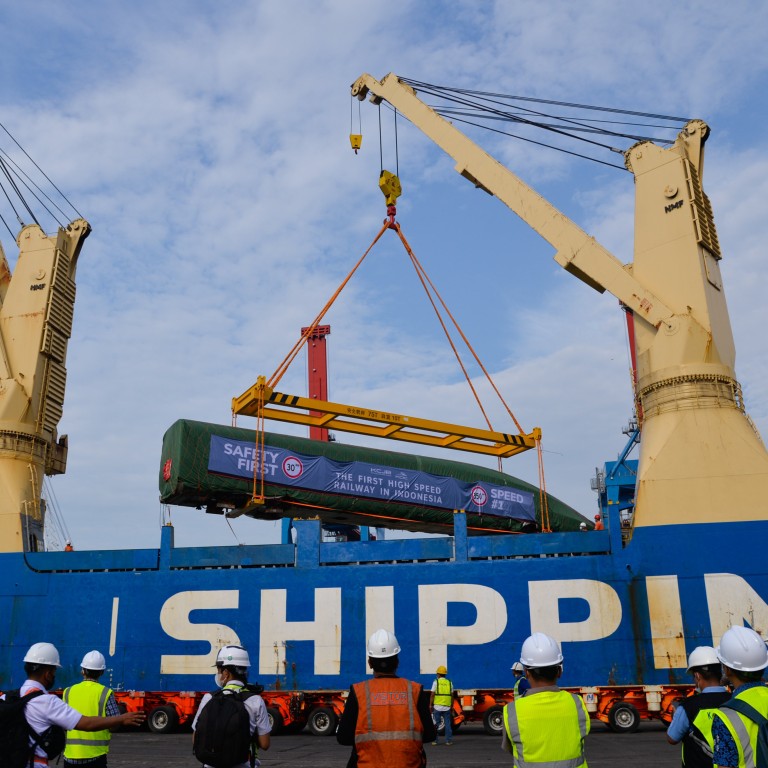 China's trade with Indonesia surges almost 30 per cent thanks to jump in commodity prices, raw material demand
Imports of Indonesian goods grew 31.1 per cent between January and August compared to the same period in 2021
Chinese exports to Indonesia were 26.2 per cent higher in the first eight months compared to January–August last year
A surge in commodity prices pushed the value of trade between China and Indonesia up 28.6 per cent in the first eight months of the year, as the world's No 2 economy leaned heavily on the Southeast Asian nation for metals and energy to supply its giant manufacturing sector.
Only Russia traded more with China between January and August, customs data showed, with Chinese imports of Indonesian goods reaching US$48.41 billion, up 31.1 per cent over the same period in 2021.
Exports to Indonesia grew to US$47.28 billion, which was 26.2 per cent higher than January–August last year.
Prices for multiple commodities surged last year as post-coronavirus demand ran up against supply-chain bottlenecks caused by
Russia's invasion of Ukraine
and Covid-19 lockdowns in China.
The price hikes hit China hard as a major manufacturer and buyer of iron ore, copper, crude oil and other raw materials.
"The jump in commodity prices will explain a large part of why the dollar value of Indonesia's exports to China has increased so sharply," said Gareth Leather, senior emerging Asia economist with Capital Economics in London.
A "key factor" that raised China's total imports from Indonesia during the first eight months of 2022 was a doubling of Indonesian thermal coal prices due to impacts of the Russia-Ukraine war, said Rajiv Biswas, Asia-Pacific chief economist with S&P Global Market Intelligence in Singapore. The Indonesian government's reference price for thermal coal was US$321 per tonne in August.
Indonesian exports to China were led by base metals, worth US$16.6 billion, while fuels such as coal and natural gas followed at US$16.26 billion. Coal briquettes, palm oil and iron alloys used for steelmaking made up the top imports.
China's friction with Australia over the past five years has shifted some demand to Indonesia, said Stuart Orr, head of the School of Business at Melbourne Institute of Technology.
Relations between China and Australia, a major supplier of raw materials, deteriorated after Canberra called for an independent investigation into the origins of Covid-19 without notifying Beijing. China has since launched a series of
trade actions
against Australia.
"As China has decided not to purchase energy and iron ore from Australia, it has to find other large-scale supply countries to work with," Orr said.
China-Indonesia trade grew by 58.6 per cent last year over 2020 to US$124.4 billion.
China ships millions of smartphones, computers and broadcasting equipment to Indonesia every year. Those three products were worth a combined US$3.65 billion value in 2020, according to the Observatory of Economic Complexity database created by a group under the MIT Media Lab.
Western brands often design made-in-China electronics that are sent to Indonesia, said Paramitangrum, an international relations lecturer at Bina Nusantara University in Jakarta. Consumers find the prices fair and quality acceptable, she said.
"For instance, a mobile phone, if the brand is non-Chinese, even though it's made in China, they use the standards of the other country," said Paramitangrum, who like many Indonesians goes by only one name.
Beijing and Jakarta normally agree on political issues, despite some disputes related to the South China Sea, said Zhao Xijun, School of Finance associate dean at Renmin University of China.
"The two have stable diplomacy," he said. "On lots of issues, the countries have consensus and that helps sustain [trade]."
In August, China delivered bullet trains with a top speed of 350km/h (217mph) for a high-speed rail line between the capital Jakarta and Bandung city. The multibillion dollar project, which has been hit by delays and cost overruns, received financial backing from China as part of the Belt and Road Initiative.
Elsewhere, a county in Fujian province is planning to launch a "pilot area" for trade with Indonesia, the state-run China Daily news website reported on Thursday.
"I believe that, while Indonesia has good gas and brown coal reserves, it may not have sufficient infrastructure to meet China's energy demands long term," Orr said.