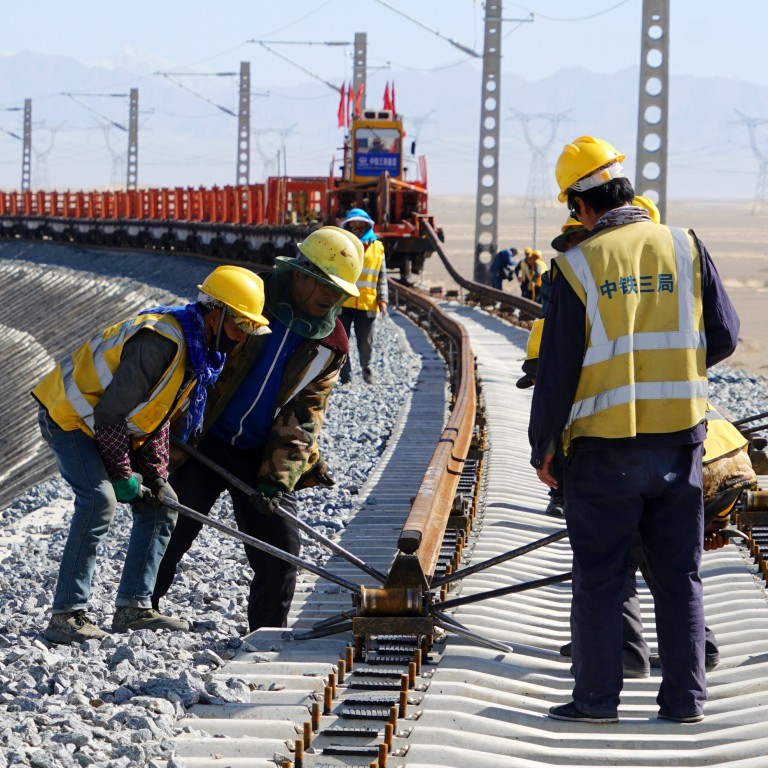 Explainer
China's special-purpose bonds: what are the risks and rewards of infrastructure-fuelled debt?
Special-purpose bonds are a form of off-budget debt that cash-strapped local governments use to raise funds, usually for large infrastructure construction projects
China's local governments are increasingly using special-purpose bond revenue to boost their local economies, but debt-fuelled infrastructure spending comes at a price
To prop up their economies, China's local governments are on a borrowing spree to fund infrastructure projects amid weak growth and diminished revenue.
These types of "special-purpose bonds" accounted for 72 per cent of all Chinese government bonds issued in the first half of the year, according to US rating agency Moody's.
Their surging popularity as a means to jump-start economic engines across China also comes as local government revenue from land sales has plunged due to regulatory tightening in the property sector.
Tack on the financial impact of China's strict coronavirus controls, and many local authorities find themselves in the unenviable position of trying to help the central government meet its economic growth targets.
That's where special-purpose bonds come into play.
What are special-purpose bonds?
Special-purpose bonds are a form of off-budget debt that local governments use to raise cash for a particular policy, or to solve a certain problem. And these primarily involve infrastructure investments.
The central government introduced the bonds in 2015 in an attempt to encourage local governments to switch away from using the more opaque
local government financial vehicles
. Special-purpose bonds are not part of China's official budget, so they don't appear in deficit calculations.
And unlike with regular local government bonds, sales of special-purpose bonds only require approval by a standing committee of the National People's Congress (NPC), which meets around every two months, rather than the full legislative body, which meets only once a year.
As such, the issuance of special-purpose bonds, usually proposed by the State Council, is more flexible than with regular bonds, which have to be planned ahead in the annual budget and approved by the annual session of the NPC.
Special-purpose bonds tend to be invested in projects that have long investment terms – often more than 10 years. So, while they do not result in a rapid financial windfall, they do offer yearly returns similar to regular bonds sold by provincial governments.
Why are special-purpose bonds important to China's economy?
As a result of Beijing's strict zero-Covid policy, China's economy has been facing growing pressure and is unlikely to meet the central government's annual target gross domestic product (GDP) growth rate of "
around 5.5 per cent
" this year.
Many local governments are seeing their revenue decline amid stagnated growth and the slump in the property market, while spending on coronavirus-prevention measures has risen.
So, to help prevent a sharp decline in economic growth, Beijing has turned to its old playbook of debt-fuelled infrastructure spending.
"Infrastructure and other matters are related to development and people's livelihoods, and there is a lot of room for investment," Premier Li Keqiang said in early September. "We must continue to make good use of special-purpose debt to make up for shortcomings."
What is the size of the special-purpose bonds this year?
A total of 3.45 trillion yuan (US$492 billion) worth of special-purpose bonds has been allocated to local governments so far this year. Additionally, the State Council has approved a carry-over special-purpose bond quota of 500 billion yuan and has urged local governments to complete the sales by the end of October.
China's policy banks have also provided a loan facility of 600 billion yuan to fund infrastructure projects.
But for special-purpose bonds to be effective, the timing is particularly crucial, according to Fan Yang, chief policy analyst at Citic Securities.
Because of the wet season over the summer, September and October are usually the peak months for construction, Fan said, adding beyond November it may be too cold in northern China to carry out extensive construction.
What are special-purpose bonds invested in?
In September, the Ministry of Finance said local governments had completed their issuance of special-purpose bonds to pay for infrastructure projects that include big-ticket items, such as those that enhance transport.
According to Chen Guohuang, deputy director of the Guangdong Provincial Department of Finance, nearly 80 per cent of the special-purpose bonds issued this year have been implemented in areas such as transport and industrial estates, to help bring in more investment.
For example, the Guangdong government said it sold 2.77 billion yuan worth of special-purpose bonds to fund the construction of Huangmaohai Cross-sea Corridor project that connects the
Greater Bay Area
of Guangdong, Hong Kong and Macau.
In recent years, Beijing has broadened the use of special-purpose bonds. Besides infrastructure, local governments can issue bonds to replenish the capital of small banks, or perhaps construct elderly care homes, which are becoming increasingly important as China's population continues to get older.
Shenzhen said it had raised a total of 179 million yuan from special-purpose bonds to build nursing homes for seniors in its Boan district, and the project, which began construction in 2018, is scheduled for completion next year.
How effective are special-purpose bonds to spur growth?
Analysts say that, to a certain extent, infrastructure investment driven by special-purpose bonds can help steady China's economic growth this year.
According to Natixis's estimates, infrastructure investment would need to grow at a year-on-year pace of around 18 per cent this year to reach the official GDP growth target for 2022 of around 5.5 per cent.
But infrastructure investment grew by only 7.4 per cent, year on year, from January to July.
Fan at Citic Securities said she believed that Beijing may have accepted the likelihood that its official growth will fall short of the annual target.
However, provinces that are in a strong position are being encouraged by the central government to meet their individual targets, Fan said.
And as a result of the big infrastructure push, China is expected to see many of its local governments rack up considerable debt.
According to estimates from a Beijing-based think tank, the National Institution for Finance and Development, debt to gross domestic product at local governments rose by 40.9 per cent in the first half of this year, compared with 20 per cent for the central government, mainly because of special-purpose bond sales.
"Local government debt pressure is rising – it's squeezing their fiscal capability," the Beijing-based think tank said in a report last month. "It has significantly affected their ability to raise funds and invest."
What are the risks of special-purpose bonds?
While special-purpose bonds are relatively low-risk debt, local governments' heavy spending on infrastructure, coupled with declining revenue, may force them to use other means to repay debt.
As such, the use of the so-called local government financing vehicles (LGFVs) is expected to continue. These platforms are relatively opaque compared with special-purpose bonds. Some local governments,
such as Guizhou's
, have defaulted on LGFV debt, raising concerns that regions with weaker credit records may not be able to pay off new debt.
Moody's said in a report last month that LGFVs in economically weak regions faced increasing challenges in issuing bonds in the first half of the year.
"Weaker issuers will need to use standby letters of credit, issued by banks, as credit enhancements to facilitate their issuance. We expect this trend will continue in the next six to 12 months," Moody's said.