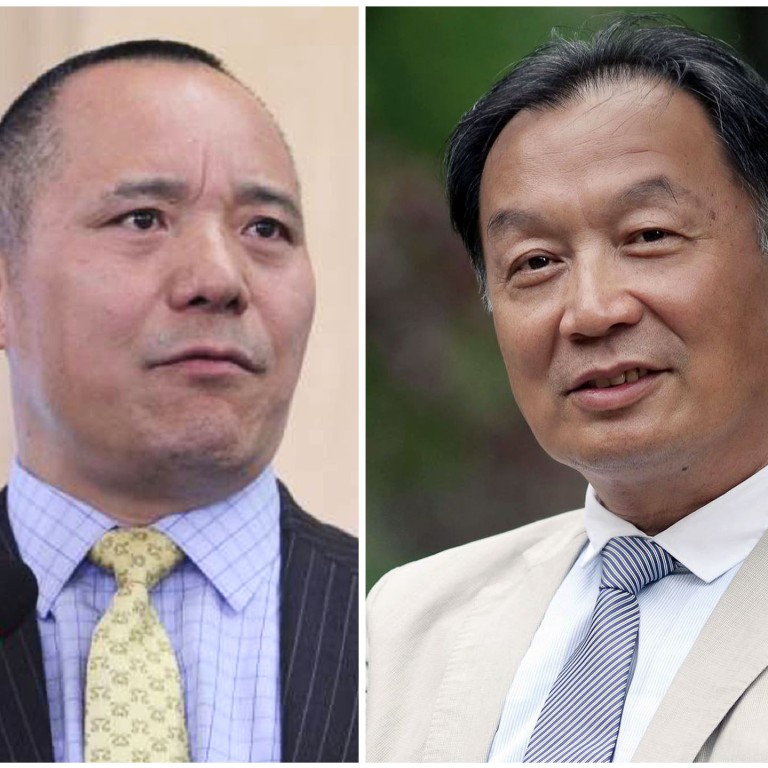 China's economists are divided – some say 'red economy' isolationism is going too far
Online discourse finds support for both sides, as prominent experts debate how best to pull China out of its economic downturn
With the 20th party congress just over two weeks away, it's a sensitive time to discuss political issues, and outspoken economists have been silenced for not towing the party line
A high-stakes debate has broken out between two prominent economists on the development direction of the Chinese economy, two weeks ahead of the leadership-reshuffling 20th party congress that is meant to lay out a road map for China's development in the coming five years.
The online clash between Wen Tiejun and Xiang Songzuo, who both once worked for the prestigious Renmin University in Beijing, is garnering attention from across the country, as in essence they are arguing over the fate of China's open-door policy, its private sector and the economy at large.
Their disagreement also comes at a delicate time.
Foreign investors
and private entrepreneurs – all hit hard by nearly three years of strict pandemic policies – are anxiously anticipating what sort of policies Beijing will turn to next as it copes with deteriorating international relations, pushes for common prosperity, and tries to reinvigorate its economic engine.
The 71-year-old Wen, a well-known expert on rural and agricultural policies, raised eyebrows with a three-minute video clip in which he promoted a "people-oriented" economy – economically autonomous, with more emphasis placed on state-owned economies, and able to meet all of its people's demands with local resources – as opposed to globalisation.
"We call those with [economic] sovereignty, independent development and patriotism 'people-oriented economies'," he said in an interview made several months ago but which became viral this week.
It is not the first time that Wen promoted such a concept – he already advocated a "red economy" with similar characteristics at an academic meeting in July 2021.
Similar comments have put investors and the pro-reform camp on edge, as the business environment and economy have been disturbed by the rigid
zero-Covid controls
and worsening external environment – including the Russia-Ukraine war; tension with Western countries over Xinjiang, Hong Kong and Taiwan; and the global financial turbulence driven by the US Federal Reserve's aggressive interest rate increases.
Critics were quick to denounce Wen's assessment.
Xiang Songzuo, former chief economist of the state-owned Agricultural Bank of China and now head of Greater Bay Area Financial Research Institute in Shenzhen, blasted Wen on Tuesday in a WeChat post, saying that his suggestions would essentially serve to wipe out China's four decades of reform and opening up.
"A 'people-oriented' economy is actually a way to cheat people in the name of the people," Xiang wrote.
"Isn't his so-called independent development [closing borders and locking up the country]? Isn't his localisation [to promote] self-sufficiency? Isn't his comprehensiveness to build companies into ones with a variety of functions, just like a big society? Isn't his people orientation a call of return to the old past with a big size of state ownership?" Xiang added in his post.
In a call with the Post, Xiang confirmed the authenticity of his article, which was widely shared across social media.
"I think he went too far," Xiang said of Wen.
Wen could not be reached for comment.
Unlike previous controversial comments that have been quickly
censored
, Wen's video clip and Xiang's comments can still be found on domestic sites, reinforced by support from their respective sides in the online community.
On official government accounts, reform and opening-up remains a national policy for the world's second-largest economy.
Premier Li Keqiang said in March that China's opening-up policy would not change, "just as the course of the Yangtze and Yellow rivers will not be reversed". It was reiterated during his visit to Shenzhen last month, where he also paid tribute to late paramount leader Deng Xiaoping, who opened China's door to the outside world in the late 1970s.
New policies and priorities could emerge in the coming months as the new leadership makeup – including the Communist Party's Politburo Standing Committee, premier and vice-premiers – is finalised before end-March.
The Chinese economy is still struggling to get back on sound footing after growing by just
0.4 per cent
in the year's coronavirus-disrupted second quarter.
Confidence among both private and foreign investors has weakened considerably, largely due to uncertainties surrounding the zero-Covid policy.
The European Union Chamber of Commerce in China warned in its annual position paper last week that China was losing the allure that it used to have, and that its market's once-lauded predictability has been eroded by erratic policy shifts.
As a result, many financial institutions have already cut their forecasts for China's annual economic growth this year and in 2023, citing uncertainties in pandemic control and other policies.