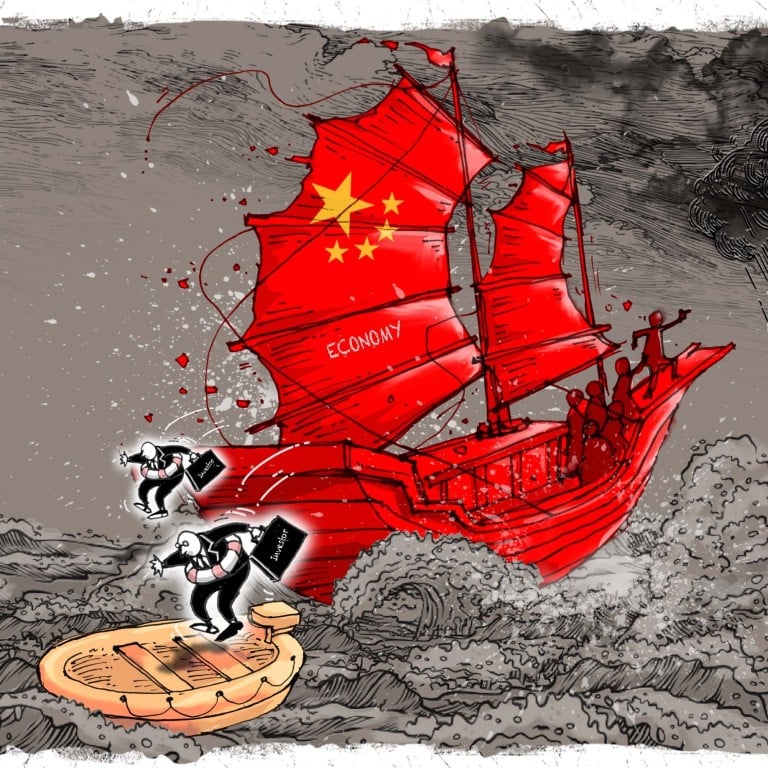 China's 'erratic policy shifts' have some companies wondering how much more they can take
From local subcontractors to multinational corporations, companies in China are struggling to make sense of the business environment
Private and foreign investors are waiting for policy signals at the coming 20th party congress, which will usher in a new generation of leaders
Months after Shanghai lifted its crippling, 60-day Covid lockdown, the event continues to haunt foreign businesses in China.
Multinationals like holiday rental giant Airbnb have shut operations in the country, while a growing number of surveys by foreign business groups show European and American firms are planning to move investment elsewhere.
Overseas investment projects are tumbling. In Shanghai, they fell 20.3 per cent between June and July from a year earlier, according to the city's statistics bureau. In April, the month the commercial hub of 25 million people was shut down, new foreign investment ventures numbered just 13, from 305 in March.
Such is the uncertainty hanging over the world's No 2 economy. From local subcontractors to multinational corporations, companies in China are struggling to make sense of the business environment.
The outlook – both at home and abroad – is looking increasingly gloomy.
Aggressive rate hikes in the US to tame inflation are rippling through the global economy, stoking recession fears. Deteriorating relations between China and the West are threatening to destroy decades of supply chain integration. And Beijing's hardline zero-Covid strategy is constraining China's economy and undermining its reputation for predictability and efficiency.
As a result, Chinese are saving more and spending less, companies are reluctant to expand operations and foreign investors are drawing up withdrawal plans.
Few think the government's annual growth target of "around 5.5 per cent" will be met.
"What is really making people vigilant are the many anomalies in the economic data. It seems that the old economic rules are being broken, making it hard for people to form clear expectations and have strong confidence in the country's economic outlook," Xu Gao, a senior economist with Bank of China International, wrote on news portal Sina.com last week.
The anomalies are numerous: relatively low import growth, deflationary pressure in downstream markets, seldom seen destocking among Chinese manufacturers and a contraction of the property market, to name a few.
China is also facing the challenge of a liquidity trap, where businesses are reluctant to borrow or invest because of poor returns, despite low interest rates.
"If past experience is no longer valid, economic prospects will be difficult to predict, and it will be hard to form good economic expectations," Xu said. "This is the core reason for current 'weak expectations' among economic entities."
Analysts say Beijing must take action to allay anxieties, including a more scientific approach in pandemic control and predictable policies.
"We have a situation now where we are facing more ideological constraints and uncertainties. Predictability is something that we feel like has been challenged by frequent erratic policy shifts," Joerg Wuttke, president of the European Union Chamber of Commerce in China, said last week.
Despite official figures showing foreign direct investment rose 21.5 per cent to US$123.9 billion in the first seven months, from a year earlier, the government's depiction of China as an investment hotspot ignores the fact most money flowed through Hong Kong, and more than 80 per cent of European investment was from just a few large companies.
"Virtually no new European firms have chosen to enter the Chinese market in recent years," New York-based Rhodium Group said recently.
Government researchers and economists tend to regard the current economic trouble as a short-term problem caused by the pandemic.
But foreign investors are sceptical the government will address their most pressing concern any time soon: draconian Covid policies.
"There are no clear signs that Xi will change his zero-Covid policies at the outset of his third term," said Alicia Garcia Herrero, chief Asia-Pacific economist at Natixis.
The economy is also being weighed down by cyclical factors and a real estate crisis.
With shrinking household balance sheets affecting consumption – which accounted for 65.4 per cent of GDP growth last year – Beijing has resorted to state-led investment to drive up headline growth figures.
Private fixed-asset investment grew 2.7 per cent year on year to 17.8 trillion yuan (US$2.4 trillion) in the first eight months of this year, compared to a 5.7 per cent increase in public spending, primarily through state-owned enterprises.
Private companies contributed 55.34 per cent of overall investment in the first eight months, the lowest level since March 2011. In Guangdong, China's top economic and exporting province, private investment dropped 4.5 per cent in the first half of this year, compared to a rise of 18.3 per cent in the first half of 2021.
For many small and medium-sized enterprises, survival is a far bigger issue than business expansion, with most concentrating on maintaining revenue and cash flow.
China's property market slump has left decorator Liu Yun out of pocket and unsure about the future.
Liu, a native of Zhuhai city in Guangdong province, is owed about 10 million yuan (US$1.3 million) by clients, but he has no idea when he will get it.
"No one knows how long it [payment] will be, but it will be a long way off. Nine months, a year, or even longer," said the exasperated Liu, who is not taking on any new work until he solidifies his cash position.
"There is a consensus across most industries, as well as ordinary people, that next year will be worse."
The average period for manufacturers to recover receivables was 54.2 days in July, compared to 51.6 days a year earlier and about 40 days in 2015-17, according to data from the National Bureau of Statistics.
However, some businesses say the situation is even worse. Xie Junping, who runs a small fabrics factory in eastern Zhejiang province, said the payment period has doubled to 4-6 months from late last year.
"That's fatal for small businesses whose cash flow is already fragile," he said.
Ren Zhengfei, the founder of Huawei Technologies, said last month China's largest private company will focus on profit and cash flows, while divesting itself of noncore businesses.
China's internet giants, which form the backbone of the platform economy, have downsized their workforces, partly as a result of Beijing's regulatory crackdown on the sector earlier this year.
Artificial intelligence engineer Jim Jiao was a victim of restructuring in the tech sector after his former employer, a Shenzhen-based disinfection robot producer, cut him loose due to plunging orders. He was forced to take the company to court for unpaid wages and severance pay.
"Market demand has been shrinking sharply this year, due to the drop in the income of hospitals, and dozens of cities across China are under some sort of lockdown," he said.
"Few clients, especially those in service industries, feel that there is the point in purchasing disinfection robots, because as long as there is one case, local businesses will stop production no matter how many robots they arm."
Many private and foreign investors are waiting for policy signals at the coming 20th party congress, which will usher in a new generation of leaders and set the country's direction for the next five years.
Even state-backed media like the Economic Daily are calling for clear and stable policy.
"Policy U-turns and a one-size-fit-all approach must be avoided. In sum, adjustments must be done scientifically," the newspaper wrote in an editorial last week.
Tang Dajie, a senior researcher with Beijing-based research group the China Enterprise Institute, said the party congress will be important for business strategy, but few companies expect a return to normality immediately after the October conference.
"The most relevant policy signal would be the change of pandemic control policy," he said.
Addressing Covid policy would boost market confidence, but Tang warned China faces cyclical problems and a far more complex international environment.
"We haven't walked out of the cyclical slowdown starting from 2017," he said.
"Many of the problems should be addressed with a reformist mind."