Aviation
Get more with myNEWS
A personalised news feed of stories that matter to you
Learn more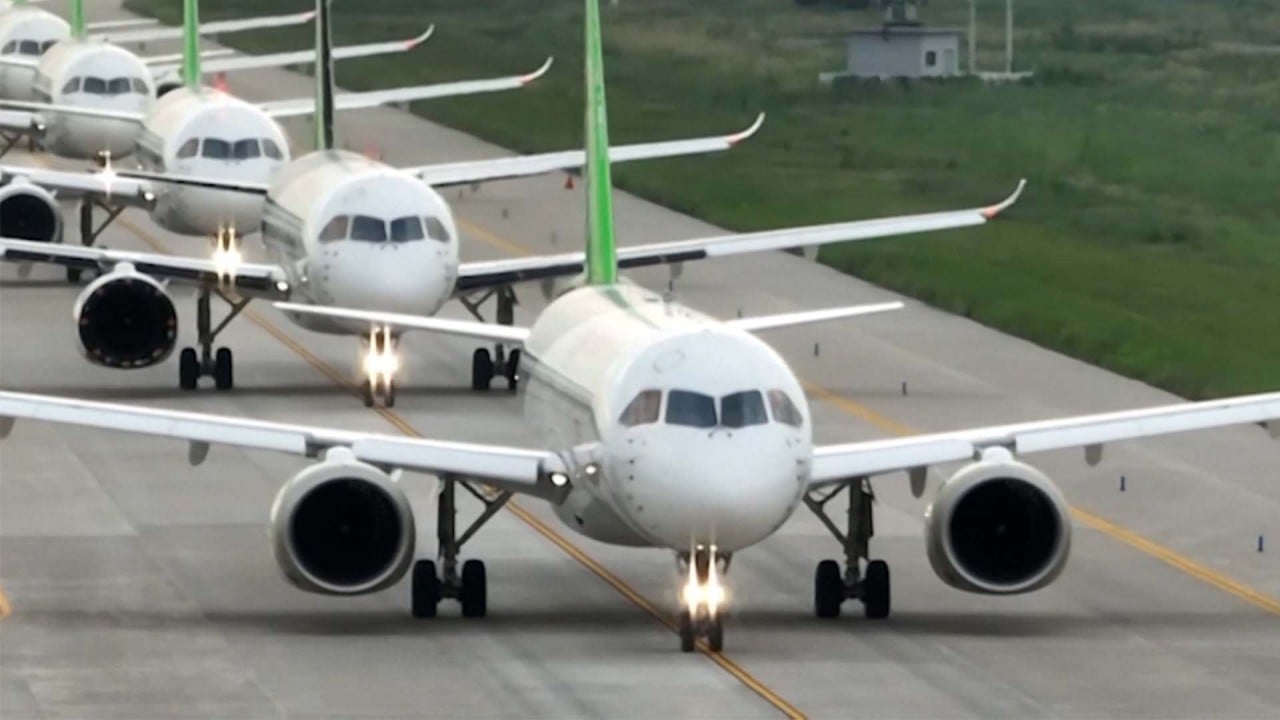 01:05
China's first home-grown passenger jet is certified to fly after 5 years of tests
China's first home-grown passenger jet is certified to fly after 5 years of tests
C919 passenger jet certified to fly as Xi Jinping urges China to 'climb to top of science, technology'
China's home-grown C919 narrow-body passenger jet has been certified to fly, state media confirmed on Friday
Single-aisle C919, manufactured by the state-owned Commercial Aircraft Corporation of China (Comac), is expected to compete with Boeing's 737 and Airbus' A320
China's home-grown C919 narrow-body passenger jet has been certified to fly, according to state media, with Chinese President Xi Jinping urging the nation to "climb to the top of the world's science and technology".
The single-aisle C919, manufactured by the state-owned Commercial Aircraft Corporation of China (Comac) that is poised to challenge Boeing and Airbus, completed all its airworthiness certification work in September.
It has now obtained a "type certificate" issued by Civil Aviation Administration of China (CAAC) and the first aircraft will be delivered by the end of 2022, the state-backed Xinhua News Agency said on Friday.
Xinhua said Xi met with a C919 delegation on Friday in Beijing ahead of China's National Day on Saturday and 20th party congress in mid-October.
"We must focus on long-term strategies, formulate practical goals according to the real situation, choose the correct technical route, and do it one by one, one thing after another. To be ambitious, we must strive to climb to the top of the world's science and technology," Xi said, according to Xinhua.
Xi also emphasised safety and quality, as well as focusing on making greater breakthroughs in key core technology research, accelerating large-scale development and promoting manufacturing power.
Initial reports had suggested the C919 had received the type certificate from the CAAC at a ceremony in Beijing on Thursday after 14 years of development.
One of the photos posted online from the event showed a sign saying "C919 aircraft type-certificate issuance ceremony" in Chinese.
Neither the aviation regulator nor the manufacturer issued statements to confirm whether the jet had been formally approved to begin commercial service. The Post had reached out to both the CAAC and Comac for comment.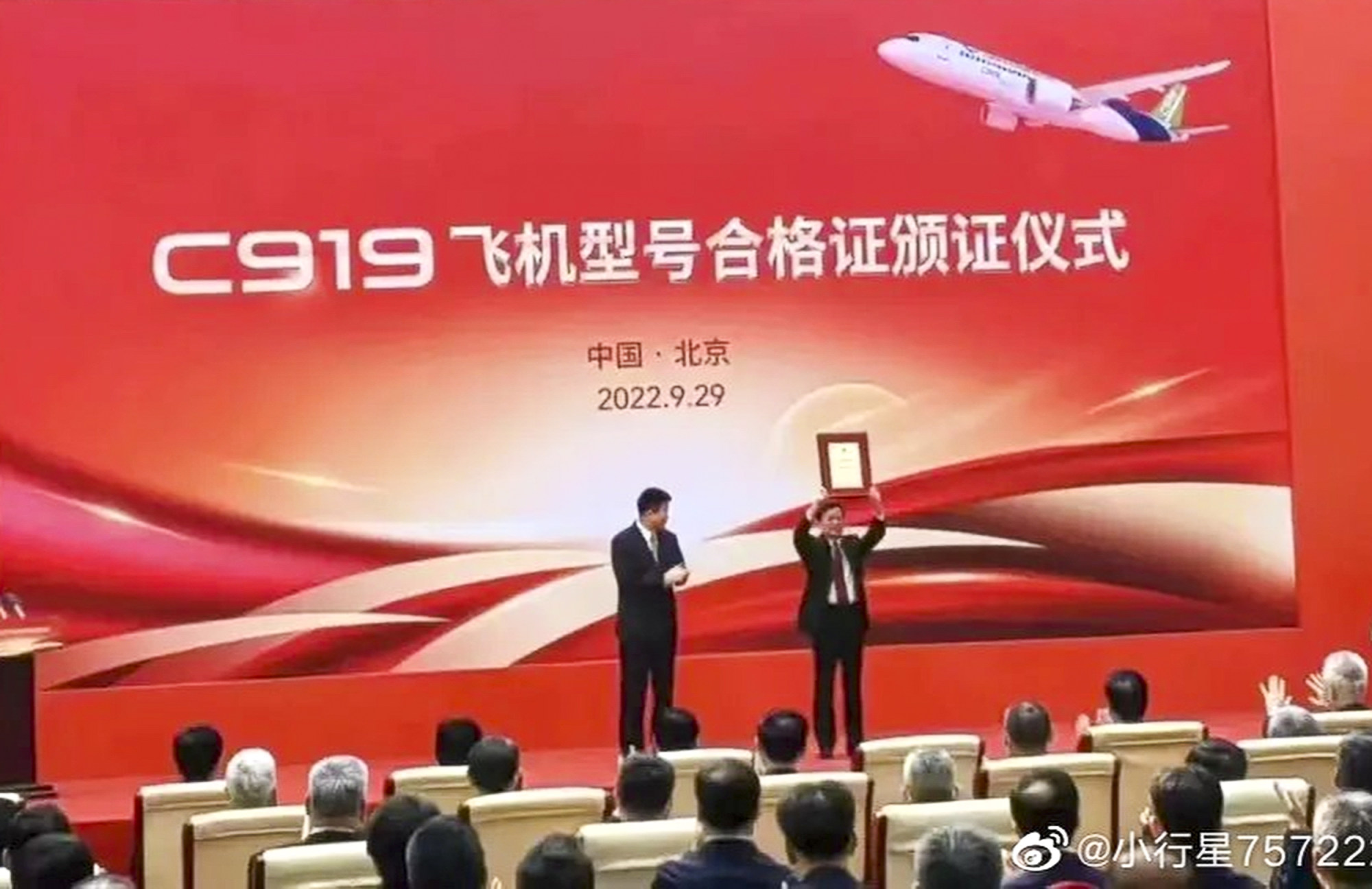 According to Flightradar24, two C919 aircraft also flew from Beijing to Shanghai on Friday afternoon.
Shanghai-based China Eastern Airlines is expected to be the first carrier to operate the C919, having ordered four of the aircraft in May at a cost of US$99 million each.
Andrew Charlton, managing director of consulting firm Aviation Advocacy, said that while Chinese carriers may start using the C919, delays and downturn in the Chinese market are not conducive to getting the new passenger jet up and running quickly.
"It will take some time to overcome that, and thus its path to competitiveness is neither short nor straight," Charlton said.
David Yu, professor of finance at New York University Shanghai and an aviation financing expert, believes it will take some time until the production of the C919 can ramp up so that the plane can become more significant in the domestic market.
"While its listed price is cheaper than the comparable Airbus product, the net amount depends on other factors such as discounts and other add-ons. For example, if you give less training and spare parts, that's also less attractive to the acquirer," Yu said.
The C919 will offer an alternative for the narrow-body passenger jet market in China where Boeing's share has been hit.
Boeing's 737 MAX has yet to return to service in China even though the CAAC
issued an airworthiness directive in December
for the passenger jet which has been grounded in China since March 2019 after 346 people were killed in two deadly crashes in Indonesia and Ethiopia in the space of five months.
The Chicago-based aerospace giant has also lost orders to its rival Airbus from Chinese airlines. China Southern Airlines said earlier this month had placed an order with Airbus SE for 40 A320neo family aircraft.
In July, three Chinese state airlines placed an apparently coordinated order for 292 Airbus jets, while Boeing has since said it will remarket some 737 MAX jets earmarked for Chinese customers.
"I don't think Boeing will give up China's market. It's still a huge market, but they have their frustrations, demonstrated by the remarketing of non-delivered Max aircraft," Yu said.
Boeing's investors also do not want cash tied up in unsold products, and would prefer them to be utilised for better returns, Yu added.
Despite being billed as a home-grown passenger jet, most of the parts used for the C919 are imported from foreign manufacturers, including the engine, avionics, control systems, communications and landing gear.
Nearly two years ago, a Washington-based think tank issued a
scathing assessment
of the C919, saying the odds of it being a success were "between slim and none", while also calling Comac "a true dumpster fire of an organisation".
The granting of the type certificate comes at a time when China's commercial aviation market has been hit hard by China's strict zero-Covid policy.
The industry lost 108.9 billion yuan (US$15 billion) in the first half of 2022 as a result of disruptions caused by the coronavirus, CAAC chief Song Zhiyong said in July.