Yuan
Get more with myNEWS
A personalised news feed of stories that matter to you
Learn more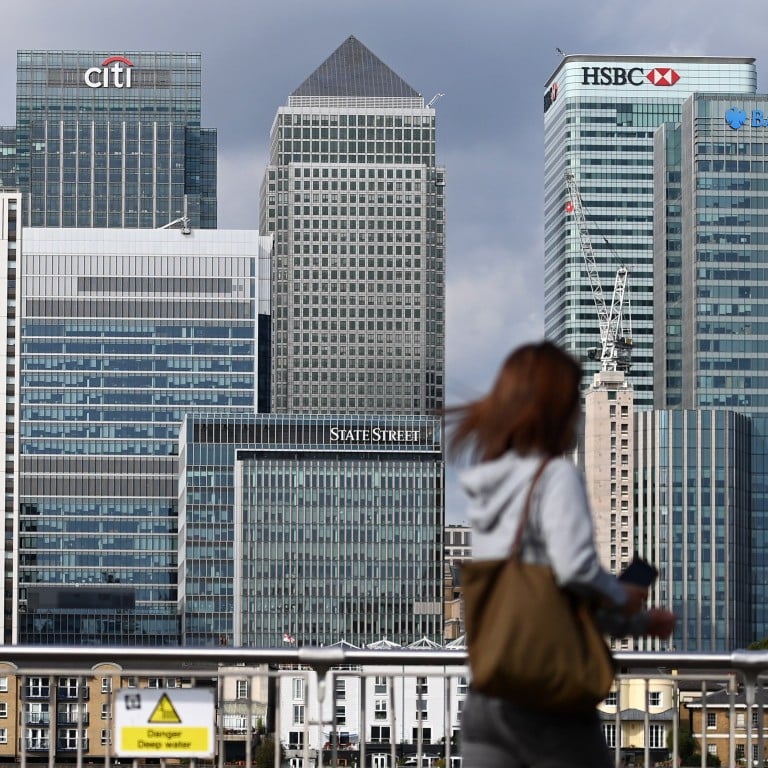 Chinese in Britain breathe a sigh of relief as the pound's sudden crash eases 'soaring' living costs
As the pound crashes against global currencies, including the yuan, Chinese in Britain are finding living costs more bearable
If the pound depreciates further, however, Chinese goods sold in Britain will become more expensive, economists say
Chinese graduate student Wang Qing is elated by the fall in the value of the pound because the yuan she uses in London's Asian supermarkets now stretch a lot further.
The pound, historically one of the strongest global currencies, has hit new lows this week. On Wednesday, it tumbled to 7.749 yuan, down from 7.9552 yuan before the plunge.
Though the currency's weakness is ringing alarm bells in Britain, Chinese studying or working there are delighted, especially amid surging inflation and an energy crisis.
"Since the Russia-Ukraine conflict, food and energy prices have been soaring and rents are also rising," said 23-year-old Wang.
"The increase in imported food is very significant compared to last year. I'm now staying in the school library during the daytime to cut my electricity bill."
The pound fell about 5 per cent on Monday to an all-time low of US$1.0327, after British finance minister Kwasi Kwarteng announced the biggest tax cut package in decades and huge borrowing to pay for it. The move has sent the jitters through markets and forced the Bank of England to take
emergency action
to head off a broader crisis.
Tang Hanyu, a 24-year-old Chinese student at the London School of Economics and Political Science, bought enough pounds to support her expenses for a year at 8.99 yuan before her arrival in London in September last year.
Now, amid soaring consumer prices and a tumbling British currency, she wishes she had waited.
"Prices keep soaring, especially since the Russian-Ukraine war [started]," Tang said. "I used to buy without counting … until one day I suddenly realised something went wrong because the prices were uncontrollable even if I bought the same stuff."
Chinese nationals were the largest group to receive British student visas in the year to September 2021, accounting for 32 per cent of the total at 135,457, government statistics show. The figure has more than doubled since 2009, when Chinese made up 14 per cent of the foreign student population.
Chinese students
have long favoured British schools for their lower costs and shorter advanced-degree study programmes compared to the United States. A weakening pound is likely to make it more attractive.
Many Hong Kong citizens holiday, retire or buy homes in Britain, said Zhiwu Chen, chair professor of finance at the University of Hong Kong.
Hong Kong tycoon Li Ka-hsing, for example, received approval in 2020 to build 3,500 homes for about US$1.2 billion on a former royal dockyard site in London.
But for Hongkongers converting revenue or investment returns earned in Britain back into Hong Kong dollars, the pound's devaluation will hurt them, he said.
The pound's fall has disrupted some business by strengthening the US dollar exchange rate with the yuan, Hong Kong dollar and Taiwan dollar, said Woods Chen, head of macroeconomics with Yuanta Securities Investment Consulting in Taipei.
On Wednesday, the onshore yuan slipped to its weakest level against the dollar since January 2008, prompting the People's Bank of China to
warn against speculation
on further weakening. The US dollar has surged against most other currencies due to aggressive rate hikes to tame inflation by the US Federal Reserve.
If the pound depreciates further, Chinese goods sold in Britain would become "much more expensive", Chen said.
The yuan's greater buying power could also lead to inflation in China-Britain trade, said Ding Shuang, head of Greater China economic research with Standard Chartered.
But because Britain has just "modest" weight as a trading partner with China, the pound's value will have limited impact, said Louis Kuijs, chief Asia-Pacific economist at S&P Global Ratings. Britain imported £63.6 billion (US$70.5 billion) of goods from China in 2021 and exported £18.8 billion.
"Despite its challenges, the United Kingdom remains an attractive place for people in this region to invest, live and study in," Kuijs said. "Some people and firms may take advantage of the cheap pound to invest in London property."
However, it is a different story for people leaving Britain for China, like Londoner Andy Barnes.
In August, Barnes returned to Hong Kong with £60,000 in inheritance money. He needs to convert about one-fifth of that for expenses in Hong Kong, but plans to hold the rest.
Barnes, 35, the Asia-Pacific managing director of a recruitment agency, said he had just begun reckoning with "the amount I'm looking at losing".