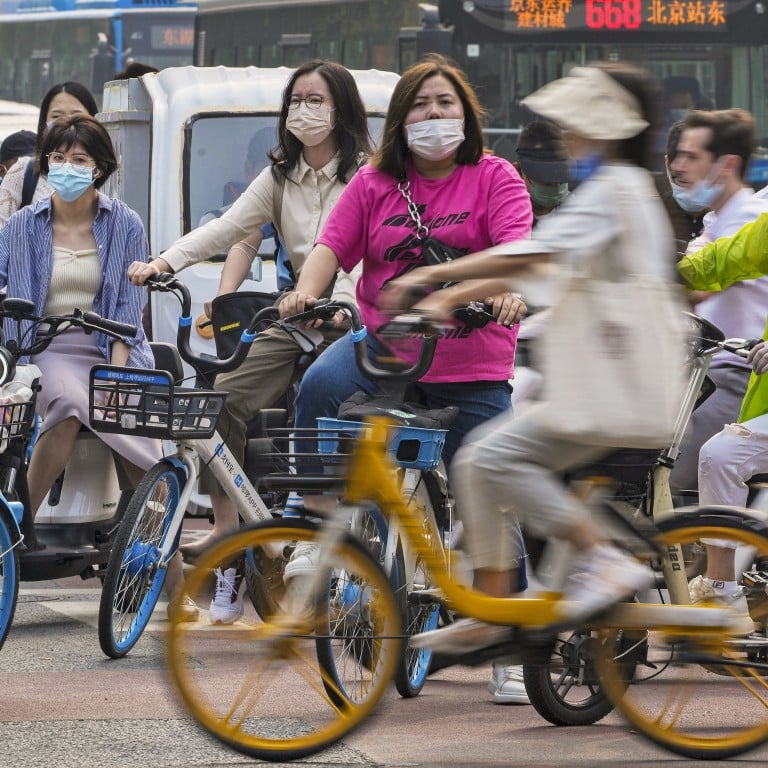 China's economy is losing its lustre, but US firms say it's irreplaceable in the short term
Michael Hart, president of AmCham China, says the world's No 2 economy is still important, but 'reservations' are growing
Small firms are 'really suffering' from Covid measures and alternative markets like Vietnam are becoming more appealing
Although "nobody can replace" China in the near future, growing uncertainty coupled with competition from neighbouring countries is causing foreign companies to reassess operations in the world's second largest economy, says the president of the American Chamber of Commerce in China.
"People do fundamentally think China is an important market to be in, but there are reservations," Michael Hart said in an interview with the South China Morning Post.
"Markets like Vietnam have certainly become more interesting. People are reinforcing and modifying their supply chains. The moves are not necessarily anti-China measures, but definitely a way to protect themselves."
Hart said foreign companies in China have entered a "quiet period" while they either wait for signals the country will reopen, or face reluctance from head offices about expanding.
Business confidence in China is at all time lows, with rising geopolitical tension threatening key industries and
stringent Covid-19 measures
battering the economy.
In an August survey by the US-China Business Council, 96 per cent of respondents said they saw negative effects from Covid controls on their businesses, including halted investment, lost profit, and disrupted supply chains.
Decoupling between the world's two largest economies is complicating matters further, as both countries move to shore up production in sensitive industries like semiconductors and biotech.
"National security signals from both sides on some level are putting extra scrutiny on dual-use technology," Hart said, referring to technology that has both civilian and military application.
"Many US companies have invested heavily in [research and development] in China. They've hired thousands of Chinese scientists and engineers."
China's economy is in the midst of an unprecedented economic slowdown. Its
second quarter growth
plummeted to just 0.4 per cent as a property market slump and zero-Covid measures dampened consumer confidence.
Foreign-owned small and medium-sized enterprises (SMEs) are feeling the effects, said Hart.
"SMEs are really suffering," he said. "When we look at our own membership, our SME members have been declining. Large companies are more resilient.
"SMEs, because they are more thinly funded, it is harder for them to survive."
Ker Gibbs, executive-in-residence at the University of San Francisco and a former head of the American Chamber of Commerce in Shanghai, said SMEs are looking to other markets for respite.
"[SMEs] have more flexibility," he said. "You're definitely seeing a lot of those companies pivoting out of China and into other markets like Singapore and Vietnam."
Regardless of the company's size, though, he said "the enthusiasm for the Chinese market is definitely gone".
"A fair number of multinationals are exploring other options. China is no longer the obvious choice," he said.
In May, US home rental platform Airbnb announced it was
pulling out of China
after eight years of operations and making significant investments.
The platform had always struggled to compete against local alternatives, but the company specifically cited challenges from the Covid-19 pandemic as a key reason for exiting.
However, not all companies are downsizing their operations.
US-based coffee chain Starbucks announced last week it was opening its 6,000th store in China, and that Shanghai would become the first city in the world to reach 1,000 outlets.
The company said it is entering a period of "accelerated growth" as it hopes to raise operations to 9,000 stores by 2025.
But Starbucks' announcement is not necessarily an indication foreign business confidence is suddenly rebounding, say experts.
"Starbuck is a bit different from other foreign companies. It is not involved with high technology so it doesn't risk being sanctioned," said Terence Chong Tai-leung, an associate professor of economics at the Chinese University of Hong Kong.
"As long as there are people in China, there will be demand for coffee."
Henry Gao, a law professor at Singapore Management University, said China's large consumer market will continue to draw certain types of companies.
"The huge size of the Chinese market still remains attractive, especially for big services firms like Starbucks," he said.
Over the past few months, Chinese policymakers have been sending stronger signals that they recognise the concerns raised by foreign firms.
While speaking to representatives from the Japanese business community in September, Premier Li Keqiang promised the country would continue deepening reform and opening up to attract foreign investment.
In August, vice-premier Hu Chunhua stressed that China needs to
stabilise foreign investment
, do more to steady supply chains, and "strengthen the confidence of foreign-funded enterprises with practical actions".
With the 20th party congress only weeks away, foreign companies are looking indications the economy will begin to reopen.
"The 20th party congress is an important date and everyone is watching it," said Gibbs. "Companies will be looking to the results of the party congress to know the direction going forward."
Ultimately, Hart said China's importance in global supply chains and its world-leading innovation in emerging technologies will keep foreign firms operating there for the foreseeable future.
"In the next 10-15 years, nobody can replace China," he said. "[Companies] do want to be here long-term, because China is a good market."