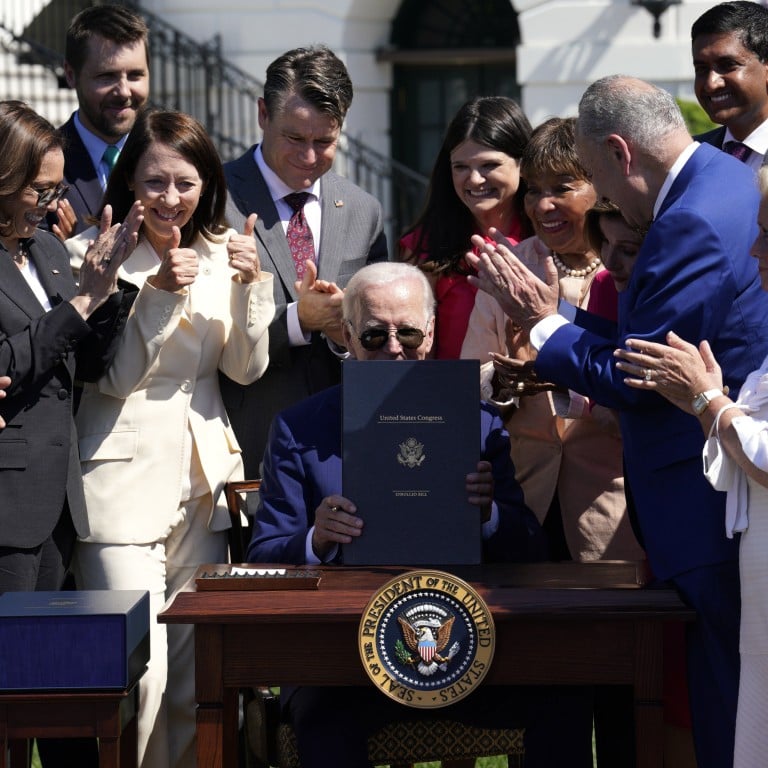 Global Impact: US-China tech war weighs on Xi Jinping's legacy ahead of 20th party congress
Global Impact is a fortnightly curated newsletter featuring a news topic originating in China with a significant macro impact for our newsreaders around the world
In this edition, we look at how China's technological progress has been stalled, especially after US President Joe Biden signed the Chips and Science Act into law
As President Xi Jinping approaches his all-but-assured third term as general secretary of the Communist Party, to be confirmed at this month's 20th party congress, a number of major national challenges loom in the background, not least of which is the US-China tech war, which has frustrated the government in its pursuit of technological self-reliance.
This has been a cornerstone of the government under Xi, who has called for more development of pivotal technologies such as
artificial intelligence, 5G
and blockchain, and for more spending on basic research and improving capabilities in
making home-grown chips
.
"We need to focus on research and development of key technologies with first-mover advantages and basic cutting-edge technologies that lead future development," the meeting concluded.
Trying to leapfrog the market by developing frontier technologies was always a tall order. In the face of US sanctions and a slowing economy, though, that hard work has only got harder.
Yet, in terms of practical technological advances in the economy today, the gains have been more modest. This is most obvious in the case of semiconductors.
Yet, it is barred by US sanctions from buying the most cutting-edge equipment that is used to make these types of chips, so it was likely using older technology, and there is no sign that it is able to produce them at scale.
The fight over chips also has knock-on effects in other industries considered strategically important. This was most recently seen with artificial intelligence (AI), which has come to heavily rely on advanced graphics processing units from Nvidia for machine learning.
As a gauge of Xi's success, China's progress in developing emergent technologies is just part of the story. While the party congress may not hold any answers for how these efforts will evolve in the coming years, at least one thing is sure to remain the same: the man heading the charge.
60 second catch-up
Deep Dives
Beijing forges ahead with all-in chip effort, brushing aside setbacks
China lacks the software, equipment and capabilities for advanced chips, a weakness laid bare by the tech war between Washington and Beijing
In the face of political calls for self-sufficiency, it is hard to avoid waste, fraud and bubbles amid a continuous flow of state funds, experts say
In July 2018, Xiao Yaqing, then chairman of China's state-owned assets watchdog, visited the Beijing office of Tsinghua Unigroup, a day after the state-backed semiconductor conglomerate announced another big takeover deal – the US$2.6 billion acquisition of French chip maker Linxens.
Xiao, who two years later would head China's Ministry of Industry and Information Technology, discussed with Unigroup's then-chairman Zhao Weiguo how the country's state and corporate sectors could work together in semiconductor development, according to a press release issued at the time.
Tech war: Why the US Nvidia chip ban is a direct threat to Beijing's artificial intelligence ambitions
US export restrictions on Nvidia data centre GPUs could hit China's most powerful artificial intelligence systems, which rely on such chips
Industry insiders expect companies to stockpile Nvidia chips before the ban takes effect next year, while carmaker Xpeng says it has years of reserves
But none of these achievements by China's most powerful technology players would be possible without the powerful graphic processing units provided by Nvidia Corp, the Santa Clara-based GPU giant that has played a pivotal role in powering China's progress in AI, data analysis and computing power.
Tech war: China chip start-ups clamour to tout AI chip breakthroughs after Nvidia sales ban, prompting analyst scepticism
Chongqing-based Xiangdixian Computing Technology has unveiled Tianjun No. 1, a GPU with 12-nanometre node technology
Analysts say that Chinese chip companies still lag far behind Nvidia, which has a near monopoly on GPUs used to train AI models
Chinese semiconductor start-ups are rushing to claim breakthroughs in artificial intelligence (AI) chips after the US restricted the export of advanced chips from Nvidia Corp and Advanced Micro Devices (AMD) to China, prompting scepticism from many industry analysts.
Chongqing-based Xiangdixian Computing Technology, which designs microprocessors, this week unveiled Tianjun No. 1, a graphics processing unit (GPU) with 12-nanometre node technology. The company claimed it has "reached an internationally advanced level" and will "effectively fill the gap in the domestic market", according to an official post on its WeChat account on Wednesday.
Tech war: record number of Chinese chip firms going out of business in sign of Beijing's sputtering self-sufficiency drive
As many as 3,470 firms – including those that use the Chinese word for 'chip' in their brands or operations – deregistered between January and August
That number surpassed the 3,420 such firms that closed in 2021 and the 1,397 that went defunct in 2020
As many as 3,470 companies – including entities that use the Chinese word for "chip" in their registered names, brands or operations – deregistered in the January-to-August period, according to statistics from business database platform Qichacha. That number surpassed the 3,420 such firms that closed in 2021 and the 1,397 that went defunct in 2020.
China's central bank declares victory in cryptocurrency crackdown ahead of the Communist Party's national congress
The People's Bank of China touted its success in curbing onshore transactions of bitcoin in a WeChat post on Monday
Beijing sees cryptocurrencies and NFTs as a threat to financial stability and completely banned related activities last year
The People's Bank of China (PBOC), which regards cryptocurrencies as a potential threat to financial security and capital controls, is grappling with some of the most challenging economic conditions in the country in years, as growth has slowed to its lowest pace since the beginning of the pandemic under Beijing's unwavering zero-Covid policy.
'Even more dependent': China factories remain key to global supply chain
Coronavirus-related restrictions and lockdowns have disrupted global supply chains over the last two years as many of them begin in China
The US has long pushed for a so-called decoupling from China over fears of an over-reliance, but many find it hard to move away from 'the world's factory'
"There is no need to think of quitting China," fabric exporter Raymond Xie was finally able to tell his clients earlier this month.
Like other veteran Chinese exporters, Xie's "heart was torn with anxiety" after his factory operations at the start of the year were hit by coronavirus-induced supply chain disruptions.
China makes up 84 per cent of blockchain applications worldwide, state official says, but only a fifth are approved
An official at China's industry regulator did not give a timeline for the figure, but he touted blockchain's advantage in service integration
The comments show Beijing's continued commitment to blockchain technology despite a strict ban on cryptocurrencies
Wang Jianwei, deputy director of the Ministry of Industry and Information Technology's information technology development office, disclosed the figure on Tuesday without specifying the time frame. He added that blockchain "accelerates integration with the economy, services for people's livelihoods, smart cities and administrative services".
Shenzhen aims to be China's artificial intelligence hub with new guidelines
The Shenzhen government has passed China's first local regulation dedicated to boosting AI development, to go into effect in November
The regulation encourages government agencies to be early AI adopters and establishes a related ethics committee to draw up safety guidelines
The regulation, which takes effect in November, seeks to promote the AI industry by encouraging government agencies to be the early adopters of related technologies and enhancing financial support to AI research in the city. In particular, the Shenzhen government will set up public data sharing rules and open certain types of data to businesses and institutions working in the industry.
Global Impact is a fortnightly curated newsletter featuring a news topic originating in China with a significant macro impact for our newsreaders around the world.