Xinjiang
Get more with myNEWS
A personalised news feed of stories that matter to you
Learn more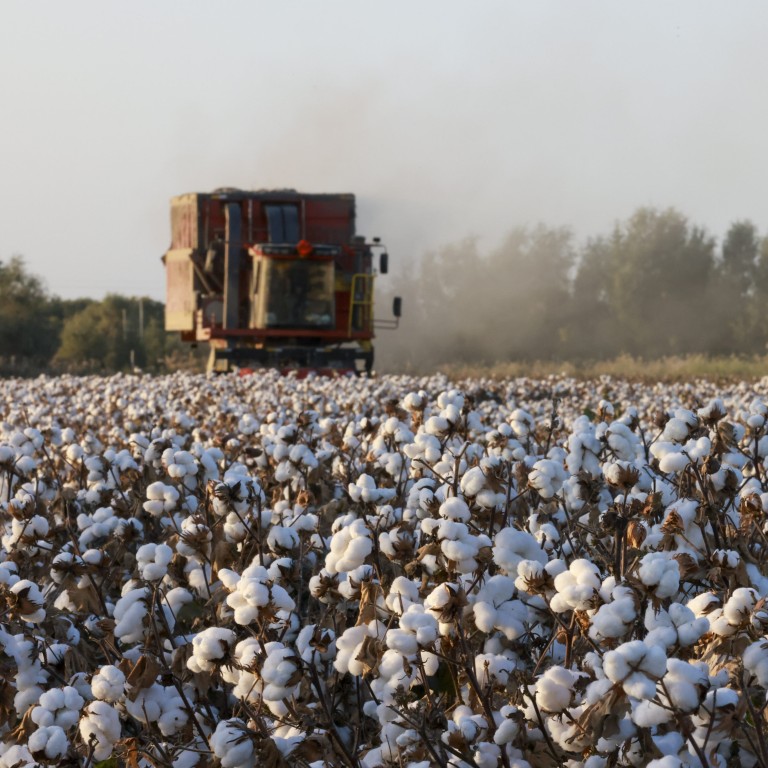 As China's cotton harvest begins, Xinjiang 'forced labour' law and global recession fears hobble demand
The spot price of cotton from Xinjiang has fallen by more than 20 per cent since Washington effectively banned imports from the region in June
Supply side disruptions caused by extreme weather in countries like the US and recession fears are also weighing on the global cotton market
As the cotton harvest gets under way in Xinjiang, scenes of frenzied buying at mills that were a feature of last year are nowhere to be seen.
The spot price of cotton from the autonomous region has fallen by almost a quarter since Washington effectively banned imports of Xinjiang goods over alleged forced labour in June.
But the sluggish market is not just limited to China's far western region, which is home to one fifth of global cotton output. The industry worldwide is facing pressure from a number of quarters.
The
Uygur Forced Labour Prevention Act
and extreme weather in major planting areas have caused supply side disruptions. Weakening demand amid record high US inflation and global recession fears due to aggressive rate hikes are also weighing heavily on the cotton market, according to industry insiders and analysts.
"Ultimately we need to look at the demand, if the demand is bad, the price will not go up," said the owner of a cotton-ginning mill in southern Xinjiang, who spoke on condition of anonymity.
The price of cotton futures trading on the Intercontinental Exchange – an American company that operates financial exchanges and clearing houses – has fallen nearly 30 per cent since late August, though it has regained some of its losses in the past two days.
"[The drop in price] is mainly due to the worries about recession," the mill owner said. "In addition, the retail inventory in the United States is quite high, so the number of new orders for cotton products would be relatively small."
The US Department of Agriculture (USDA) increased its forecast for the country's coming cotton harvest to 3.01 million tonnes in September, up from 2.7 million tonnes in the previous month, which was the lowest crop estimate since 2009 due to concerns about drought.
The US produces about 15 per cent of global cotton each year, according to USDA data.
The September forecast has contributed to a slump in American cotton prices, on top of concerns around sluggish garment consumption, analysts said.
"In September, the drought level in the main cotton producing areas of the US was basically stable. Entering the harvest season, the window for speculation on production cuts due to droughts has basically closed," said Cao Yuan, an analyst with Mailyard Futures, in a note last week.
Outside the US, extreme weather is also clouding the outlook for other major cotton producers. Pakistan's coming harvest, which has been blighted by floods and heatwaves, is forecast to be 1.2 million tonnes by the USDA, the country's second lowest level of output in nearly 40 years.
For the global textile industry, the business environment and expectations turned negative in July, especially in Asia, according to a survey by the International Textile Manufacturers Federation.
In Xinjiang, where new cotton delivery has started in many areas, cotton-ginning mills are displaying less interest and more prudent attitudes towards buying compared with previous years, analysts said.
Even after Washington's "forced labour" law took effect, customs data and shipping records show Xinjiang is sending tens of millions of dollars worth of
goods to the US each month
.
But Xinjiang's cotton industry has undoubtedly suffered as downstream manufacturers – especially those focusing on exports – shun the commodity because they are wary of running afoul of the sweeping ban.
The procurement cost of raw cotton this year has dwindled to around 15,500 yuan (US$2,178) per tonne, down from over 20,000 yuan per tonne last year, according to the mill owner.
The unsold inventory of old cotton, meanwhile, is much higher this year than in previous years, despite state buying since July which aims to absorb up to half a million tonnes of Xinjiang cotton for China's national reserves.
China's commercial cotton stockpiles were 2.5 million tonnes at the end of August, more than half a million tonnes higher than the same period last year, according to figures from Beijing Cotton Outlook Consulting.
China's total cotton output in the current harvest season is expected to be 6.03 million tonnes, up 4 per cent year on year. The output from Xinjiang will be 5.53 million tonnes, up 5 per cent on last year, according to official figures.