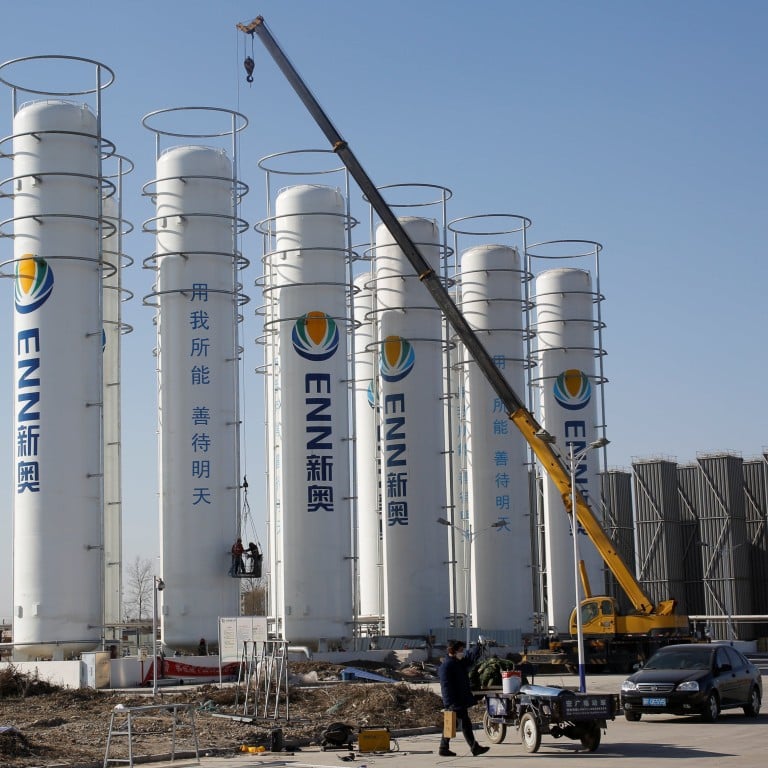 China's long-term LNG contracts surge, leaving it in a 'delicate position' with US and Russia
China's growing reliance on gas supplies from both the US and Russia could leave it at the mercy of geopolitical forces, a new report says
China has signed a record number of long-term liquefied natural gas (LNG) contracts in the past two years, many with American firms
China has signed a record number of long-term liquefied natural gas (LNG) contracts over the past two years, leaving the country increasingly dependent on Russia and the United States amid rising geopolitical tensions, according to a new report.
Chinese energy firms signed 20 new LNG contracts last year, accounting for 40 per cent of all new contracts signed in 2021 in terms of volume, said the report by Anne-Sophie Corbeau and Sheng Yan from the Centre on Global Energy Policy of Columbia University.
The buying spree continued this year despite weakening domestic demand due to Beijing's
zero-Covid policy
, which has shut down swathes of the country and suppressed economic activity. Chinese companies signed nine more long-term contracts as of late August, eight of which are at least 20 years in duration, the report said.
"This strategy is in part driven by the record-high spot prices, which have pushed Chinese players to seek protection in long-term contracts," the authors said.
As half of these contracts last for at least two decades, with some starting in 2026 or later, it indicates that China anticipates a long-term need for LNG, according to the report.
"In contrast to the previous decade, many Chinese LNG contracts have been signed with US companies, signalling a change in the China-US relationship on LNG and helping to balance the broader trade relationship between the two countries," the report said.
Rising dependency on the US, however, could be a security concern for China, as there are no signs that "
China-US tensions
will abate any time soon", and geopolitical conflicts have been exacerbated amid Russia's invasion of Ukraine, it said.
China surpassed Japan to become the world's largest importer of LNG in 2021, with spot and short-term LNG contracts accounting for about half of total imports.
Australian was China's biggest LNG supplier in 2021, followed by Qatar, according to Chinese customs data.
The US ranked third in terms of volume supplied last year, thanks to the phase-one trade agreement signed between Beijing and Washington, which included a Chinese commitment to increase purchases of US energy products.
US spot LNG this year has been largely diverted to Europe, which has been struggling to fill a void left after Russia cut pipeline gas supplies to the continent.
But half of the long-term contracts China has signed since early 2021 have been with American companies in volume terms.
Though Chinese buyers have largely stopped spot procurement this year due to suppressed demand, Europe has been snapping up spot contracts at higher prices, while showing more reluctance to enter into long-term deals.
"They are caught between Europe's strong need for LNG in the short term and the expectation that LNG imports will decline in the long term due to the [the European Union's] decarbonisation strategy," the report said.
This year, Chinese energy firms have been
reselling excess LNG
to the international market to take advantage of the price difference between long-term contracts and elevated spot prices.
The country exported a record US$164 million worth of LNG to Europe – including Spain, France and Malta – and another US$284 million worth to Japan, South Korea and Thailand in the first eight months of 2022, customs data showed. In contrast, Chinese exports were worth US$7 million last year.
China's imports of Russian gas also surged in the first eight months of the year, both in terms of LNG and pipeline, as Moscow seeks to divert gas flows from Europe to Asia amid Western sanctions.
When Putin visited Beijing in February, on the eve of Russia's invasion of Ukraine, the two countries
signed a deal
to deliver another 10 billion cubic metres (353 billion cubic feet) of Russian gas per year over 25 years to China via a new pipeline.
China's reliance on gas supplies from both the US and Russia has put the country in a "delicate position", the report said.
"From China's perspective, it is also important to think strategically about how much it wants to depend on each of its supply sources, especially considering the evolution of geopolitical forces and the current situation regarding global gas/LNG markets," it said.
"This reliance has aroused major concerns domestically as China's natural gas import dependency remains above 40 per cent. But China has been alleviating those concerns by boosting domestic production, expanding infrastructure, diversifying import options, and promoting market reforms.
"These measures should enable China to balance the need to meet domestic demand with the need to ensure energy security."
The new American contracts could provide more commercial opportunities for China and the US to cooperate in the climate change sector, according to Li Dan, executive vice secretary-general of the Chinese Renewable Energy Industries Association (CREIA).
"If the two countries both stand behind the same development goal of fighting climate change, there will actually be a lot of room for discussion amid current geopolitical tensions," she said. "More exchange and cooperation in the energy industry is more conducive to ice-breaking."
Tensions between China and the US have escalated after US House Speaker Nancy Pelosi's visit to Taiwan in early August. In response, China suspended a set of dialogues with the US, including on climate change, one of the few sectors of constructive engagement.