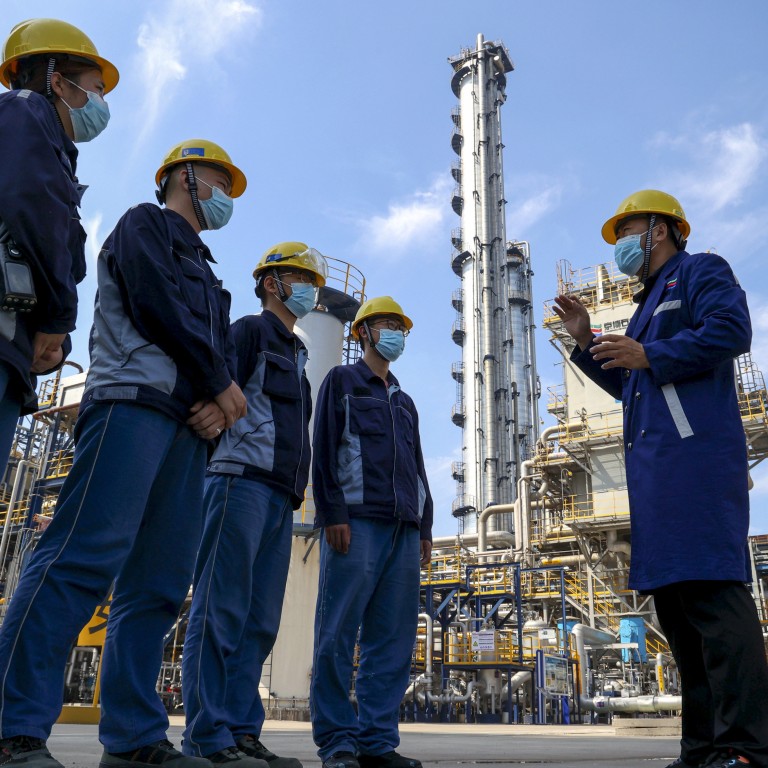 China's vocational college graduates find low pay, fierce competition the norm in tough job market
Some 63.4 per cent of vocational college graduates in China earn less than 5,000 yuan (US$702) per month and 80 per cent would settle for casual work
Enrolment in vocational colleges has increased by 4.13 million in the past three years, but low pay and fierce job competition is the reality after graduation
No matter how many 10-hour days Xiao Lin or her husband work, they cannot seem to get ahead.
Xiao, a 27-year-old vocational college graduate from Guangzhou, has been working as a saleswoman in the service industry for years, earning between 4,900 (US$689) and 6,500 yuan per month, depending on commissions.
Her husband earns a modest income from a small logistics workshop he set up in 2020, but China's rigid Covid controls have made business hard over the past two years.
All up, the couple have more than 300,000 yuan of debt, most of which was borrowed to keep the logistics company alive.
Theirs is not an unfamiliar story for graduates of China's vocational colleges, which focus on teaching technical skills for specific jobs.
Some 63.4 per cent of vocational college graduates, who typically study for three years, earn less than 5,000 yuan per month, according to a September survey by 51job.com, a leading Chinese human resources and recruitment provider.
The same survey found that more than 80 per cent of graduates would take up flexible work, which means temporary or casual jobs.
Against a backdrop of frightfully
high youth unemployment
, the survey has captured public attention, garnering more than 340 million viewers and prompting tens of thousands of online comments in the past two weeks.
A record 10.76 million students are set to graduate from tertiary institutions in China this year, including 6.54 million from vocational colleges, piling pressure on the job market amid a slowing economy.
Enrolment in vocational colleges has increased by 4.13 million in the past three years, with institutions taking on more servicemen, the unemployed and migrant workers, according to the education ministry.
The number of new enrolments in vocational colleges reached 5.57 million last year, up by 180 per cent from a decade ago.
But fresh graduates are finding low pay and fierce competition is the norm in the job market. Many cannot find work at all.
"In Guangzhou, which is already a first-tier city in China, a lot of college graduate friends I know have an after-tax income of 4,000 or 5,000 yuan for a month," Xiao said. "That type of income is really difficult for young people to cover expenses for marriage and childbirth in cities."
Tuition fees for vocational education are not cheap for working and rural families, usually costing about 10,000 to 20,000 yuan annually, excluding accommodation.
In smaller cities, vocational college graduates are also finding their degrees are not necessarily an advantage when applying for jobs.
In the 51 job's survey, vocational college graduates in second and third-tier cities said there were few job opportunities, nor were they welcomed by local employers.
"The city I live in is very small and dominated by light industrial factories, the income of young people has not increased in the past two years, and jobs are very unstable," said Li Qi, a freelance photographer in Shantou city in Guangdong.
"Civil servants can have a pay check of 6,000 yuan or higher but it's not the case for vocational college graduates, while the monthly salary for a clerk or worker at a private firm is typically around 3,500 yuan," she said.
Fierce competition for jobs is not just affecting vocational college students in China.
"It's becoming quite common to have graduates with a master's degree or bachelor's degree with a double major to seek grass roots posts at a subdistrict level, which only requires a junior college degree," said Tom Xin, a Guangzhou-based civil servant at a district level. "To be honest, it's a waste of resources."
Demographers said the survey results would feed into young people's gloomy expectations about the economy and job prospects, which would discourage spending and willingness to marry or have kids.
"Young people are the main consumers of any society, and their income expectations are definitely crucial, regardless of China's core strategies such as consumption, population and common prosperity," said demographer Huang Wenzheng.