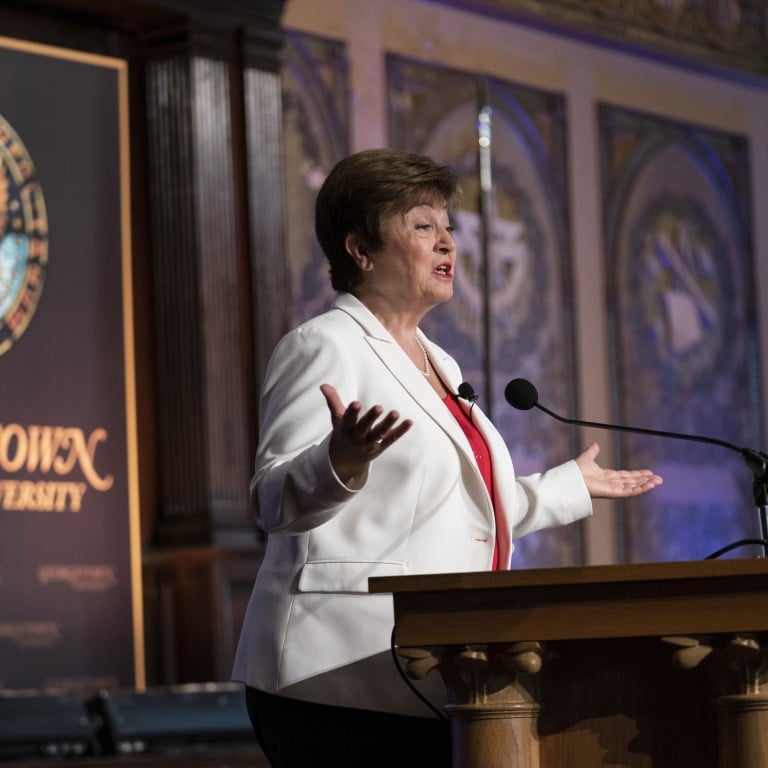 New China GDP estimate downgrades 2022's economic growth to 3 per cent as global recession concerns mount
Zero-Covid policy, property sector downturn and external factors continue to cast a pall over China's economy, the Peterson Institute for International Economics says
Global economy is at risk of a 'massive setback', IMF chief warns as a fourth downgrade is expected next week
China's economy may grow by just 3 per cent this year as global recession concerns mount, according to the latest estimates on global economic prospects by the Peterson Institute for International Economics (PIIE).
It marks a sharp downgraded from the think tank's April forecast of 4.7 per cent, and it is the latest in a series of increasingly pessimistic economic forecasts for the growth of China's gross domestic product (GDP) this year.
Last year, China's economy grew by 8.1 per cent, but that was compared with the first year of the pandemic, when its GDP grew by just 2.2 per cent in 2020.
In March, China struck a cautious note in projecting that GDP would grow by "
around 5.5 per cent
" this year. But less than three months later, Beijing said its growth target would "
fall far short
" of that estimate.
In once again revising down its forecast, PIIE pointed to China's continued grappling with coronavirus shutdowns under its zero-Covid policy, its real estate slump and persistent disruptions caused by Russia's invasion of Ukraine.
PIIE expects that India's economy will grow by 6.9 per cent this year, and that the developed economies of the US and Japan will grow by 1.7 and 1.6 per cent, respectively.
For the entire global economy, PIIE lowered its growth forecast from 3.3 per cent to 2.9 per cent, and warned that the 2023 growth rate might further fall to 1.8 per cent.
The downgraded sentiment is shared by the International Monetary Fund (IMF), which has already cut its global economic growth forecast
three times this year
, and intends to do so again in the coming days, according to its managing director, Kristalina Georgieva.
"The risks of recession are rising," Georgieva said on Thursday during a speech at Georgetown University.
She said that countries accounting for about a third of the global economy are expected to see at least two consecutive quarters of negative economic growth this year or next. And that more than a quarter of emerging economies, as well as 60 per cent of low-income countries, are facing a debt crisis.
Georgieva also said that the world could lose US$4 trillion worth of economic output between now and 2026. "This is the size of the German economy – a massive setback for the world economy," she said.
In noting how all of the world's largest economies are slowing down, she said: "China suffers from pandemic-related disruptions and a deepening downturn in its property market."
China's economy managed to grow by 4.8 per cent in the first three months of this year, putting it within reach of Beijing's original growth target. But as coronavirus-induced disruptions mounted under a restrictive zero-Covid policy, economic growth tanked to just 0.4 per cent in the second quarter.
"By April, 60 per cent of China's 100 largest cities had some form of mobility restriction or lockdown," PIIE noted in its report, written by senior fellow and economist Mary Lovely.
Amid a "darkening global outlook" in a "period of historic fragility", countries such as China must make responsible economic decisions, Georgieva said.
Lovely said that Beijing's coronavirus-control measures, along with the property sector woes, have contributed to weakened domestic demand.
She suggested that policymakers might seek an exit from the zero-Covid policy during the upcoming
20th party congress
, but she noted how this could be complicated due to difficulties in obtaining effective vaccines and devising less-restrictive border policies.
"The Chinese government must adjust its public health and regulatory policies if it wants to revive consumption and productive investment, and if it wants to begin to reach back toward that 5.5 per cent goal that [President] Xi Jinping set at the beginning of 2022," Lovely said.