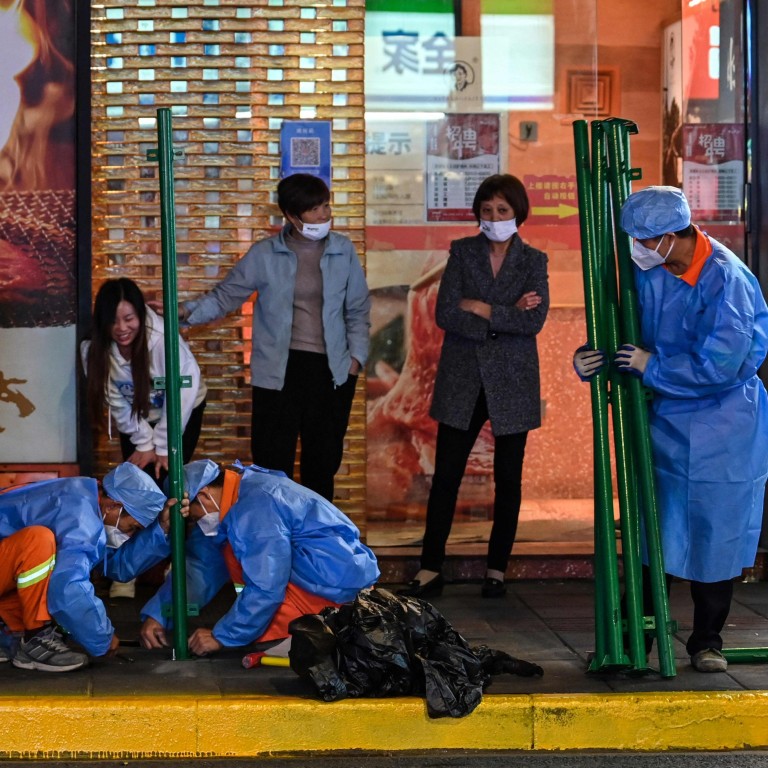 China's third-quarter GDP growth projected at 3.5 per cent amid 'inescapable' economic pressure
On average, economists expect that China's economy grew by 3.5 per cent during the year's third quarter, and they say more must be done to restore market confidence
China must strive to avoid 'persistent and structural economic damage', analyst warns; Beijing had set a year-end growth target of 'around 5.5 per cent'
China's economic rebound during the year's third quarter is expected to have fallen short of expectations, putting the country's annual growth target farther out of reach, according to analysts.
They note that Beijing's stringent zero-Covid policy continues to maintain its stranglehold on China's economy, and that authorities need to take more concrete steps to restore waning confidence among consumers and private enterprises.
China is expected to reveal its gross domestic product (GDP) for the July-September period on October 18, when the leadership-reshuffling 20th party congress will be under way.
The consensus among analysts is that China's economy grew by 3.5 per cent during the third quarter, year on year, according to Chinese financial data provider Wind.
Even though the figure would be a markedly faster increase than the marginal
0.4 per cent rise
during the year's second quarter, it is well below the 4.8 per cent that the market expected in August.
China's year-on-year growth pace during the quarter appears to have been dwarfed by that of Vietnam, which said that its GDP grew by 13.7 per cent.
There has been debate over whether the Southeast Asian country could replace China as the so-called world's factory, but some observers note that Vietnam benefited from a low comparison base with last year, and that it saw a quarter-on-quarter decline during the last three months.
Still, it would not be the first time that the Chinese economy has moved more slowly than its major Asian developing peers. The country's GDP growth was slower than that of India last year, and China also lagged behind global economic growth in the second quarter of 2022.
"China has lost its lead position in the Asian economic arena," said Chan Kung, founder of independent multinational think tank Anbound.
"What [China] really needs to avoid, as much as possible, is persistent and structural economic damage," he said, adding that the issue now for other Asian countries is how to maintain growth.
Industrial output is expected to have mildly recovered during the third quarter, and infrastructure construction was accelerating, with support from two stimulus packages introduced in May and August. Producer prices also slowed, and
consumer inflation remained moderate
.
But on the other hand,
export growth has slowed
, partially due to falling overseas demand under mounting recession risks after the US Federal Reserve's rate hikes.
China's property woes are lingering, and coronavirus-containment measures continue to hit consumer demand while a record-breaking summer heatwave and drought have also taken an economic toll.
"China's economic recovery [in the third quarter] missed expectations and shows a weak recovery trend, overall," analysts with the Bank of China wrote in a note on September 28.
Wind data shows that the market expects China's economy will grow by 3.6 per cent this year, well off the annual target of "
around 5.5 per cent
" announced by Beijing in March.
That projected level was to be an important milestone in China's economic-growth aspirations, relative to the growth levels of other countries, according to Jia Kang, former head of the finance ministry's research institute.
"Of course, we are pursuing high-quality and sustainable development … but it is still unimaginable, from a strategic perspective, for us not to have this pace [of 5 to 6 per cent]," Jia said at a forum on September 24.
Han Baojiang, a professor and director of the economics department at the Central Party School, said the "unprecedented pressure" on China's economy is "inescapable", especially as there is no clear timeline for when the pandemic will end.
"We must improve our epidemic preventions and controls," he said during a webinar on September 28, adding that more scientific, targeted and effective instruments were needed.
The Economist Intelligence Unit (EIU) regarded Beijing's zero-Covid policy also as a major drag on global growth and expected it to continue well into next year.
"The fallout from Russia's invasion of Ukraine, global monetary tightening and an economic slowdown in China are weighing on the global economy," the EIU said in a note on Wednesday.
A policy-induced global recession could be worse than the global financial crisis of 2007 to 2009, the United Nations Conference on Trade and Development warned in a report on Monday; the World Trade Organization also
sharply cut its global trade outlook
for 2023 on Wednesday.
The sharp depreciation of the yuan against the US dollar will further strain the Chinese economy, while the impacts of the war in Ukraine and the US-China rivalry were likely to be still limited for the rest of the year, said Chan with Anbound.
"The biggest problems facing the Chinese economy are from its [domestic] economic environment," he said.