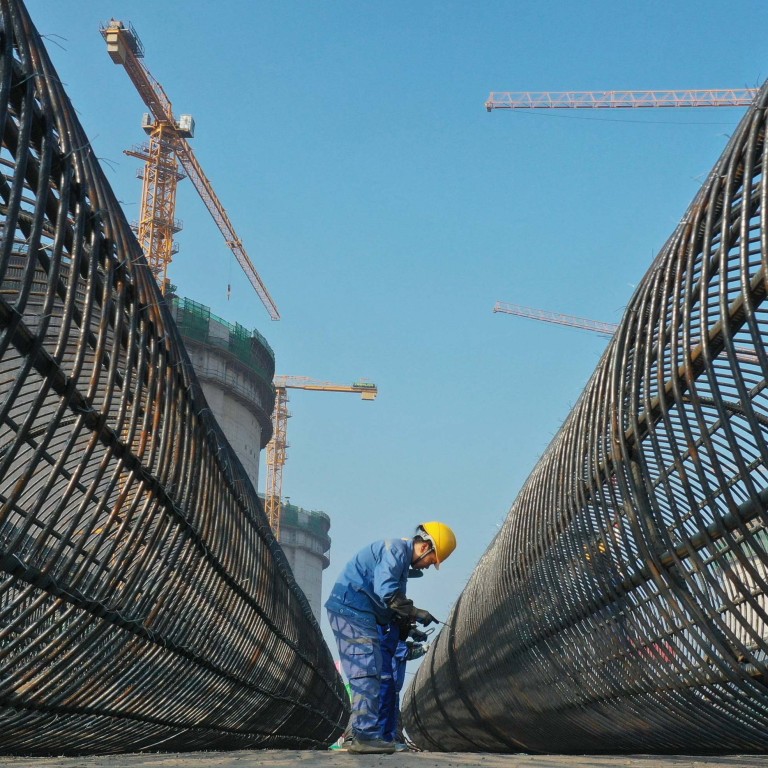 China's rapid LNG expansions power its push to maintain energy security in the face of crises
Liquefied natural gas infrastructure is booming in China, from expansions to new facilities, as the country prioritises transition away from coal
Power shortages and interruptions over the past two years highlight urgency of securing alternative forms of cleaner energy
China is ramping up construction of liquefied natural gas (LNG) infrastructure – including receiving terminals and storage facilities – as the country secures more long-term buying contracts for the fuel amid growing concerns over energy security.
"China is among the countries with a long list of LNG terminals under construction," said Anne-Sophie Corbeau, a researcher with the Centre on Global Energy Policy at Columbia University.
While some are being constructed from scratch, many existing terminals are undergoing expansions, she added.
Late last month, a carrier from Qatar offloaded 210,000 cubic metres of LNG to a storage tank at the Yancheng Green Energy Port in eastern Jiangsu province, commencing operation of China's largest LNG reserve base, according to local authorities.
The new LNG port is an example of Yancheng thoroughly implementing President Xi Jinping's energy-security strategy, the Yancheng government said on its website.
The strategy, put forth by Xi in 2014, aims to revolutionise China's energy consumption, supply, technology and systems, while enhancing international energy cooperation.
Xi has also repeated warnings on energy security in the past two years, particularly as the country has encountered recurrent power crises.
Beijing intends to build 34 coastal LNG-receiving terminals and add 224 billion cubic metres worth of receiving capacity by 2035, more than doubling the country's current capacity, according to a draft plan issued by the Ministry of Transport in 2019.
By the end of 2021, China had 22 LNG terminals in operation, with a total receiving capacity of 92.27 million tonnes, official data shows.
According to the country's 14th five-year plan for 2021-25 on modern energy systems, enhancing the construction of gas-storage facilities such as LNG terminals is one of the keys to improving the flexibility of China's energy supply.
"China is a big country and already has a very large gas market – probably the size of the [European Union] in 2022 – so it makes sense to have a lot of LNG terminals," Corbeau said. "To supply the different regions, it makes sense to have quite a lot of LNG capacity spread around the country, to have more entry points and to better supply various regions."
China surpassed Japan to become the world's largest LNG importer in 2021, and Chinese companies have signed a record number of long-term contracts with suppliers over the past two years,
many from the US
.
"From a security-of-supply point of view, it also makes sense to have more LNG capacity in case something happens with another supply source – as demonstrated by
Europe with Russia
," Corbeau added.
Natural gas is also being seen as a so-called transition fuel as Beijing strives to reduce its coal reliance, reach peak carbon emissions by 2030 and be carbon neutral by 2060.
China will lift the share of natural gas in domestic energy consumption from less than 10 per cent currently to 15 per cent by 2030, according to the National Development and Reform Commission, the country's economic top planner.
Last year, China imported 78.93 million tonnes of LNG, accounting for about 30 per cent of the natural gas consumed in the country.
According to an estimate by the Sinopec Economics and Development Research Institute, China's imports of LNG will increase by 10 per cent annually until 2030.
Even though China has bolstered its LNG infrastructure in recent years, additional capacity remains crucial, as production must be adjusted seasonally to meet varying levels of demand, particularly during the coldest months, according to a May report by the Shanghai International Energy Exchange.
The LNG import capacity often exceeds that of actual imports, according to Corbeau. In Japan, LNG regasification capacity is well over twice their total imports, she added.
"It allows for seasonality – higher imports during winter – which makes sense, as China now has high residential demand during winter," she said.
Larger LNG storage capacity at receiving terminals – especially in bonded areas where imported gas can be stored without paying duties – will also allow Chinese firms to engage more in the global LNG trade by increasing the scale of re-exports, analysts said.
Facing dwindling domestic demand for energy products amid the nation's zero-Covid policy, Chinese energy companies have been reselling excess LNG in the international market to take advantage of the price difference between long-term contracts and the elevated spot price owing to the Ukraine war.
In the first eight months of this year, China re-exported a record US$164 million worth of LNG to Europe – including Spain, France and Malta – and a further US$284 million worth of LNG went to Japan, South Korea and Thailand, customs figures show. In contrast, China exported just US$7 million worth of LNG last year.