Aviation
Get more with myNEWS
A personalised news feed of stories that matter to you
Learn more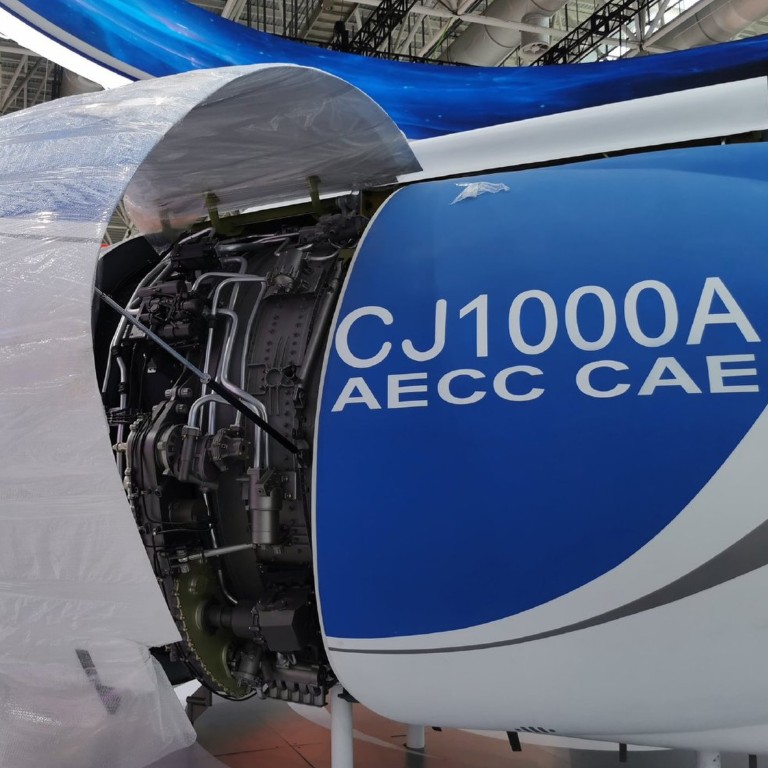 China's C919 jet to be more home-grown with a domestically made engine, but how long will it take?
Adviser to C919 passenger jet programme flags risks of China relying on foreign supplies of critical technology
Several of the most technologically advanced components of China's new passenger jet, including its engine, come from overseas
China is expediting the airworthiness certification for a domestically produced engine to power its home-grown
C919
narrow-body passenger jet, according to the engine's manufacturer.
However, the engine still might not be ready for commercial use for several years, according to an adviser to the C919 programme.
The state-owned Aero Engine Corporation of China (AECC) held a meeting on Sunday to outline plans to accelerate the airworthiness certification for its CJ-1000A engine, it said in a WeChat statement on Monday.
The meeting, which was attended by AECC's senior management and the CJ-1000A's development team, focused on defining the objectives and tasks for the certification and on making plans for research and development, as well as setting specific requirements for the team in charge of the certification.
The social media statement didn't elaborate on details of the plan, nor did it give a timetable for when the CJ-1000A might be ready to be certified. The AECC did not immediately respond to faxed follow-up questions about the engine.
AECC's engine update came less than two weeks after the single-aisle C919 finally received a "type certificate" from the Civil Aviation Administration of China (CAAC) after 14 years of development. The plane, made by the state-owned Commercial Aircraft Corporation of China (Comac), is designed to compete with Boeing's 737 and Airbus's A320.
But despite being billed as a home-grown passenger jet, several parts used for the C919 are imported from foreign manufacturers, including its engine, avionics, control systems, communications and landing gear. The C919's current engine, the LEAP-1C, is made by CFM International, a joint venture between the US' GE Aviation and France's Safran Aircraft Engine. Exports of aerospace components from the US, including engines, are subject to licences granted by the US Department of Commerce.
China intends to replace the LEAP-1C engine with the domestically made CJ-1000A amid growing tensions between Beijing and Washington. A number of Chinese aviation and aerospace companies, including the AECC, have been added to the US' sanction lists as Washington has grown wary of Beijing's "
military-civil fusion
" strategy in recent years.
Zhang Yanzhong, a member of the Chinese Academy of Engineering and an adviser to the C919 programme, told state broadcaster CCTV last week that China must be able to build its own passenger jets as demand for air travel is expected to rise. Boeing forecast in 2021 that Chinese airlines would need
8,700 new aircraft by 2040
, at a cost of nearly US$1.5 trillion.
"China is a major civil aviation country and cannot rely on the import of foreign aircraft, which is controlled by others, in the long term," Zhang told CCTV. "There is also the risk of being sanctioned from buying planes abroad, so China must develop its own planes. We spend hundreds of billions of dollars every year to buy planes."
Last month, Xiamen Airlines placed an order with Airbus for 40 A320neo-family aircraft, worth US$4.85 billion, according to the airline's majority stakeholder, China Southern Airlines. Boeing's rival aircraft, the 737 MAX, has not flown commercially in China since March 2019, when it was grounded following two fatal crashes.
Putting more money toward building its own planes would also help boost China's industrial capabilities and give its economy a boost, Zhang said.
Nonetheless, it could take at least 15 to 20 years for China to build its own engine, Zhang said, adding that the project must be made a priority, given the "unprecedented changes" being seen in the global environment.
"Deglobalisation and unilateralism are on the rise, and the aviation industry is also facing the risk of bottleneck issues," Zhang said, referring to the risks of relying on foreign supplies of key technology.
"In fact, the independent research and development of engines and airborne equipment were also being arranged when the C919 project was established. Now that the C919 has been built, we must also accelerate the development of China's own aero-engines and airborne equipment."