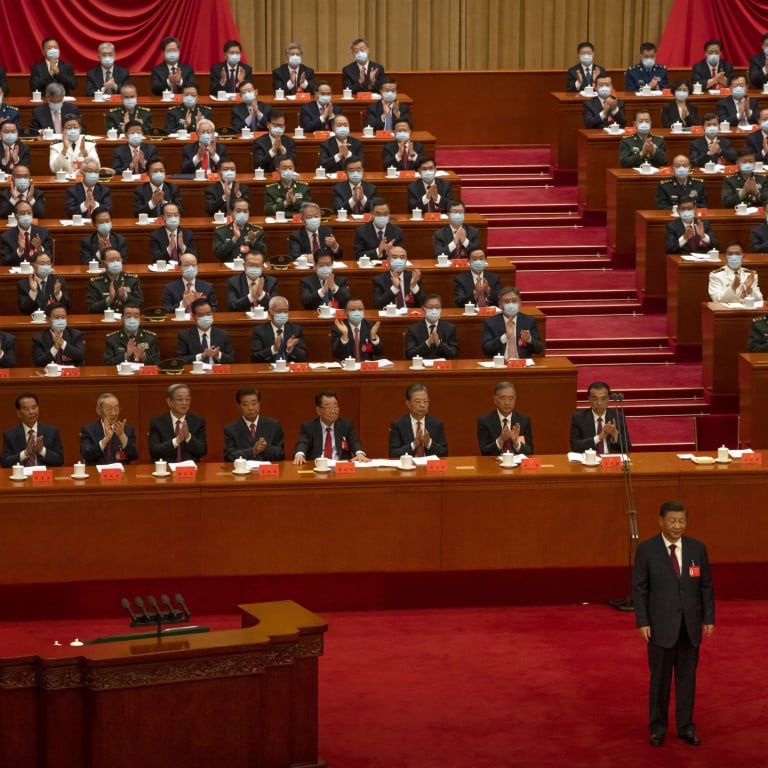 China's GDP 'rebounded significantly' in third quarter, state planning body says
The National Development and Reform Commission says China's economic performance has been 'outstanding' from a global point of view
Unlike much of the world, China's consumer inflation is only marginal, the job market steady and international payments stable, state planner says
China's top economic planning agency has ramped up positive rhetoric about the economy on the sidelines of the 20th party congress, saying that growth "rebounded significantly" in the third quarter and remained "outstanding" when compared with the rest of the world.
The comments came as China was expected to release its third-quarter economic data on Tuesday. But according to the National Bureau of Statistics (NBS), the release of the data, which was expected to include the gross domestic product growth rate, has been delayed.
No further information was given about a timetable for the data's release. China also did not release its September trade data as expected on Friday, two days before the start of the 20th party congress.
Most analysts expect China to fall short of its 2022 growth target of "around 5.5 per cent", with many forecasting expansion of around 3.6 per cent. Estimations aggregated by Chinese financial data provider Wind show the economy may have grown by 3.7 per cent in the most recent quarter.
The International Monetary Fund and the World Bank recently slashed their 2022 growth outlook for the country to 3.2 per cent and 2.8 per cent respectively, which could be China's lowest growth rates in four decades, excluding the initial coronavirus crisis in 2020.
Zhao Chenxin, deputy director of the National Development and Reform Commission, said while there had been challenges, especially due to the volatile international environment, the pandemic and recent
extreme weather
, the Chinese economy on the whole was recovering.
"From what we know so far, the economy rebounded significantly in the third quarter, and from a global point of view, China's economic performance is still outstanding," he told a press conference on Monday.
China's economic situation contrasted sharply with much of the world, he said, with consumer inflation only marginal, the job market steady and international payments stable.
The economy has shown "strong resilience and huge potential", with more opportunities than challenges, said Zhao, citing the country's 1.4 billion consumers, the largest middle-income group in the world, a complete industrial chain and policy support for key infrastructure.
"Orders for energy equipment, petrochemical equipment, mining machinery, construction machinery, computer numerical control machine tools, industrial robots and other key equipment in China are all increasing substantially," he said.
"All these provide rare opportunities for relevant upstream and downstream companies."
On Sunday, President Xi Jinping
delivered his work report
to some 2,000 delegates at the opening of the 20th party congress, reiterating that "development is the top priority of the party". The address has been viewed as a message the economy is still the party's No 1 concern.
Xi said "reasonable growth" was needed for China to become a "moderately prosperous" society by 2035, the year GDP would reach that of a "medium-level developed country".
While development remains the top priority, Xi placed a stronger emphasis on security than he did at the previous congress five years ago, underscoring the need for technological self-reliance – which is likely to stoke concern that China is plotting a more inward-looking course.
"There are some voices at home and abroad who think that taking domestic circulation as the mainstay means that China will shrink substantially in opening up to the outside world, and even say that we want to build a self-sufficient economy. This understanding is wrong," Zhao said.
"Some countries are trying to decouple supply chains and build small yards with high walls.
"We believe openness and cooperation will remain the historic trend."
Beijing will step up efforts to attract more foreign investment, especially in the advanced manufacturing and hi-tech sectors, Zhao said.
Other senior officials at Monday's press conference signalled a growing focus on food and energy security, stressing the need for higher domestic output and stronger reserves, amid rising uncertainty abroad and electricity shortages at home.
China will aim to boost annual energy production to more than 4.6 billion tonnes of standard coal, said Ren Jingdong, a deputy director of the National Energy Administration. That represented a 12.7 per cent rise in output from 2020.