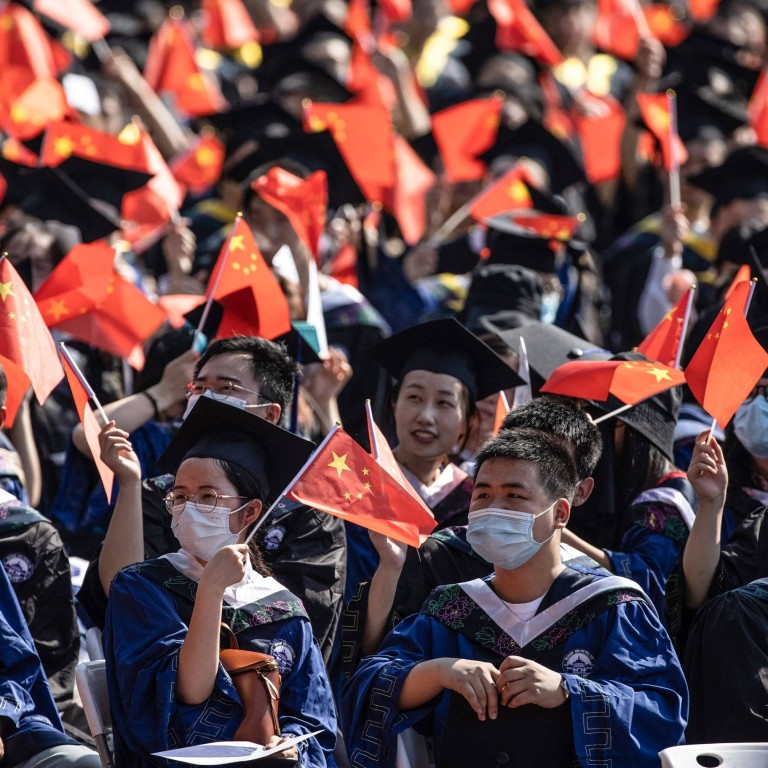 China asks upcoming university graduates what they want in a job, as employment struggles weigh on economy
New Ministry of Education survey is Beijing's latest attempt to assess and strengthen its job market where nearly 1 in 5 college graduates are out of work
Employers are also being asked about their hiring plans for the coming years
In a bid to learn more about what can be done to improve the dismal employment rate among its fresh college graduates, China is going directly to the source.
A new survey by the Ministry of Education is asking members of the next year's graduating class – comprising nearly 11 million students – about their job preferences, entrepreneurial ideas and "prospects for further education or employment", according to the questionnaire reviewed by the Post.
Meanwhile, employers are similarly being asked about the state of their operations, hiring intentions and demands of graduates for the coming two to three years.
After the ministry held a video conference with six university leaders last week in a bid to address employment issues, more universities invited students to partake in the 15-question Employment Survey for 2023 College Graduates.
The survey is among the tools that Beijing is utilising to shore up an increasingly fierce job market amid an economic downswing resulting from a confluence of headwinds, including from its restrictive coronavirus controls and geopolitical tensions.
Wang Hui, director of the ministry's Department of College Student Affairs, stressed during last week's video conference the need to seize the opportunity to match market demands with jobseeker expectations, via the survey.
The questions gauge the expectations of soon-to-be graduates, in terms of what type of company they intend to work for, how much they expect to make, where they want to live, and what kind of help they need to enter the job pool. It also asks whether they prefer to work in the public or private sector.
Wu Mingti, in his final year at Binzhou University in Shandong province, said he has already filled out similar questionnaires as required by his school. Additionally, his teachers frequently post job offers from various companies, via WeChat group chats with students.
"But the job situation this year seems to be more difficult than we had anticipated," Wu said.
Wu worked hard to improve his English while at university, in the hope that he would not only be able to work as an English teacher in a primary school after graduating, but also so he could earn extra money by teaching off-campus classes on weekends.
He also noted how the threshold for hiring teachers has risen amid greater competition and scrutiny, meaning that his prospects of finding work as an English teacher are not as promising as they were when he entered university.
Nationally, the number of recruitment ads fell by 19 per cent in this year's second quarter, compared with a year earlier, while the number of job applications rose by 135 per cent, according to a July report by the China Institute for Employment Research at Renmin University.
The new survey also asks students if they have "encountered academic or institutional discrimination".
The Ministry of Education also said it was putting more emphasis this year on "strengthening the protection of the rights and interests of workers in freelancing and other new forms of employment".
More than 200 million people in China work as freelancers, with more than 16 per cent of fresh graduates categorising themselves as such last year, according to a March report by iiMedia Research, a third-party data mining and analysis organisation for new economic industries.