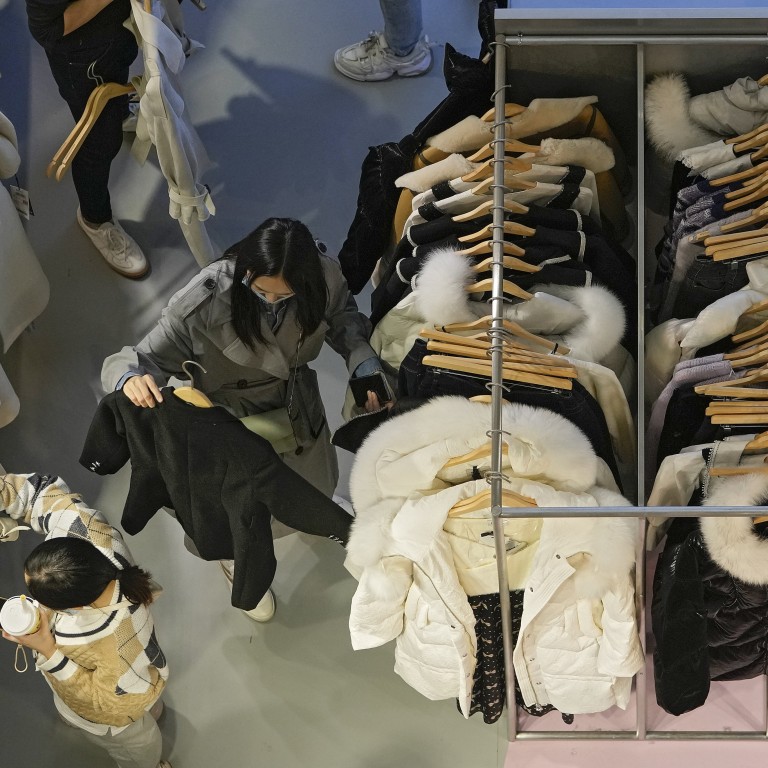 China's frustrated middle class change spending, investing attitudes, but are they 'lying flat'?
China's middle class are used to buying luxury items, making investments and buying property, but lots of these plans have been put on hold
Banks have restricted precious metal trading for the likes of gold, while the housing market and stock market are no longer seen as offering security
China's frustrated middle class are feeling the pinch. They are cutting back on luxury items, but rather than investing the wealth they now have at their disposal, they are instead hanging on to it amid feelings of insecurity. They are seeing their assets and income shrink and feel the toolbox as their disposal for ensuring wealth security is getting smaller.
Their frustrations are not helped as they feel that policy changes that could address market and consumer problems caused by coronavirus disruptions, tensions with the West and the politicalisation of economic matters are not forthcoming.
This has led to a downgrade in spending habits and putting investment plans on hold has become, for some, the most feasible financial and practical management tool in their arsenal.
"I have heard from some friends that they have been preparing a contingency plan for the past two years, like keeping a certain amount of either paper gold, gold bars, US dollars in cash or in banks," said Lin Xiaoxia, a Shanghai-based operations director.
Paper gold is an investment instrument for investors who are interested in buying and selling the metal under a preset contractual term without involving any physical delivery of the metal itself.
"I regret not doing this. I always comforted myself with the fact that the appreciation of a house in a big city in China is more certain than anything else," added Lin.
"But now that houses and monthly household income are starting to decrease, investing abroad or even buying gold [exchange-traded funds] is no longer practical for ordinary middle-class people."
China has more than 400 million middle-income earners, or 140 million families, as part of its 1.4 billion population, National Bureau of Statistics commissioner Ning Jizhe said in January when talking about China's economic performance in 2021. According to Ning, a typical Chinese family of three earns between 100,000 (US$14,000) and 500,000 yuan per year.
In 2000, roughly 3 per cent of the country's population was classified as middle class, according to calculations from the Centre for Strategic and International Studies that defined the middle class as those spending between US$10 and US$50 a day.
By 2018, more than half of China's population – 707 million people – had entered the
country's middle-income bracket,
the Centre for Strategic and International Studies data showed.
At the beginning of the year, 40-something Guangzhou-based lawyer Angela Luo was optimistic about her prospects. Now it looks like her business development will be lower than last year, and that has consequences.
"Like most services industries, law firms, in general, are earning less than last year," she said.
"First, the economy is weak, even the most liquid state-owned enterprise clients have become stretched, and second, it is very difficult for civil or criminal lawyers to meet with new clients, due to lockdown measures everywhere.
"I'm not optimistic about next year's income, it will be very good if it can be the same as this year."
Lo has already braced herself for the looming prolonged hardships. She has put on hold her once ambitious investment and income goals, which included buying a second home, and rationally changed many of her spending habits.
The sense of uncertainty for some actually started back in 2018 following the outbreak of the trade war between China and the US, with the urban middle class who had benefited from the economic boom in the last decades left facing an uncertain future as the rivalry intensified.
Fast forward five years, and the feeling of security from being able to buy gold or foreign currency and move their wealth abroad has vanished and they feel they have little room to manoeuvre to safeguard their wealth.
China's leading banks have introduced restrictions on precious metal trading services for retail clients since August, including limits on the opening of new accounts, increases in guaranteed deposit ratios and the suspension of purchase transactions.
The nation's housing market is still trapped in a loop of weak confidence and falling sales, while the benchmark stock market sank below a key psychological comfort zone for investors this month.
Guangzhou-based Luo pays around 160,000 yuan (US$22,300) a year for mortgage payments on her two-bedroom flat and around 60,000 yuan on health insurance, while also still putting aside money.
She has, though, put on hold indefinitely her plan from the start of the year to raise around 6 million yuan (US$836,000) in the next five years to be able to afford a down payment on an investment property valued at more than 10 million yuan in Guangzhou's central business district.
"My budget for [designer] suits used to be over 3,000 or 4,000 yuan each, but since May I've started trying to tailor-made clothes, so I can reduce the budget to less than 1,000 yuan (US$139) for a new dress," Luo said.
"I will still keep personal trainer fitness courses, about 300 yuan a time, once a week, but I will suspend spending on skiing that I was very interested in."
The number of Chinese cities with falling residential prices is rising, both year-on-year and month-on-month.
A total of 56 of China's 70 main urban cities saw a year-over-year decline in first-hand real estate prices in September, up 23 from during the same period in 2021.
The number of cities, meanwhile, with declining second-hand real estate prices in September was 71, up 28 from the same period last year.
Zhengzhou, the capital of central Henan province, has also become the first mainland Chinese city to
ease restrictions on buying a second home,
as more local authorities implement measures to reverse the nationwide residential property market slump.
The document listed 19 measures aimed at helping real estate development, including lowering the mortgage rate for second-home buyers, allowing close relatives of people who work in Zhengzhou to buy a home in the city, and enabling buyers who have already fully repaid one mortgage to enjoy a first-home mortgage rate on a second property.
The significant decline in expectations for investment return reflects a lack of optimism about market expectations, which have already affected consumption intentions and may lead to a further deceleration of China's economic growth.
The proportion of respondents expecting an annualised return on investments of 5 per cent or less increased to 43 per cent this year from 37 per cent in 2021, according to the 2022 China Residents' Investment and Financial Behaviour research report released by the China Academy of Financial Research in September.
The proportion of respondents expecting a return of between 5-10 per cent also increased to 28 per cent from 23 per cent in 2021, the report showed, while investors expecting a return of 20 per cent decreased to 16 per cent from 20 per cent last year.
KPMG's China Economic Monitor for the third quarter, which was released in August, showed disposable income per capita grew at an average rate of 6.5 per cent between 2017 and 2019, but only rose by 5.1 per cent year-over-year in the first quarter of 2022 before increasing by just 0.4 per cent in the second quarter.
The phrase "are you consumption downgrading today?" has also attracted recent public attention.
Founded at the beginning of the trade war, a group on one of China's leading social media platforms is focused on the single topic of how to speed up consumption downgrading and has more than doubled its membership to 360,000 since September 2020.
Members seek to find affordable alternatives to Nike AF1 model trainers, AirPods or Bose audio equipment.
The recent performance of
mobile-only marketplace Pinduoduo,
particularly known for brand building as its success is rooted in selling white-label goods – products that are sold by retailers with their own branding and logo but that are manufactured by a third party – at slashed prices, is also seen by consumers as a sign of a downgrade in spending by China's middle-class families.
Pinduoduo's second quarter revenues rose by 36 per cent year on year to 31.44 billion yuan (US$4.4 billion), dwarfing the flat results from Alibaba and only 5.4 per cent increase by JD.com.
Nationwide retail sales for consumer goods fell by 4.6 per cent year on year in the second quarter due to the overall economic slowdown, declining incomes and coronavirus-included disruptions in logistics and supply chains.
A People's Bank of China third-quarter report released at the start of October showed that 58.1 per cent of respondents said they preferred to save their money rather than invest it compared to 50.8 last year and 50.4 per cent in 2020.
The overall share of respondents most inclined to spend dropped by 0.1 percentage points from the second quarter to 22.8 per cent, the report said.
"We mocked Chinese young Gen Z lying flat before, but I think it can also be used to describe the so-called middle class in spending and investing," said Gong Junhui, a Shenzhen-based media director.
So-called lying flat, or tang ping in Chinese, is a recent trend of doing nothing among young Chinese people, representing the mindset of lying down instead of being a productive member of society.
"It's horrible to see the property price even just slightly drop or freeze when your family is earning about 35,000 yuan (US$4,870), but have to pay 40,000 yuan of mortgage payments monthly. And it's happening to me," Xiong said.
"And the more horrible thing is that it will very possibly last for years in future."