Taiwan
Get more with myNEWS
A personalised news feed of stories that matter to you
Learn more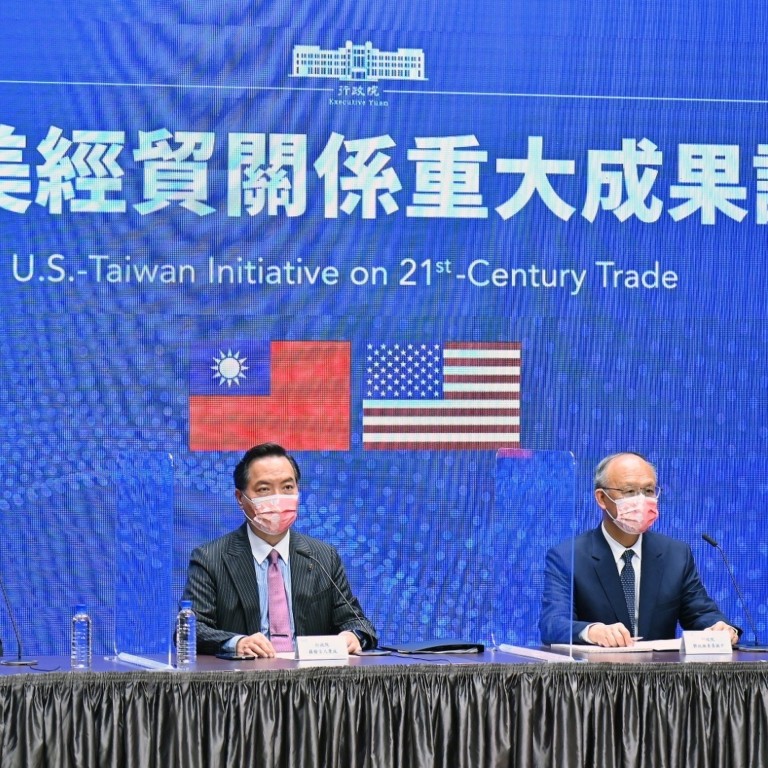 Taiwan signals US trade talks breakthrough, hopeful of 'early harvest' amid China tensions
Talks over the US-Taiwan Initiative on 21st-Century Trade began in August following the controversial visit to Taipei by US House Speaker Nancy Pelosi
Hsiao Chen-jung, executive secretary of Taiwan's cabinet-level Office of Trade Negotiations, says the two sides have 'been talking to each other steadily'
Taiwan is hopeful of signing an "early harvest" of trade liberalisation measures with the United States before the end of the year amid the ongoing tensions both Taipei and Washington are experiencing with mainland China.
Taipei's cabinet-level Office of Trade Negotiations expects to sign some of the 11 components of the US-Taiwan Initiative on 21st-Century Trade over the next two and a half months after
talks began in mid-August,
according to executive secretary Hsiao Chen-jung.
It is hoped the breakthrough will lead towards a deeper agreement that the self-ruled island has sought with its second-largest trade partner and long-time political backer since the 1990s.
"Some of these measures we've discussed to a very mature point," Hsiao told the Post, calling a 2022 early harvest "our hope" with prospects for a full deal by the end of next year.
"We've been talking to each other steadily, through every means."
Taiwan's deputy trade representative, Yang Jen-ni, echoed the hope for an "early harvest list" when asked by lawmakers to comment on the latest progress of the talks on Monday, according to reports from the state-funded Central News Agency.
Yang added that Taiwan and the US are still in talks over a time and location to hold the first round of meetings.
So-called early harvests normally liberalise some trade between parties as a way to build trust toward reaching deeper agreements.
"[The initiative] is a modest platform with several areas of interest … and an early harvest should move things along and has some political weight in the effort to respond to [China's] economic coercion of the island," said Rupert Hammond-Chambers, president of the US-Taiwan Business Council advocacy group in Washington.
Negotiators have not decided which of the 11 categories, which include agriculture, environmental protection, labour rights, trade facilitation, non-market policies, support for small to medium-sized enterprises and acceleration of the digital economy including access to information, will be selected first, Hsiao added.
But the eventual full initiative will be thinner than a traditional free-trade agreement due to the lack of sweeping cuts in trade tariffs, explained Hsiao, who is also the Office of Trade Negotiations' chief of staff with responsibility for industrial and agricultural related negotiations.
The US Congress lacks "appetite" for more traditional free-trade deals, Hammond-Chambers added.
The US had a trade-in-goods deficit of US$40.27 billion last year with Taiwan, which is a major exporter of manufactured goods such as machinery, semiconductor chips and consumer electronics. The US was Taiwan's second-largest trading partner in 2021 after mainland China.
"This early harvest list implies that Taiwan will move toward the US side," said Hu Jin-li, a professor at the Institute of Business and Management at the National Yang Ming Chiao Tung University in Taipei.
"That is, Taiwan will be multidimensionally linked to the US with respect to economy, diplomacy, culture, defence, et cetera."
But because the initiative has just 11 categories, Hu said, "the announcement effect will be larger than the real trade effect in the short-run".
The sides first agreed to hold trade talks in 1994, but had met only sporadically until this year, with
initiative first announced in June
before the sides reached a consensus in August.
Kurt Campbell, deputy assistant to US President Joe Biden, confirmed in August that Washington was developing an "ambitious road map" for Taiwan trade talks.
Washington has grown closer to Taipei after US-China relations plunged dramatically during the Donald Trump presidency, highlighted by the escalation of the US-China trade war since 2018.
The Biden administration has also since imposed unprecedented restrictions on China's access to hi-tech US products, with high-level visits and US arms sales to Taipei also adding to the tensions.
Beijing views the self-ruled island as part of China to be unified, by force if necessary. Countries that have diplomatic ties with Beijing, including the US, acknowledge the existence of the one-China principle, which states Taiwan is part of China. But they may not explicitly agree with it. Washington does not take a position on the status of Taiwan, though it opposes any attempt to take the island by force.