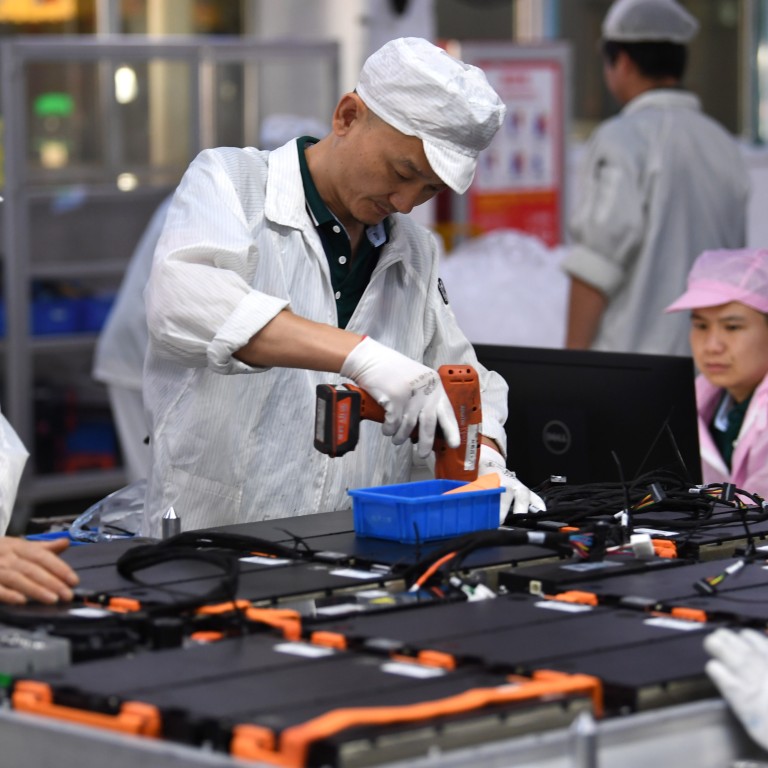 'China is under siege': US tech controls set stage for 'aggressive' response to protect economic growth
Shockwaves from Washington's aggressive new containment efforts to cut China off from critical tech threaten far-reaching implications for supply-chain security
Beijing could respond by requiring Chinese tech companies to devote more resources to protecting China's competitiveness and productivity, analysts predict
China faces an urgent need to devise a counterplan in the face of sweeping new tech controls imposed by the United States, as the implications of its unprecedented moves are seen extending far beyond China's semiconductor industry and into advanced sectors that Beijing deems critically important drivers of
future economic growth
.
The ripple effects of
Washington's containment efforts
threaten to reach other strategic sectors that it sees as being linked to supply-chain security, including certain pharmaceuticals, rare earths, and items related to batteries and electric vehicles, said Nick Marro, lead analyst for global trade at the Economist Intelligence Unit.
"Many American firms – as well as European, Japanese, South Korean and Taiwanese companies – will get caught in the crossfire," Marro said. "In the longer term, the loss of foreign inputs in China's tech supply chains could also lead to [additional] costs, while minimising product and service choice in ways that affect the tech sector's competitiveness and productivity."
Other than striving for success in technological breakthroughs and self-reliance, China doesn't have any other option in the short term, said Shi Yinhong, an international relations professor at Renmin University in Beijing.
"China's connections with other developed chip-making countries such as the Netherlands, Japan and South Korea could hold out for a while. But after all, they have already decoupled with China in the most advanced technologies, and the pressure from the US, as well as their own concerns about China, could all play a part. So, I am afraid [the buffer] won't last for long."
Henry Gao, a law professor at Singapore Management University, anticipates that Beijing will require tech companies to devote more resources to innovation in core technologies.
"This could involve poaching technologies and experts from foreign firms. A big target will be overseas Chinese," Gao said. "This is likely to put many of them in a difficult position."
The world that China has had access to is rapidly closing off, said Abishur Prakash, co-founder of the Toronto-based Centre for Innovating the Future, where he helps companies succeed in tech-driven geopolitics.
"From technologies like chips and AI to foreign investment, mainly from the West, China is under siege," Prakash explained. "And this will push Beijing to take aggressive steps in order to continue rising as a global superpower.
"There are many options China could take. One of them could be to acquire technology from third-party nations – like India, Saudi Arabia or the UAE. This would reorient Chinese geopolitics as it builds new kinds of relationships.
"Regardless of what measures China takes, the steps the US has taken are only driving more 'vertical' globalisation, leading to a more divided and fragmented world."
Those measures by China could include symbolic punishments of big US companies, according to a report published on Wednesday by Gavekal Fathom China. But it said this would be a risky gambit, as China cannot afford to lose the millions of jobs created by American companies such as Apple and General Motors.
The report also downplayed the possibility of China withholding sales of rare earths, as doing so could result in further retaliation against it.
Beijing's likeliest political response is to make friends – allies and companies that can displace US suppliers, the report predicted.
"Picking off US allies will unfortunately require a lot more skill than it would have a few years ago," it said. "Improving ties with Seoul, which have been strained since 2016, would be a good place to start. Watch for Beijing to start approving K-pop concerts again."
On the home front, two Chinese cities rolled out policy support and incentives earlier this month to fuel high-end technological advancements.
However, as the US ratchets up its attack on China's technological ambitions, Beijing is likely to continue avoiding tit-for-tat reprisals against US companies in the near term, while encouraging American companies to invest more in China, on the theory that businesses with a vested interest in the China market will be a counterweight to hostile politicians in Washington, according to Dan Wang, a technology analyst at Gavekal Dragonomics.
"Further down the road, though, there is some risk that the technology fight becomes more brutal," he wrote in a report published last week. "If the US keeps trying to kneecap any Chinese tech firm that seems to be doing too well, then sooner or later Beijing might be tempted to return the favour."
The policy, which prohibits leading US computer chip designers such as Nvidia and AMD from selling their high-end chips for AI and supercomputing to China, will significantly harm Chinese AI data-centre companies in the short term, said Gregory Allen, director of the AI Governance Project and a senior fellow at the Centre for Strategic and International Studies think tank in Washington.
Additionally, he said in a report published last week, there are no US export controls that apply specifically to a company's country of ownership – a loophole that Chinese-owned entities operating abroad could take advantage of.
"This greatly increases the challenges associated with preventing the international subsidiaries of Chinese corporations from smuggling chips into China in violation of US export controls," Allen said.
"Imagine if several Chinese cloud-computing giants purchased 10 per cent more AI chips than they need, at dozens of their hyperscale data centres outside of China, and then worked to smuggle those excess chips back into China."