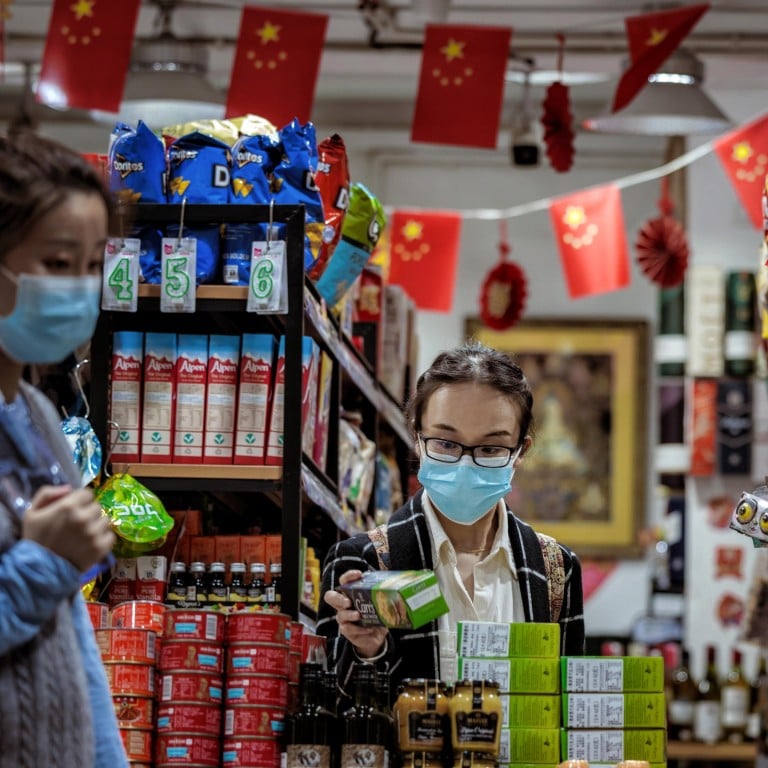 China's third-quarter GDP surprises, casting doubt on an easing of zero-Covid strategy
Stronger-than-expected economic growth was seen despite weakening retail sales, with industrial production faring better than expected
'Notable downward pressures' are still holding back a full economic rebound, and 'the outlook remains gloomy' with trade growth at risk, economists say
China's better-than-expected economic growth in the third quarter still heralds a "gloomy" road ahead after a "bumpy" recovery, analysts warn, noting fresh signs of weakening momentum amid mixed views following the leadership reshuffle during the
20th party congress
.
The world's second-largest economy grew by 3.9 per cent in the third quarter, year on year, up from the 0.4 per cent growth seen in the second quarter, delayed data released on Monday showed.
Industrial production was also stronger than expected, but retail sales missed expectations, highlighting how the "details of the data suggest that the growth remains highly uneven", said Larry Hu, chief China economist at Macquarie Group.
The headline figure, though, might help ease market concerns after the decision to
delay the release of the data
from during the 20th party congress last week sparked fears of the worse-than-expected economic output in the third quarter, Hu added.
"September activity data presented a significant divergence amid tighter Covid controls, a prolonged property downturn, weakening export growth and continued policy stimulus," said economists at Goldman Sachs.
"Real [gross domestic product] growth rebounded to a stronger-than-expected 3.9 per cent … reflecting a bumpy growth recovery from the stringent Covid lockdowns in April-May amid multiple headwinds."
Industrial production, a gauge of activity in the manufacturing, mining and utilities sectors, beat expectations and grew by 6.3 per cent in September from a year earlier, up from
4.2 per cent growth in August
.
But retail sales rose by only 2.5 per cent in September, year on year – down from 5.4 per cent growth in August and missing expectations.
Beijing is trying to rely more on China's 1.4-billion-strong consumer market to fuel development under its so-called
dual-circulation strategy
, which has been written into the party's constitution.
Both China's onshore and offshore stock markets dropped following the release of the data, suggesting that investors might still be worried about growth prospects in the coming months, said Lu Ting, chief China economist at Nomura.
"Markets might also be concerned that the surprisingly good activity data might reduce the need for easing the zero-Covid strategy and introducing additional stimulus measures," he said.
Both China's benchmark Shanghai Composite Index and the tech-heavy Shenzhen Component Index declined by about 2 per cent on Monday, and the Hang Seng Index in Hong Kong
touched a more than 13-year low
.
Lu expects that China's year-on-year economic growth rate will slow to 2.8 per cent in the last three months of the year, citing the fallout from the struggling real estate sector and slowing export growth.
In other data released on Monday, fixed-asset investments – which Beijing has relied heavily on this year to stem downturn risks – rose by 5.9 per cent in the January-September period.
China's urban surveyed jobless rate rose to 5.5 per cent, up from 5.3 per cent in August, while the unemployment rate for the 16-24 age group fell to 17.9 per cent in September, from
18.7 per cent in August
.
"The weaker consumption recovery has likely put further pressure on the labour market," said Erin Xin, Greater China economist at HSBC.
"The economic recovery gained significant ground in the third quarter, but there are still notable downward pressures that are holding back a full rebound. Covid-19 uncertainty and corresponding restrictions to prevent the spread of the virus can keep the consumption recovery muted, while labour market pressure has edged up.
"Meanwhile, sentiment around the property sector remains weak, and there are further signs of slower global demand as global growth also loses some momentum. Thus, we expect policymakers will provide further comprehensive easing. And with the conclusion of the 20th party congress, we expect policymakers can redirect their focus on supporting growth in the coming months."
Beijing also unexpectedly published September's trade data, which had been delayed from before the start of the 20th party congress.
Exports grew by
5.7 per cent last month
from a year earlier to US$322.76 billion, compared with 7.1 per cent growth in August, and slightly below expectations of a 5.8 per cent rise.
Imports, meanwhile, grew by 0.3 per cent in September from a year earlier to US$238.01 billion, unchanged from 0.3 per cent growth in August, and below expectations of a 1.3 per cent rise.
Meanwhile, trade experts warn that exports could drag on the economy as overseas demand faces recession risks following the US Federal Reserve's
interest rate hikes
.
The upshot is that, while industrial output fared slightly better in September, most of the economy lost momentum last month, with the situation set to worsen in October, said Julian Evans-Pritchard, senior China economist at Capital Economics.
"Further ahead, the outlook remains gloomy," he said. "Recurring virus disruptions will, therefore, continue to weigh on in-person activity, and further large-scale lockdowns can't be ruled out."