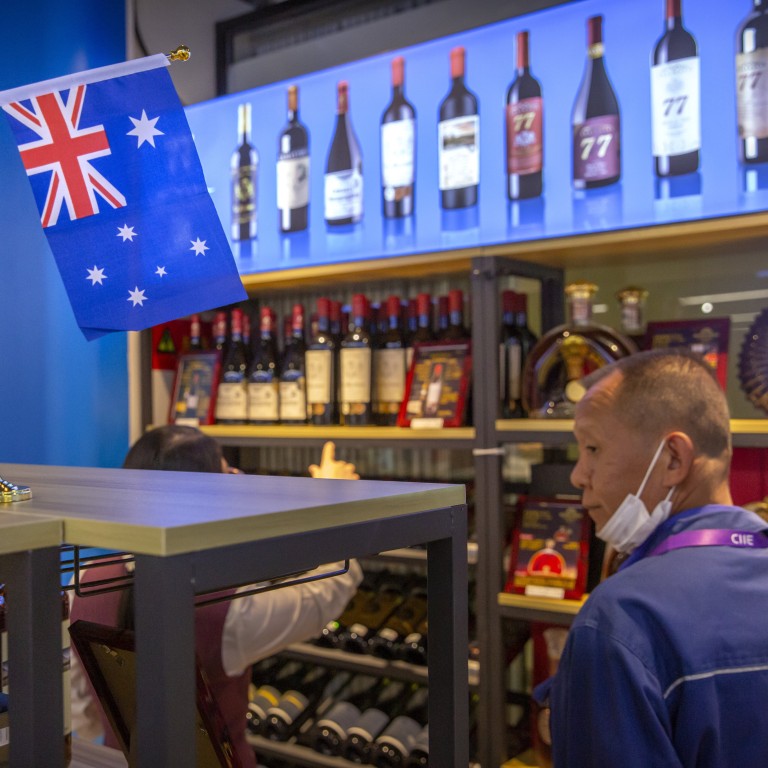 Australian wine exports to China plunge 92 per cent as tariffs and Covid disruptions decimate market
Australian wine exports to China plunged by 92 per cent to A$21 million (US$13 million) in the year ended September 30
Tariffs on Australian wine, closed borders due to Covid-19 and high transport costs contributed to the fall in shipments
Exports of Australian wine to Northeast Asia nearly halved by value in the year ended September 30, led by a massive decline in shipments to mainland China after Beijing slapped high tariffs on the country's products due to diplomatic row, according to new figures from Wine Australia.
Exports to the region declined by 46 per cent in value to A$321 million (US$203 million) and 31 per cent in volume to 35 million litres, with shipments to China plunging by 92 per cent to A$21 million, the Australian statutory body said on Tuesday.
Shipments to Hong Kong dropped by 21 per cent to A$163 million, though they are returning to a more normal level after an increase in exports to the market in 2021.
"The Hong Kong market is a direct reflection of mainland China's situation," said Pierre Tam, president and co-founder at the Hong Kong Wine Industry Association.
He said import tariffs on Australian wine imposed by the Chinese government, closed borders due to Covid-19 and high transport costs over the past two years had stopped Hong Kong traders importing premium Australian wine for mainland Chinese customers.
High-end Australian wine is priced between HK$2,000 (US$255) to HK$3,000 per bottle and customers in China previously accounted for 90 per cent of business for some Hong Kong traders, Tam added.
"Currently the key purchasers of Australian wine in Hong Kong are restaurants, which mainly consume low-to-medium end Australian wine with prices between HK$100 and HK$300," he said.
China
applied duties
of between 116.2 per cent and 218.4 per cent on Australian wines in containers of up to two litres in March last year until 2026, following anti-dumping investigations amid an ongoing trade dispute between the countries.
The trade action has hammered Australian wine exports to China, formerly its biggest market, and opened the door to other wine-producing countries like
South Africa and Chile.
Peter Bailey, Wine Australia manager of market insights, said that the results were "mixed" in the year ended September 30, with the increases recorded in some markets offset by declines in others.
"When mainland China is excluded from the data, wine exports to the rest of the world held steady in value, declining by 0.2 per cent to A$1.99 billion and increasing by 1 per cent in volume to 622 million litres," Bailey said.
Offsetting some of the declines in Northeast Asia were exports to Japan and Taiwan, Wine Australia said, which rose by 18 per cent and 13 per cent, respectively.
Southeast Asian countries that contributed to growth included Malaysia and Thailand.
Exports to the United States increased by 5 per cent in value to A$412 million and 14 per cent in volume to 139 million litres due to more shipments of Australia's 2021 vintage.
The Canadian market recorded an increase of 10 per cent in value to A$190 million, up 26 per cent in volume to 62 million litres, driven by premium-end packaged shipments.
Exports to the United Kingdom decreased by 14 per cent in value to A$395 million and 12 per cent in volume to 222 million litres due to delayed shipments.
Bailey said the wine sector can expect more market fluctuations, as rising inflation and interest rates may put pressure on margins and curtail consumer spending in key markets.
Australian wine exporters shipped their product to 118 destinations, up from 111 the previous year.