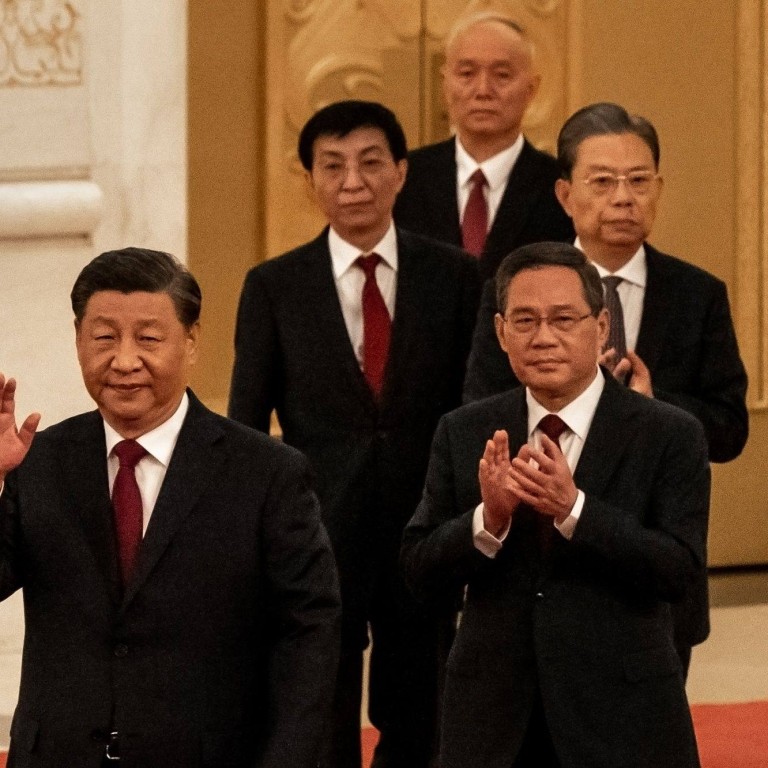 After Xi Jinping solidifies power, China's new leadership line-up must restore confidence in managing the economy, experts say
Businesses are watching keenly for concrete steps to get the economy back on track following the 20th party congress
Steadying investor sentiment will be no easy feat, however, as uncertainty remains over China's new leadership line-up
As the dust settles on the Communist Party's leadership reshuffle, China must urgently restore confidence among private and foreign investors in its coronavirus-battered economy, analysts and economists say.
The 20th party congress wrapped up on Sunday, handing President Xi Jinping a norm-breaking third term as the party secretary at the apex of power in the world's second-largest economy. Xi tightened his dominance by lining the country's top decision-making body with loyalists, while leaving the door open for a fourth five-year term in 2027.
Stock markets in Hong Kong, Shanghai and Shenzhen
plunged on the first trading day
after the congress, as investors weighed the retirement of several pro-reform policymakers and the potential for Xi to pursue more isolationist policies, which have effectively shut China off from the rest of the world since the beginning of the pandemic.
Though China's
third quarter economic growth
figures were better than expected on Monday, the outlook remains gloomy, with the economy still haunted by the coronavirus pandemic, a worsening international environment and potential for a
global recession
.
Businesses are watching keenly for concrete steps from Beijing to get the economy back on track.
"The pressure to deliver positive results in economics and governance will be even greater than in Xi's first two terms, as there will be nobody else to blame if things go wrong," said Jor Mazur, senior analyst at Trivium China.
While Xi's leadership reshuffle has captured most attention, domestic policy advisers have been keen to highlight that development remains a priority and
Li Qiang
, the Shanghai party chief who is expected to take the premiership, has strong economic credentials.
"He is actually a pro-reform figure and knows the private economy very well, but he may have to compromise between the economic agenda and toeing the party line. He needs to play a balancing act," a government adviser said on the condition of anonymity.
"China should concentrate on policy implementation, particularly through unleashing the vigour of private firms and showing the direction of reforms to stabilise [market] expectations. That's the pragmatism we need."
Li, now No 2 in the new Politburo Standing Committee, has climbed up the bureaucratic hierarchy from Zhejiang and Jiangsu, two eastern provinces with thriving private economies, and received an executive master of business administration from Hong Kong Polytechnic University.
He will be assisted by He Lifeng, chairman of the National Development and Reform Commission, who has been promoted to the 24-member Politburo and is expected to help oversee the country's financial and economic affairs.
"We can cast a vote of confidence over future economic work, courting investment, and the business environment for foreign businesses, including American firms and hi-tech firms," said Mei Xinyu, a senior fellow at the state-run Chinese Academy of International Trade and Economic Cooperation.
Mei cited Li's work in securing Tesla's Gigafactory 3, which has an annual production capacity of 750,000 cars, in Shanghai as an example of the leader's insight, judgment and execution capabilities.
Still, steadying sentiment among foreign investors, who are increasingly frustrated with Beijing's "
erratic policy shifts
", will be no easy feat.
On Monday, some 17.9 billion yuan (US$2.4 billion) of capital flowed out of China via the stock connect scheme with Hong Kong, sending the CSI300 Index, which tracks major Shanghai and Shenzhen-listed stocks, down by 2.93 per cent.
The offshore yuan also plunged to a record low of 7.34 against the US dollar overnight.
Part of the foreign concern about Li is a result of his implementation of a
lockdown in Shanghai
that lasted for two months over April and May, according to an overseas investor who wished to remain anonymous due to the sensitivity of the issue.
His adherence to zero-Covid, a policy championed by Xi, has fuelled doubts about whether China's cabinet can make independent economic decisions necessary to deal with the complex domestic and external environment, the person said.
Bert Hofman, director of the East Asian Institute at the National University of Singapore, said the 20th party congress offered little new thinking on the economy, but focused on ideology, politics and medium-term challenges.
"The new team is very experienced in administration, but seems more focused on innovation and state-driven development rather than on market-enabling reforms like some of the old team," he said.
Premier Li Keqiang, vice-premier Liu He, banking regulator Guo Shuqing and central bank governor Yi Gang no longer have a spot on the Central Committee. Their retirement has raised concerns about the trajectory of China's pro-reform development path and threats to the policy certainty cherished by the foreign business community.
While new economic roles will be finalised at the parliamentary session in March, policy priorities are expected to be revealed at the central economic work conference – a convention of top leaders, governors, economic regulators and business executives – in December.
Key signals to watch for include whether Beijing will set a high growth target like this year, Covid policy adjustment, domestic market expansion and indigenous innovation targets, analysts said.
Goldman Sachs said on Monday that policy implementation could become more efficient now Xi has reshaped China's major decision-making bodies, but the investment bank does not expect a relaxation of zero-Covid before the second quarter of next year.
The British Chamber of Commerce in China said it is still waiting to see how these "considerable shifts" will be interpreted and implemented, as well as their impact on foreign businesses.
"The British Chamber hopes that China will continue on the path of reform and opening up, prioritising economic growth and development, and continue to value foreign companies and expertise as they have a significant role to play in China's drive to achieve a higher-quality growth," it said on Monday.
The European Union Chamber of Commerce in China said it will be some time before investors understand how the party's statements on opening-up and self-reliance can be reconciled.
"At the moment, it is not possible to predict China's economic policy direction, and what the implications for foreign business may be, with any accuracy," it said in a statement.
"Key outcomes from the central economic work conference and the national financial work conference should hopefully provide a clearer picture."