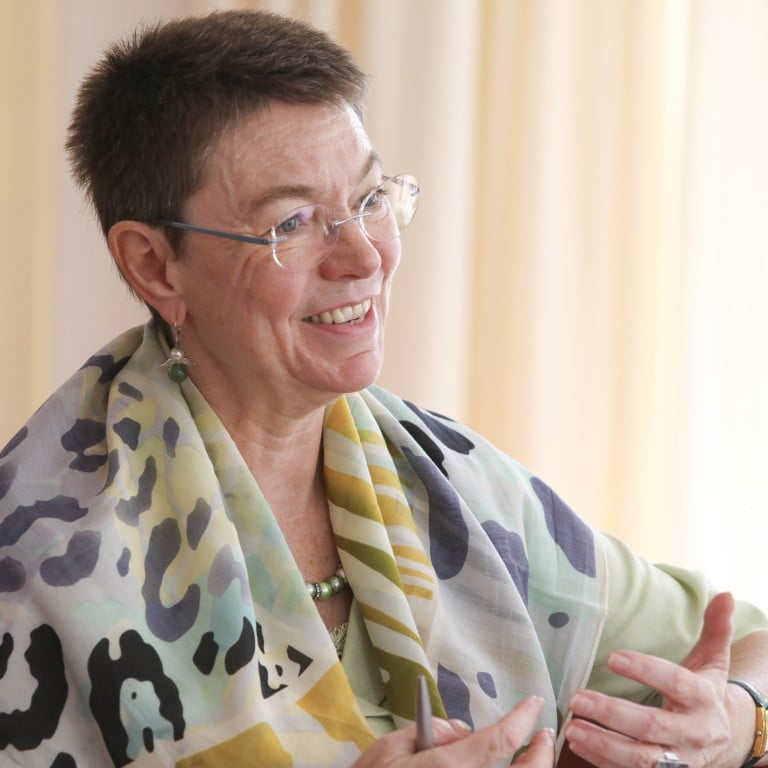 Q&A

|
In her own words: German ambassador to China on economics, security, vaccines and Taiwan
Patricia Flor reflects on Germany's 50 years of bilateral relations with China and explores what can be improved in future exchanges
With Germany working on its first-ever China strategy, ambassador sees opportunities for cooperation but also notes how Germany must 'diversify its supply chains'
Less than five months after arriving in China, German Ambassador Patricia Flor opens up with the Post about her views on China-German relations, the economy, security, Covid-19 responses, Taiwan and Ukraine.
Q: What is your outlook for China-Germany relations? What changes will there be in the German government's upcoming strategy on China?
A: The German government is working on its first-ever
China strategy
, and this shows the importance of China to Germany. Ours is a success story of engagement in economic relations and people-to-people exchanges over the past 50 years, and we have a very elaborate architecture of dialogues to cover connectivity, transport, the environment, defence and security. We have every interest in maintaining this architecture.
We need to look for a sustainable way of keeping up our bilateral engagement in the future. There is no doubt that we need cooperation with China to confront global challenges such as pandemics and climate change. At the same time, we have different political systems and clear disagreements in areas such as human rights and democracy. To push forward a positive agenda, we need to agree on a good framework based on rules and standards, including the need to establish a level playing field for German companies.
Q: To reduce its dependency on China, Germany is drawing up a new trade policy. This has triggered concerns among the German business community about decoupling with China. What changes do you expect to bring to bilateral economic relations?
A: We, like every country, should avoid critical dependencies in strategic areas. We need our economy to become more resilient against external shocks. China, in a sense, is doing the same, with policies such as self-reliance and dual circulation.
It is clear that Germany – within the framework of and contributing to a European Union strategy – must reduce one-sided dependencies and diversify its supply chains. It is the government's responsibility to safeguard the stability of the economy as a whole. For an individual company or business, the consideration might be different.
Given the big roles of China and Germany in the global economy, we should aim to maintain economic cooperation in a way that benefits both sides. If we can cooperate on issues like climate change, green transition or the reduction of carbon emissions, if we are able to agree on common standards for e-vehicles, e-mobility and smart cities, this would be very beneficial for both of us, and even have positive effects beyond our two countries.
Our goal would be to ensure a level playing field: fair, open and transparent competition; fair access to local tenders; and the same conditions for business activity in the EU as well as in China. China has emphasised the value of an open global economy – but its market and economy also need to be more open, functioning in line with [World Trade Organization] rules, and China must fulfil the commitments of its 2001 WTO accession.
Q: We are approaching the three-year anniversary of the Covid-19 pandemic. China has stuck to a dynamic zero-Covid policy while the rest of the world has largely reopened, choosing to live with the virus. How is the cooperation progressing between China and Germany in fighting the pandemic, and what are your expectations?
A: Europe is returning to normality, but China remains closed. The disruptions due to repetitive lockdowns and China's implementation of its zero-Covid policy are significant hurdles for foreign business and people-to-people exchanges. It's not a sustainable situation.
For us, it is disappointing that China has not yet approved mRNA vaccines, including the BioNTech vaccine. BioNTech and the German government have been open to cooperation with China on vaccines and other applications based on mRNA technology, for introducing them into the Chinese market. And this offer still stands.
In the WHO there are currently discussions about an international pandemic treaty, which is fully supported by the European side and also by Germany. It would be of utmost importance to get China on board for good results on this issue.
Q: The speaker of the US House of Representatives, Nancy Pelosi, visited Taiwan in early August, defying repeated warnings from Beijing. What is your outlook on the escalating tensions across the Taiwan Strait?
A: In Germany, there are serious concerns about the recent tensions around Taiwan, which are especially related to increased military activity by China. The status quo may only be changed peacefully and with the mutual consent of all sides affected.
If there are heightened tensions in a difficult geopolitical situation, steps towards de-escalation, or risk-reduction measures, should be taken. It is regrettable that China decided to actually suspend its military-to-military contacts with the US in August. We are deeply convinced that maintaining communication channels is key in a crisis. So, my request would be to talk and not shut down these channels.
Germany stands by its one-China policy but has included, over all of these decades, cooperation with Taiwan in many areas: economics, health, academia and student exchanges. And certainly this will continue.
Q: Germany has launched its
Indo-Pacific strategy
and has increased engagement on the security front with the region. Will the tensions over Taiwan have an impact on Germany's plan to ramp up its military presence in the region?
A: Stability in the Indo-Pacific is of key importance for the German economy and growth potential. Any threat to stability and development in the region is also a threat to our own national interests, regardless of the large geographic distances.
Safe shipping routes, safeguarding freedom of navigation, overflight and innocent passage, as well as respecting the United Nations Convention on the Law of the Sea – including
the arbitration court's 2016 decision
regarding maritime claims in the South China Sea – will be crucial for that stability.
We will strengthen partnerships with other countries in the region through naval visits, joint exercises and assisting in training coastguards. Maritime domain awareness will be very essential. And the European Union has also been working on monitoring the implementation of UN Security Council sanctions against the DPRK.
Q: Given Germany's increased security presence in the region, how is communication faring between Germany and China to manage risks and misjudgments?
A: Germany and China had a number of existing dialogues and also a cooperation programme between the defence ministries and the armed forces. In the past, we have conducted joint disaster relief exercises with China. Due to the pandemic, these bilateral contacts have been interrupted in recent years. In principle, Germany is ready to continue its commitment.
Transparency is very important. We offered to inform, and did inform, the Chinese side about the visit of the frigate and air force to the region to make sure that the Chinese side understood that all of our exercises are in full compliance with the international rules regarding flight routes and passages. We will continue to do so to ensure transparency and good communication from our side, and the Chinese side welcomed this engagement.
Q. China's interaction with Russia has been in the spotlight ever since the invasion of Ukraine, and Beijing's stance is one of the thorny issues between China and European countries. What are your expectations about rallying China's support to stop the war?
A: Our expectation is that all members of the international community should condemn the unjustified and illegal war of aggression of Russia against Ukraine, including the annexation by force of a part of Ukrainian territory.
China, as a member of the UN Security Council, bears a special responsibility in upholding the charter of the United Nations and in contributing to ending any violation of sovereignty and territorial integrity. We do call on China to stand up and to act in line with its responsibilities as a UN Security Council permanent member.
Q: Germany has disputed with China over its human rights record. What is the state of bilateral dialogue on the issue?
A: We welcome China's ratification of two ILO conventions regarding forced labour and will be looking forward to the implementation of the conventions.
The UN report by Michelle Bachelet on the situation in Xinjiang is of great concern to us, as it contains a well-researched and well-founded assessment of human rights violations in Xinjiang.
China should implement the recommendations made in the high commissioner's report. As Chancellor Olaf Scholz said before the UN General Assembly, that would be a sign of sovereignty and strength and a guarantee of change for the better.
Q: What is your assessment of the progress of gender equality and the protection of women in China, and is there any scope for cooperation with China on those issues?
A: China has legislation on equality and non-discrimination, but implementation is key. And it is important to facilitate public debate on how to stop violence against women and the trafficking of women and girls. The same is true for gender roles or burden-sharing in families. This is an important field for me as an ambassador.
The German embassy has supported civil society and local NGOs to promote equal opportunities in education and careers for girls and women. We are also looking to strengthen this engagement with partners in China.
The dream of equality remains unfulfilled globally. So, everywhere, including in Germany and Europe, there are still steps that we have to take. But I would also look towards China's striving to fully implement and put into practice the dream of equality and the objectives declared at the Beijing World Conference on Women in 1995.