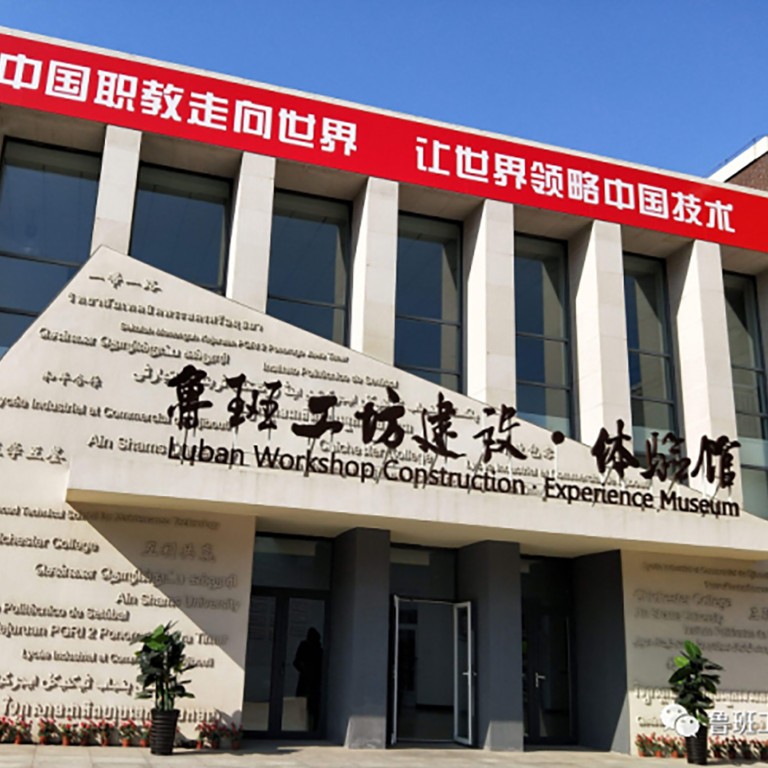 China installing more vocational training centres globally via Luban Workshops in strategic talent push
Some graduates will help fill the need for skilful workers at projects linked to China's Belt and Road Initiative
At least 20 of the China-backed vocational training centres, known as Luban Workshops, have quietly opened in 19 countries since 2016
At a vocational school in Indonesia's East Java, classes are being taught on automotive engineering and maintenance for new energy vehicles. Over 13,000km (8,000 miles) away in the Portuguese seaside city of Setubal, students are earning degrees in industrial robotics and automation technology. And soon, a vocational school in central Asia's Tajikistan will start offering degrees in urban thermal-energy planning.
They all have one thing in common: China.
Despite their subject variety and the vast distances between them, all of these schools exist under the same educational umbrella stemming from the northern Chinese port city of Tianjin.
Little known in the West, and barely reported outside Chinese media, at least 20 China-backed vocational training centres known as Luban Workshops have quietly opened in 19 countries since 2016.
Formed in partnerships between a host country's local institutions and vocational schools in Tianjin – under the guidance of China's Ministry of Education – the workshops promise to shore up the abilities and know-how of local workforces.
"Luban Workshops are about providing practical skills to local labour to increase employability in developing countries – something long neglected even by many local governments and politicians," said Song Seng Wun, a Singapore-based economist at CIMB Private Banking.
The major equipment and technology are usually provided by the Tianjin partner, which also designs the curriculum with input from local institutions. And Chinese experts train local teachers to carry out the instruction.
Nonetheless, questions have arisen as to whether these workshops have the reach or ability to significantly alter a country's talent pool. Others point to the role they might play in China's soft-power push in emerging markets at a time of intensifying competition with the West.
Named after master carpenter and inventor Lu Ban, said to have lived during the Zhou dynasty (1046-256BC), the first vocational centre under his moniker opened six years ago at northern Thailand's Phranakhon Si Ayutthaya Technical College.
Speaking virtually at September's meeting of the Shanghai Cooperation Organisation (SCO), President Xi Jinping promoted Luban Workshops as a means for countries to develop their economies, saying 10 centres were planned across SCO member-states, according to Chinese state media reports. The SCO currently comprises China, India, Kazakhstan, Kyrgyzstan, Russia, Tajikistan, Pakistan and Uzbekistan.
"Pakistan Luban Workshop is an important carrier of international cooperation and communication," said Irfan Saghir, a director with Punjab's Technical Educational and Vocational Training Authority, in a written response to questions.
"It serves for global capacity cooperation and technical and skilful talents cultivation for Pakistan."
Joseph Mucheru, cabinet secretary with Kenya's Ministry of Information Communication and Technology (ICT), has also hailed the workshop for "enhancing cooperation in digital space", emphasising that the cloud-computing and information-security training at the workshop's core were critically important for the country.
And beyond just developing local skills, many of the workshops are directly tied to projects linked with China's ambitious Belt and Road Initiative.
In 2019, Lu Jingquan, then deputy director of the Tianjin Municipal Education Comission, said "in order to promote the belt and road construction, the Luban Workshop provides academic education and skills training for partners in other countries".
In Djibouti, the first cohort of students from Africa's inaugural Luban Workshop will be putting their degrees to use immediately upon graduating later this year. Trained in railway operations and management; rail-engineering technology; and business and logistics, they are set to work on the China-funded Addis Ababa–Djibouti Railway.
"They are trained and equipped with targeted skills in collaboration with the enterprises they will work at after graduating," Yu Zhongwu, president of the Tianjin Railway Technical and Vocational College that provides the workshop, was quoted as saying in an August report by the state-run Global Times.
However, it is still too early to tell whether these Luban Workshops can be effective in producing a "steady stream of job-ready individuals", according to Dirk van der Kley, a research fellow with the Australian National University's School of Regulation and Global Governance.
"[Luban Workshops] are not of sufficient scale to help recipient states overcome their broader skills shortages," van der Kley said.
According to state media reports, more than 3,000 students have received certifications from Luban Workshops globally, with a further 12,000 currently being trained. By comparison, a 2018 estimate by the World Bank said Indonesia needed an additional 9 million workers skilled in information and communication technology to reach its 2030 development goals.
Kenya's Citizen Digital news site also reported in June that the ICT ministry would launch an education programme targeting 20 million people as part of its 2022-32 Digital National Masterplan.
Regardless, van der Kley said the workshops contribute to China's soft power in the region by producing "good news stories" and promoting the broader adoption of Chinese technology.
"It is also an inducement that could – in theory – be used as a sweetener to help Chinese firms win projects in other markets," he said.
Indeed, not all workshops are tied directly to large-scale infrastructure projects, either.
In 2020, Tianjin Medical College partnered with the University of Arts and Humanities of Bamako, Mali, to open a non-degree-offering Luban Workshop specialising in traditional Chinese medicine (TCM). In recent years, China has been promoting TCM as a cheaper alternative to Western medicine across the African continent.
Britain also has its own Luban Workshop. The city of Liverpool hosts a culinary workshop training local chefs in the intricacies of Chinese cuisine, which it says helps meet the changing tastes of the country.
Over the summer, delegates from more than 120 regions visited Tianjin for the inaugural World Vocational and Technical Education Development Conference. While there, authorities announced that the further development of Luban Workshops would be standardised under the China Education Association for International Exchange "to build the Luban Workshop brand".
Van der Kley said that the workshops' geographic locations and focus on vocational skills have allowed them to comparatively fly under the radar.
"Rich democracies have perhaps not noticed because most of the workshops are in emerging economies," he said.