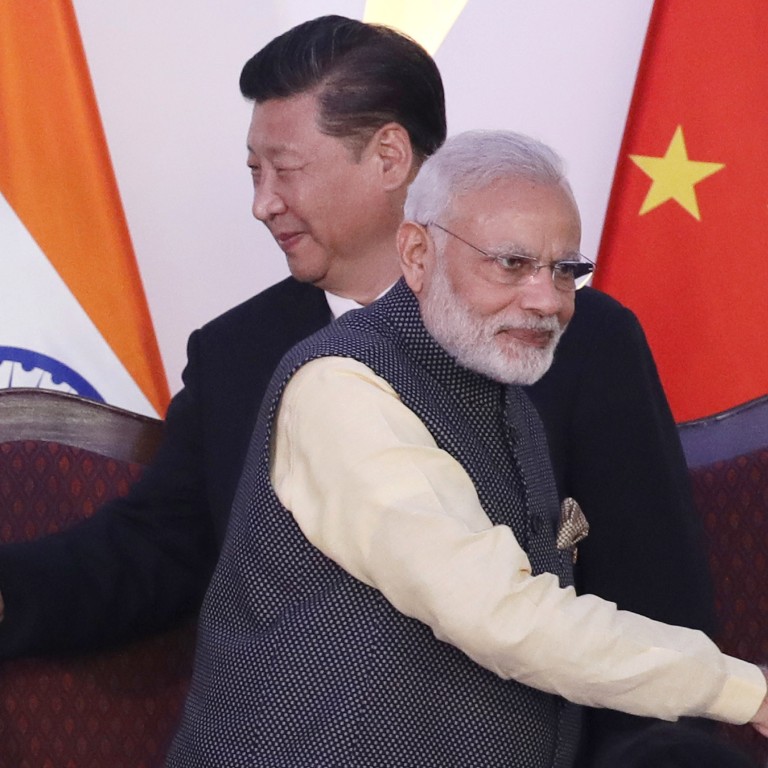 India wants to loosen import reliance on China, but it's 'becoming worse'
China's exports to India increased by 31 per cent to US$89.6 billion in the first nine months of this year, compared to the same period in 2021
India is attempting strategic decoupling from China, while trying to boost domestic manufacturing and capitalise on global investors' efforts to diversify
India's trade with China is thriving despite efforts to reduce reliance on its neighbour and bolster its own manufacturing base.
China's exports to India increased by 31 per cent to US$89.6 billion in the first nine months of this year, compared to the same period in 2021, according to data from China's General Administration of Customs.
Indian exports to China – its largest trading partner, according to Beijing – declined by 36.4 per cent in the same period, falling to US$13.9 billion between January and September.
Bilateral trade, meanwhile, is on track to exceed the previous high of US$125.6 billion last year, and was valued at US$103.6 billion in the first nine months.
"India's exports to China are mainly raw materials, which are highly substitutable in the international market," said Lin Minwang, deputy director of the Centre for South Asian Studies at Fudan University.
"On the contrary, China mainly exports manufactured products to India, and the advantages of Chinese products have been strengthened under the Covid-19 pandemic."
Relations plunged to their lowest point in decades after the border clash and stoked a wave of anti-China sentiment that led to boycotts of Chinese consumer goods.
The actions are seen by many as an attempt at strategic decoupling from China, while trying to take advantage of foreign investors' efforts to diversify from the mainland by building up its own manufacturing industries.
India has implemented various policies such as its production linked incentive (PLI) scheme to reduce dependence on Chinese imports and boost local manufacturing. However, import reliance has only increased.
India's merchandise imports between January and September were valued at US$551.6 billion, of which China accounted for US$79.1 billion, or roughly 14 per cent.
Its trade deficit with China has widened to US$75.7 billion, compared to US$46.5 billion during the same period last year.
"India's structural dependence on China is due to electronics and to some extent due to rare earth materials, as there are not enough competing sources of supplies," said Anil Bhardwaj, secretary general of the Federation of Indian Micro, Small and Medium Enterprises.
"For example, Indian companies, especially [small and medium-sized enterprises] find machines and parts from China to be extremely competitive compared to Japan, South Korea or Taiwan.
"But it is also true that the structural dependence of India on China is not absolute. India can change the import sources, albeit at a cost."
"There was a drop of about US$1.5 billion in our iron ore exports to China during April-August 2022, US$700 million in cotton exports and a significant drop in copper, aluminium, plastics and paper exports in the same period. Most of these inputs were driven by domestic demand which has taken a hit," he said.
Iron ore, iron and steel, raw cotton and cotton yarn were among India's top exports to China last year, according to the Indian Ministry of Commerce.
In May, India levied export duties ranging from 15-45 per cent on iron and steel inputs to ease pressure on domestic manufacturers and stabilise prices, which also had a significant impact on exports.
China's top exports to India include electronic components, computer hardware, telecoms instruments and bulk drugs.
India implemented the PLI scheme in 2020 as means to address this dependence by indigenising production of bulk drugs, electronics and telecoms products, among others, and subsidising their sale to make them competitive in global and domestic markets.
"The obvious target was Chinese imports. But nothing has happened in two years. If anything, [the dependence] has become worse," said Biswajit Dhar, professor of economics at the Centre for Economic Studies and Planning at Jawaharlal Nehru University.
"You need an efficient production and innovation ecosystem to be globally competitive. That doesn't seem to be happening."
"Electronics and machinery are likely to yield results shortly. Pharmaceuticals and bulk drugs are also likely to get momentum," Sahai said.
Indian industry leaders often complain the country lacks market access in China for products and services such as pharmaceuticals and IT, which India is seen to have a competitive advantage in.
"Market access remains a key issue though we have seen some improvements in the last few years. India's exports of cereals and edible products have increased," said Sahai.
However, he added, "While the Indian pharmaceutical industry has gained respectability with supply of anticancer drugs at very competitive prices, the approval process for Indian drugs is very cumbersome and time consuming."
In the pharmaceutical sector, product registration approvals by the National Medical Products Administration in China can take three to five years, whereas a normal time frame is usually around a year, according to India's pharmaceutical export promotion council.
"The IT industry is also facing market access and non-tariff barriers besides language issues," Sahai said.
Perhaps most damagingly, Dhar said a trust deficit between the two countries is a major issue.
"Unfortunately, the prevailing tense political environment is also not helpful in fostering trust between Indian and Chinese businessmen," he said. "The trade gap therefore remains."