Yuan
Get more with myNEWS
A personalised news feed of stories that matter to you
Learn more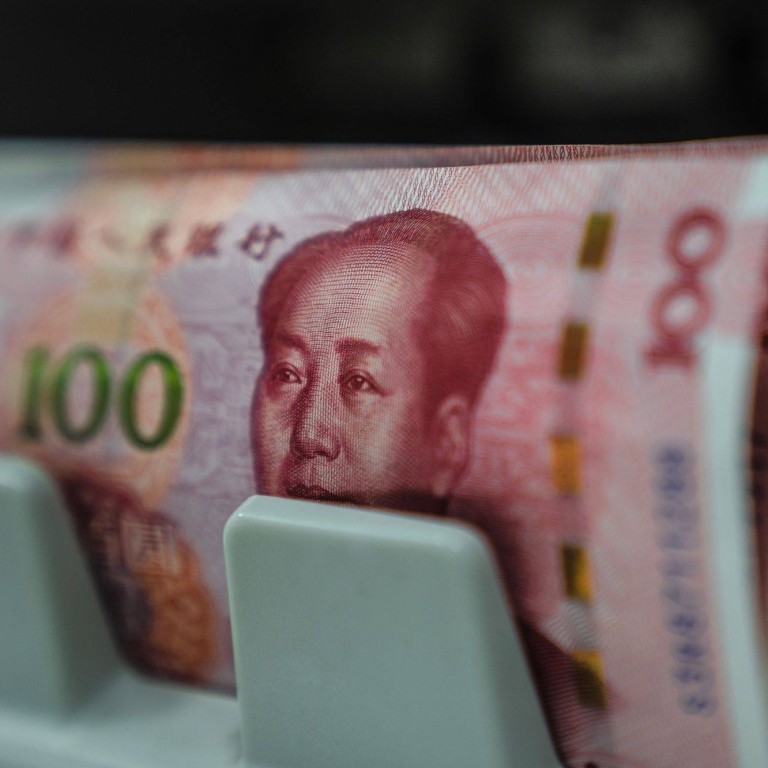 China yuan: top financial regulators raise alarm over global inflation, tightening Western monetary policy
High global inflation has been highlighted as a significant challenge for China by central bank governor Yi Gang and top banking regulator Guo Shuqing
Sentiment towards yuan-denominated assets is weakening amid concern about zero-Covid and possible intervention in the foreign exchange market
China's top financial regulators have warned about the risks of high inflation and tightening monetary policies among major Western economies as growing pressure on the yuan stokes capital outflows.
The US Federal Reserve raised interest rates by 75 basis points for the fourth consecutive time this year on Thursday to tame elevated inflation, with chairman Jerome Powell saying the inflation fight is far from over and further hikes could exceed expectations.
Increasingly divergent monetary policies between China and the United States have been a key concern of Chinese regulators, who would prefer to keep relatively loose policy as downside pressure on the yuan builds and contributes to outflows from Chinese equities and bonds.
While inflation has been milder in China compared to many Western economies, it was highlighted as a significant challenge in articles by central bank governor Yi Gang and top banking regulator
Guo Shuqing
in response to the 20th party congress report.
"High inflation is becoming the biggest challenge to the global economy," Guo said. "The central banks of major developed economies have aggressively tightened monetary policy, which is likely to trigger a widespread economic recession in Europe and the United States."
Inflation, together with the Covid-19 pandemic, geopolitical conflict, energy and food crises will continue to affect global trade, investment and international financial market stability, Guo said.
Guo's comments were echoed by Yi, the governor of the People's Bank of China (PBOC), who said that China must maintain "normal" monetary policy to promote income growth and improve the yuan's competitiveness in global financial markets.
"If the government is allowed to overdraft through the central bank and relies on printing bills to meet the needs of fiscal spending, it will eventually lead to hyperinflation, unsustainable finances and a debt crisis," Yi said.
Since Russia's invasion of Ukraine at the end of February, foreign investors have accelerated the sell-off of Chinese equities and debt. The yuan has lost 15.7 per cent against the US dollar since the start of March, though the Chinese currency has largely remained stable against a basket of currencies from its major trading partners.
In the onshore market, the yuan last traded at 7.3021 against the US dollar, following a weaker reference rate set in the morning and weaker than the previous close of 7.2890.
On Wednesday, Yi also told a conference in Hong Kong that although the yuan has weakened against the dollar this year, it has appreciated against other major currencies.
"The yuan exchange rate will continue to remain basically stable at a reasonable and balanced level, and the value and purchasing power of the yuan will remain stable," Yi said.
Analysts said growing concerns among investors that China has no clear exit plan from its zero-Covid policy and it would possibly intervene in the foreign exchange market will continue to affect sentiment towards yuan-denominated assets.
"What they [foreign investors] worry about is not the rise and fall of the exchange rate, but the non-tradable risk caused by the rigid exchange rate and having to resort to some capital foreign exchange control measures," said Guan Tao, global chief economist of BOC Securities, said in a forum arranged by Remin University of China on last week.
Guan said a flexible exchange rate regime and a lower dependence on administrative measures would help boost confidence.
Last week, the PBOC and foreign exchange regulator, the State Administration of Foreign Exchange, raised the cross-border macro prudential adjustment ratio for companies and financial institutions, which makes it easier for domestic firms to raise funds from overseas markets, allowing more capital inflows.
But with many countries including the US raising interest rates, it would be more expensive for Chinese firms to borrow in the overseas market, said analysts at Nanhua Futures in a note on Wednesday. So whether the move will support the yuan remains to be seen.
"Unless there's a significant reverse in the downtrend of China's economic data, or a strong recovery in exports and a change in investor confidence, the yuan will remain weak against the US dollar," Nanhua Futures said.
Between February and July, China suffered a record net outflow of US$81 billion via the Stock Connect and Bond Connect schemes, according to data from the Institute of International Finance (IIF).
But the pace slowed in August with an outflow of US$7.7 billion in debt and marginal gains for equities of US$1 billion, the IIF said. There was an outflow of US$700 million in Chinese equities and US$1.4 billion in debt in September, according to data from the IIF.
Analysts do not expect a quick turnaround in investor confidence in the short term due to weak prospects for the economy caused by Beijing's strict Covid containment measures.
Wang Yongli, former vice-chairman of the Bank of China, said the Covid-19 pandemic is a key challenge for the Chinese economy.
"If the pandemic is not properly alleviated, economic growth, social employment, and real estate improvement will all face great challenges," Wang said at the Renmin University of China forum.
"Therefore, in this case, it is possible for the yuan exchange rate to fall further, especially against the US dollar."
"In my opinion, as long as the yuan remains relatively stable with a basket of currencies, it is not terrible. We must avoid the situation of one-way appreciation or one-way rapid depreciation of all major currencies."
Guan at BOC Securities said that further tightening by the Federal Reserve could have an impact on China's economy through trade channels.
"The impact of the Fed's tightening on China next year may gradually evolve from a financial shock to a shock to the real economy," Guan said.