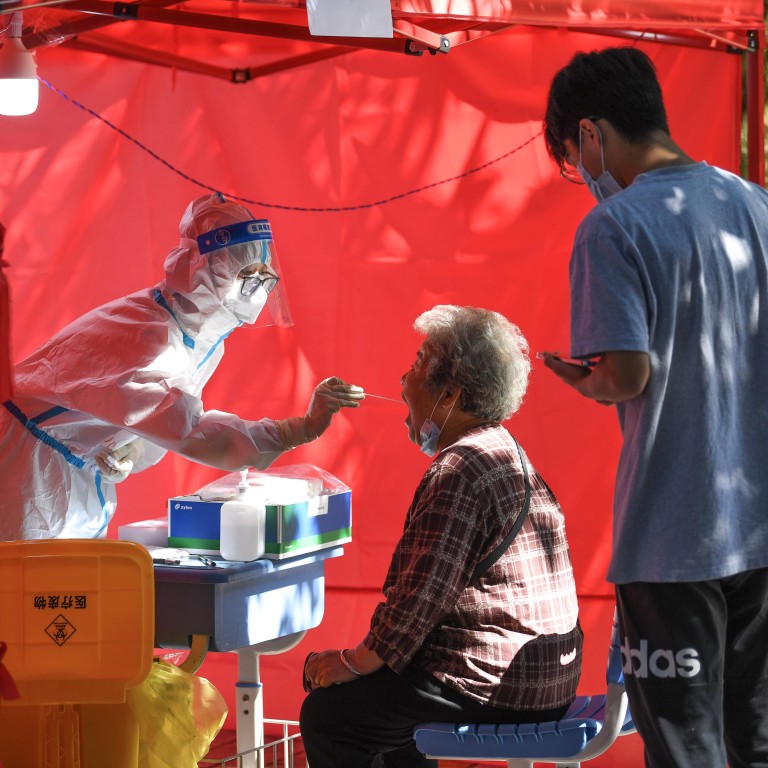 Coronavirus: cost of China's zero-Covid policy forces another local government to charge for tests
Local governments have been burdened with increased expenditure as a result of Beijing's zero-Covid policy and its hardline restrictions
While more municipalities could start charging residents for Covid tests, it does not presage a major change in government policy, analysts say
Guizhou province in southwest China is the latest in a growing number of municipalities that have started charging people for Covid-19 tests, reflecting the mounting fiscal pressures faced by local governments stretched thin by zero-Covid, a property market slump and tax rebates.
Except for residents in "risky zones", Covid tests are no longer free in Guizhou or the city of Yueyang in Hunan province, local authorities confirmed. Residents must pay a small fee, usually less than 5 yuan (US$0.70).
Across China, people still require a negative test result within 72 hours to enter public spaces, restaurants, hotels, entertainment venues, offices and use transport.
A number of cities and districts in Sichuan, Gansu, Guangdong and Yunnan provinces have also started charging for Covid tests in recent months.
Local governments have been
burdened with increased expenditure
as a result of Beijing's zero-Covid policy, which relies on lockdowns, mass testing and quarantine in government facilities.
Fiscal revenue has also been strained by a slump in the property sector and tax rebates to help virus-hit businesses.
Land sales contributed 8.7 trillion yuan to the
coffers of local authorities
across China last year, making up 42 per cent of their revenue, excluding funding from the central government.
In the first nine months of the year, China reported a total fiscal deficit of 7.1 trillion yuan (US$972 billion), three times more than the figure last year, government data showed.
At the same time, expenditure on public health grew by 10.7 per cent in the first three quarters.
Charging for testing is one of the many responses from local governments to ease the strain on finances, which is now a systematic issue facing lower levels of government across China, said Xu Tianchen, a China economist with the Economist Intelligence Unit.
"Not every government will charge people for Covid testing, but rather they will approach the fiscal gap differently, including cutting back on spending, cashing in on government-owned assets and even borrowing money from others," he said. "The question now is probably how long they can sustain their operations without expanded support from Beijing.
"The broader trend is that the government will keep exploring ways to loosen Covid-related controls and 'normalise' the economy."
The Guizhou government, whose fiscal revenue has traditionally been highly dependent on land sales, has struggled as China's real estate sector has declined. It reported general budget expenditure of 409 billion yuan in the first three quarters, and a revenue of 125 billion yuan.
If mass testing continues, more local governments could start charging for Covid tests as their revenues decline, but that would also provoke public dissatisfaction, said Peng Peng, executive chairman of the Guangdong Society of Reform.
Despite China's struggling economy due largely to zero-Covid, there is no indication that a policy shift will occur any time soon, said Wang Dan, chief economist at Hang Seng Bank China.
"Changes in Covid policies will be marginal and gradual, a sudden turn is impossible," she said.
"Covid-related infrastructure, including testing booths, medical staff and relevant industries will be kept in place for the long term to prevent mass outbreaks."
Goldman Sachs estimated in May that testing 70 per cent of the population every two days would cost as much as US$370 billion, or 2.2 per cent of China's economic output last year.
Soochow Securities estimated that the cost of regular tests in all first and second-tier cities would cost as much as
1.7 trillion yuan a year
, equivalent to 8.7 per cent of public expenditure, or 1.5 per cent of China's gross domestic product last year.