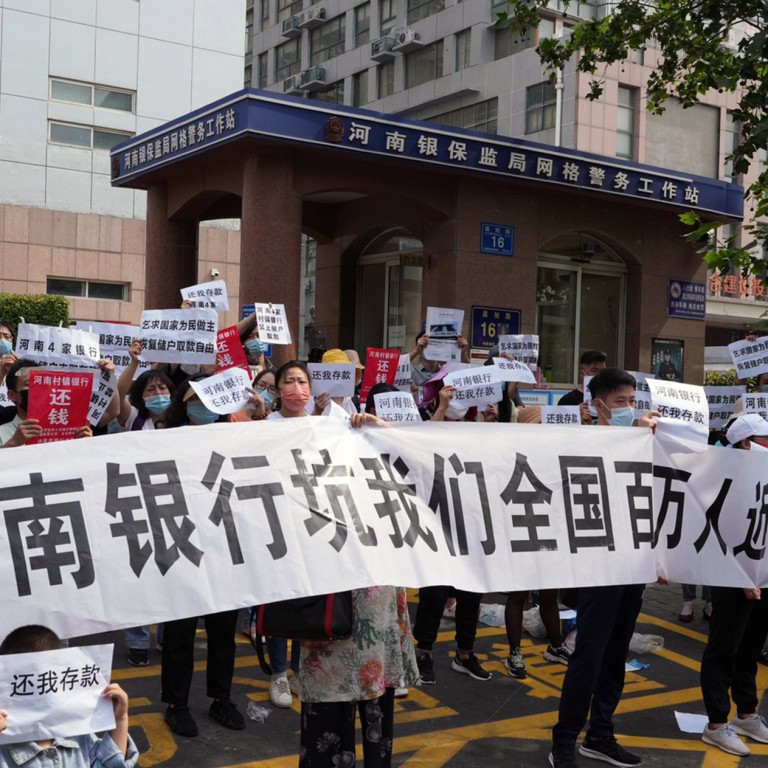 China's banking regulator calls for more risk controls, oversight in 'complicated, severe' financial situation
Sectors with vast financial resources, including internet and big data firms, are at greater risk of being over-leveraged, and preventing disorderly expansion of capital is seen as critical
From preventing home-grown threats such as the Henan cash crisis, to guarding against financial risks from abroad, China's economic and financial authorities have their hands full
China's banking regulator is calling for enhanced efforts to contain financial risks amid rising uncertainties at home and abroad, especially in industries that are closely tied to the general public, including internet financing platforms.
Guo Shuqing, chairman of the China Banking and Insurance Regulatory Commission, said that the massive financial resources of some domains – including the internet and
big data
industries – put them at greater risk of becoming over-leveraged, and this must be prevented.
"Balancing fair competition, encouraging technological innovation, and preventing disorderly expansion and savage growth [of capital] is an arduous task that we are facing," Guo wrote in an article accompanying President Xi Jinping's full work report for the 20th party congress.
"
Data security
, antitrust and the robust operation of financial infrastructure have become new concerns," Guo said.
Guo added that financial innovation must be carried out under the premise of prudential supervision – which includes requiring financial firms to control risks and hold adequate capital – while normalised supervision of online financial platforms should be implemented.
"[It is necessary to] strengthen financial anti-monopoly and antitrust [efforts]; regulate and guide the healthy development of capital in accordance with the law; and prevent the disorderly expansion of capital in the financial sector."
Dan Wang, chief economist at Hang Seng Bank China, said Guo's article emphasised the service role of finance to the real economy, while downplaying innovation in the sector.
"Years ago, there was a lot of talk about financial innovation and intelligence, but it is no longer the focus this time," she said. "So, they are saying that the financial system needs to be developed to achieve policy goals of the country, to support hi-tech industries, and at the same time strictly control financial risks."
Beijing unleashed a raft of new fintech regulations and an antitrust inquiry in the country's technology sector late in 2020, soon after
Ant Group
's US$34.5 billion dual initial public offering slated for Hong Kong and Shanghai was foiled at the last minute on the back of regulatory changes last November.
Ant Group is the fintech company affiliated with e-commerce giant Alibaba Group Holding. Alibaba owns the South China Morning Post.
Guo's article also pointed out that China has a "complicated and severe" financial-risk-control situation amid the economic distress caused by the Covid-19 pandemic, with new problems joining unresolved old ones such as shadow banks and hidden debts of local government.
"Financial crimes involving the general public have frequently occurred, and local financial organisations have weak risk-control capabilities," Guo said.
Earlier this year, a
cash crisis at rural banks
in central Henan province involving 40 billion yuan (US$5.5 billion) worth of deposits was unveiled, triggering massive protests by savers. Authorities said investigators found that Henan Xincaifu Group Investment Holding, a private investment firm with stakes in the rural lenders, colluded with bank employees to illicitly attract public funds via online platforms.
Guo also said China should step up efforts to guard against financial risks from overseas.
"The central banks of major developed economies have aggressively tightened monetary policy, which is likely to trigger a widespread economic recession in Europe and the United States," he said.
China's economic and financial regulators are expecting a major personnel reshuffle following last month's party congress. None of the current central bank and banking regulator leadership, including the 66-year-old Guo, appear on the new party elite list, which has 205 Central Committee members and 171 alternate members.