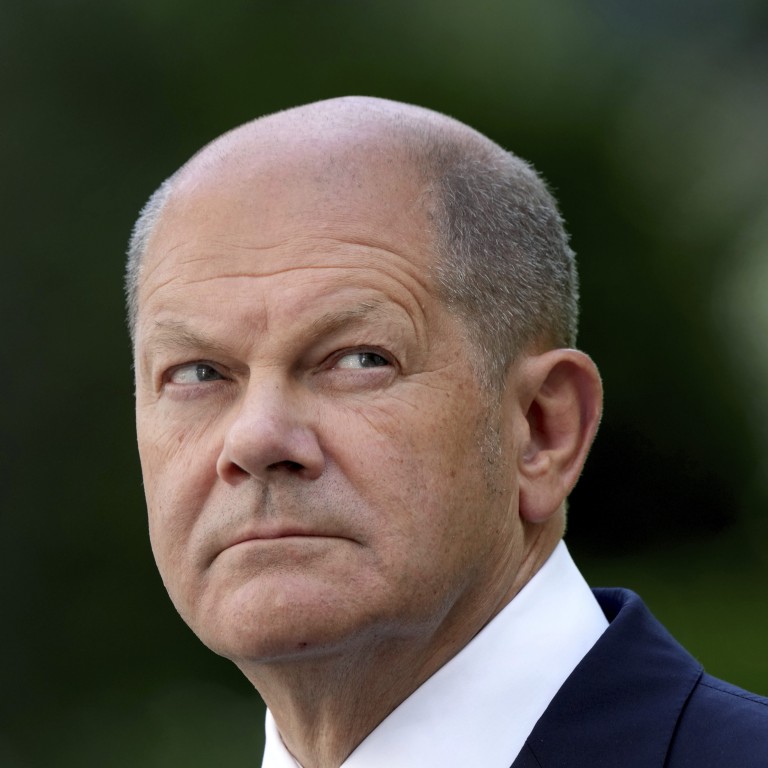 Explainer
How are trade relations between China and Germany on the eve of Olaf Scholz's visit?
Chancellor Olaf Scholz's visit to Beijing comes against a backdrop of growing tensions and calls for Europe's top economy to reduce reliance on China
But economic ties between the two countries run deep, encompassing industries from manufacturing to pharmaceuticals, and involving some of the world's biggest firms
German Chancellor Olaf Scholz will lead a business delegation on a one-day visit to China on Friday, marking the first trip by a Western leader to the country since the start of the coronavirus pandemic.
The visit will take place against a backdrop of worsening relations between Beijing and Berlin and growing calls from within Europe to reduce overreliance on China.
The trip will be keenly watched in Washington and by foreign investors in China, who are becoming increasingly frustrated with Beijing's harsh Covid policies that have effectively kept the country sealed off from the rest of the world for two years.
How are trade relations between China and Germany?
China has been Germany's largest trading partner for the past six years and by volume accounts for almost 30 per cent of the total trade between China and the European Union (EU).
Germany was China's sixth largest trading country in 2021, according to the World Trade Organization.
Germany also accounts for the EU's biggest foreign direct investment (FDI) flows into China, contributing an average of 43 per cent of total investment in the past four years, according to a study by the Rhodium Group.
The country's three largest car manufacturers and chemical group BASF account for 34 per cent of all European FDI flows in China alone.
"We have established that European investment in China is now increasingly dominated by a small number of big players, predominantly German companies," Rhodium said.
But competition between the two manufacturing powerhouses is also on the rise.
China overtook Germany for the first time in 2020 as the world's most important exporter of machinery and equipment, according to a study by the German Federation of Machinery and Equipment Manufacturers.
In the first eight months of this year, China's car exports reached 1.91 million units, overtaking Germany and leaping to second place in the world, behind Japan, Chinese statistics show.
Who is coming with Scholz and what type of outcome is expected?
According to media reports, senior business executives from 12 German companies are expected to
visit China with Scholz
, including from the car, manufacturing, chemicals, pharmaceuticals and food sectors.
Bloomberg reported the business delegation would include representatives from Adidas, Deutsche Bank, Siemens, vaccine maker BioNTech, Volkswagen and BMW, chemicals giants BASF and Wacker Chemie, and pharmaceutical firms Bayer and Merck.
The trip is expected to lead to economic deals or cooperation between the two countries, including in green finance and technology, while Germany is expected to call on Beijing to ensure a level playing field for foreign companies.
Another area to watch is progress on Covid-10 mRNA vaccine cooperation between the two countries. Chinese pharmaceutical company Fosun Pharma reached an agreement in 2020 with BioNTech to distribute – and eventually manufacture – mRNA vaccines in China, but approval has stalled.
A recent business survey by the German Chamber of Commerce in China and KPMG indicated nearly half of respondents consider China's goal of carbon neutrality by 2060 to be a business opportunity.
Berlin is reportedly set to approve a takeover of German chip producer Elmos by Sweden's Silex, a wholly owned subsidiary of China's Sai Microelectronics.
What German companies have a foothold in China?
Around 6,000 German companies are operating in China, mainly focused in the chemical, electrical and transport manufacturing sectors.
Siemens is seen as a pioneer in cooperation between the two markets since it signed an agreement with China in 1985. It now has more than 30,000 employees and over 40 operating companies in the country, with over 6,000 suppliers.
BMW opened a new plant in Shenyang in June, spending 15 billion yuan (US$2 billion), making it the company's largest single investment in the Chinese market.
It is also set to move the production line for its Mini electric models from the United Kingdom to China next year, after more than 60 years of production at its Oxford plant.
This follows an announcement from Volkswagen of further investment of around 17 billion yuan in China to work on technology development in the autonomous driving field, the company's largest investment in China in 40 years.
Chinese companies are also expanding in the German market.
SIXT, Germany's largest car rental company, signed an agreement with Chinese company BYD to buy at least 100,000 electric cars for the European market.
Last week, the German government approved the sale of a 24.9 per cent stake in the country's busiest port terminal in Hamburg to Chinese state-owned shipping company COSCO.
Are Germany and China cooperating on technology?
Germany is the largest European country with regard to technology transfers to China. By the end of September 2019, China had imported 25,166 technology patents from Germany, with a contract value of US$86.27 billion, according to the Chinese embassy in Germany.
German companies have been setting up R&D centres in China. Siemens has 20 R&D hubs including its global robotics research headquarters.
Mercedes-Benz opened the 1.1 billion yuan Daimler China Technology R&D Centre in Beijing last year.
In June, Germany's Kahl, the world's largest cleaning equipment manufacturer, invested 100 million yuan to set up a global R&D centre in Suzhou, China.
Two months later, China's Hisense Group and Germany's Leica Camera announced an agreement to jointly develop new laser TV technology.