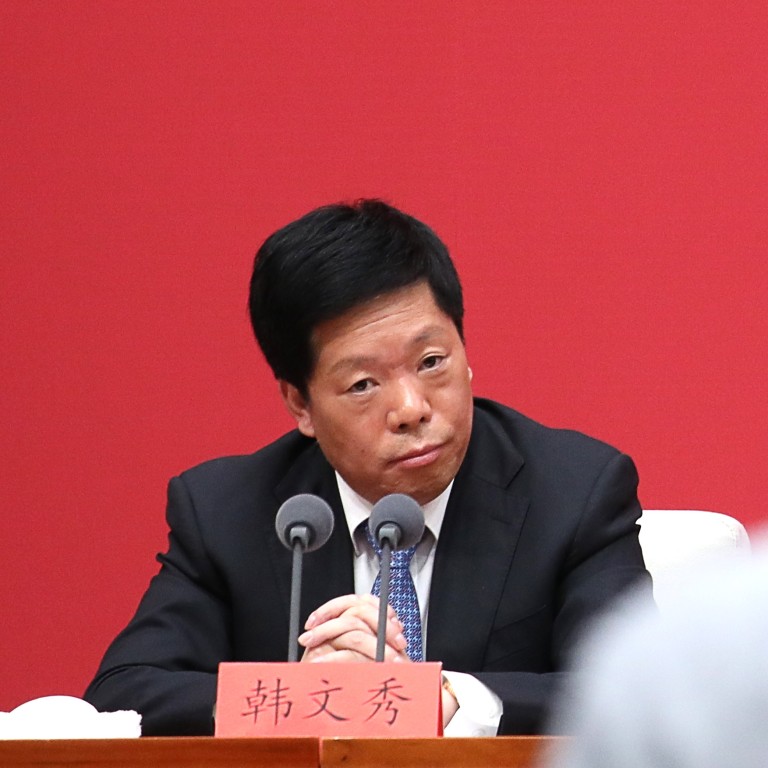 China's No 1 priority is still GDP growth, senior economic official asserts, amid focus on 'common prosperity'
Comments from Han Wenxiu come amid worries that focus on high-quality development and 'common prosperity' could sideline growth priorities
Han, 59, is expected to rise to a prominent role in the next Chinese leadership to be announced in March
China needs to regard development as the No 1 priority and ensure a "reasonable growth" of the national economy in a persistent way, a senior economic official said, outlining goals for the next five years.
The comments from Han Wenxiu, deputy director at the General Office of the Central Economic and Financial Affairs Commission, come amid market worries that China's emphasis on
high-quality development
and common prosperity could sideline the decades-old priority for growth, with the current slowdown feared to jeopardise the development trajectory.
Han, 59, is expected to rise to a prominent role in the next government line-up to be revealed when the national legislature convenes next spring.
His explanation indicated that regardless of domestic and external headwinds, the world's second-largest economy will continue to highlight gross domestic product (GDP) growth in the first year of President Xi Jinping's third five-year term.
"We must keep national economic growth within a reasonable range for a fairly long period so that the pie can get bigger, and people's living standards can catch up with that of developed countries," he wrote in an article included in Beijing's official explanation of the guidelines released at the 20th party congress last month.
The congress underlined common prosperity as a top economic priority and added the pursuit of "high-quality development" to the party's constitution, further fuelling speculation over whether China was prepared to sacrifice some growth to ease a widening wealth gap.
Han, a top aide to outgoing
vice-premier and "economic tsar" Liu He
, is among only a few senior economic cadres remaining in the newly reshuffled party Central Committee announced at the congress. Another is Yi Huiman, chairman of the China Securities Regulatory Commission.
"We need to implement prudent and effective macro-control and ensure major economic indicators stay in a reasonable range in the long run," Han said.
"Big rises or falls in the economy must be avoided."
As China faces the urgent task of
driving up growth
, restoring investor and consumer confidence would require a review of current policies relating to consumption, property, private investment, US technological containment and its
zero-Covid policy
.
Annual GDP growth has continued to slow, sliding from double-digit increases in 2010 to 5.1 per cent in 2020-21, the first year of the coronavirus pandemic. The 3 per cent growth recorded in the first nine months of 2022 is already far short of the annual target of "around 5.5 per cent".
The impact of the pandemic has been obvious, with the initial outbreaks and lockdowns plunging the economy into a rare quarterly contraction of 6.8 per cent in the first three months of 2020.
The strict zero-Covid approach to curb Covid-19 outbreaks, involving snap lockdowns that could last weeks or even months, mass testing, border controls and quarantine, sent growth plummeting to just
0.4 per cent in the second quarter.
As the coronavirus pandemic eases, China is widely believed to have the potential to maintain a 5-6 per cent growth rate.
To meet China's 2035 target of equalling moderately developed countries in per capita terms, it must double GDP from the 2020 level, or achieve annual growth of at least 4.7 per cent or higher from 2021 to 2035.
Han, who has spent a long career in the planning agency and the research office of the State Council, the Chinese cabinet, has shown interest in research into how China can surpass the United States as the world's top economy.
"We must realise that there are relatively big gaps with developed countries in terms of many economic and livelihood indicators," he noted.
Acknowledging that the old development model involving huge capital and material injections, as well as environmental damage, can no longer be sustained, Han called for
innovation to be the primary source
of future growth.
This would include the government taking the lead in key and frontier technologies for self-sufficiency, and scientists getting a bigger say in technological development, expenditure and resources, he said.
China's annual GDP target and work priorities are always deliberated at the party's central economic work conference each December, and the proposals will undergo internal consultations before their official release when the legislative meetings open in March.