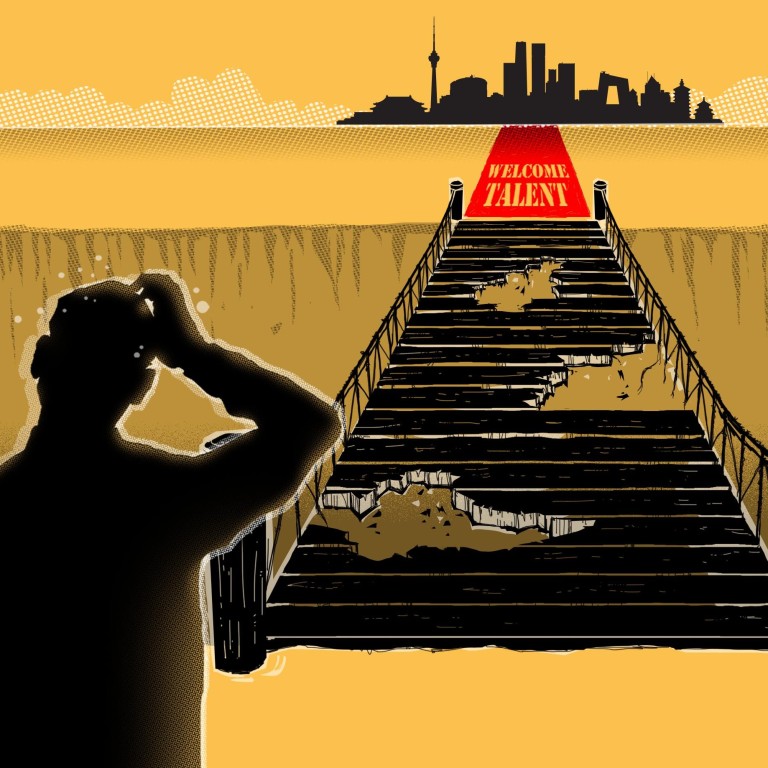 China wants to be a global talent hub, but what if they don't want to come?
Attracting top-tier professionals is critical to China's economic competitiveness, and a broadening tech war with the US makes Beijing's mission all the more urgent
Despite progress, factors such as lacklustre pay, a utilitarian research environment, and political concerns are impeding China's ability to attract and retain top-level talent
At China's recently concluded party congress, President Xi Jinping outlined ambitions to build the nation into a hub of global talent. But the road to reaching that goal promises to be a bumpy one.
Li Rongzhong decided to return to China in 2019 after teaching at Wake Forest University in the United States, where he earned postgraduate degrees in physics and computer science. He returned to expand his company, Petoi, which makes robotic cats and dogs, and he set his sights on Shenzhen as a production base because of its comprehensive supply chain and relatively low operational costs.
However, nearly all of the Chinese scientists and researchers that he knew in the US chose to stay there after landing cushy jobs at universities.
"The interpersonal relationships are much simpler [in the US]," he said. "I have an old schoolmate who came back to China to work in a university but couldn't fit in and always felt bullied."
Despite some progress, factors such as lacklustre pay, a utilitarian research environment, and political concerns have been cited as constraints on China's ability to attract and retain top-level talent.
The progress can be seen in research and development investment, which rose 14.2 per cent to 2.78 trillion yuan (US$381.7 billion) last year, and the report delivered by Xi said the country has the largest number of R&D workers in the world.
In May, Science and Technology Minister Wang Zhigang said the number of Chinese students educated abroad who were seeking employment in China had reached a record high of 1.05 million.
The boost in investment has led to the hiring of more researchers and engineers, but salaries at universities are usually not that high, said Alex Zhao, an associate professor at a university in Beijing who specialises in artificial intelligence.
"Pay is much better than before, but still not enough," he said. "University researchers often have to take on side projects solely to make more money, which makes it hard for them to focus their time on valuable projects and their real research interests.
"Because there is not enough financial support, the general research environment is impatient as well. People can't afford to do unprofitable projects. Instead, they all flock to lucrative research fields such as artificial intelligence, regardless of their research interests or capabilities."
That makes it really hard for China-based researchers to win top international awards, Zhao said.
He said his AI laboratory has received more funding because the country attaches great importance to the technology, which can be used in pandemic-control tools such as security cameras and facial-recognition software, and that has given him better resources and more time to focus on his research interests.
Shenzhen's Peacock programme, an initiative to attract high-level overseas talent, offers preferential treatment and bonuses ranging from 1.6 million to 3 million yuan over a five-year period. But inflation, yuan depreciation and higher housing prices mean the base-level bonus of 320,000 yuan a year is not as attractive now as when it was set in 2016.
As China places more emphasis on academic self-reliance, home-grown talent is gaining an edge, giving those educated overseas less incentive to return.
Zhao, who earned a PhD in electrical engineering at a top university in the United Kingdom, said talent from his alma mater was more coveted a few years ago. But now they have no advantage over graduates of top Chinese universities such as the Chinese Academy of Sciences and Peking and Tsinghua universities.
It also pledged to push forward with projects and platforms that facilitated technological breakthroughs and global collaboration.
But some frontline researchers complain that they are not provided with an environment that allows them to focus solely on scientific research.
Government-funded research institutions have been criticised for their bureaucratic atmosphere, which hinders researchers' efforts to make real progress.
According to more than 20 comments on Zhihu, a Chinese social question-and-answer website similar to Quora, by people who shared their work experiences at a well-known national laboratory, administrative staff outnumbered researchers, people were divided strictly into "castes", lower-ranking staff were often bullied, bureaucratic formalities dragged down efficiency, and funding was sometimes directed to projects that were not concrete or meaningful.
An industry insider who requested anonymity said such comments reflected the current state of Chinese academia, which was challenging for experienced talent looking to make real scientific progress in an environment that was not global enough and offered low pay relative to the cost of housing.
Shi Yinhong, an international relations professor at Renmin University, said: "As China's economy is expected to be down for a long period of time, and national fiscal revenue decreases, the available resources allocated to talent training and recruitment from overseas will evidently decrease accordingly."
The increasingly fierce ideological confrontation between China and the West has also prevented talent in Western countries, including Chinese nationals educated abroad, from coming to China and working in advanced technological fields, he added.
"China's tightening ideological censorship, as well as stringent Covid policies, have prompted students, especially those from top-tier schools and top Chinese cities, to wish to study and work abroad," Shi said.
Some say disillusionment with China's tightening political environment is another factor hindering the recruitment of talent from overseas.
"Researchers are sensitive about politics, so [those who studied abroad] choose not to come back," Zhao said.
Even those who return after studying abroad are increasingly likely to leave again, with the most prominent reasons being their inability to adapt to the complicated interpersonal relationships in China, as well as the country's performance-assessment system and management style, according to a paper published in May by Lian Si, dean of the China Youth Development Centre at the University of International Business and Economics (UIBE) in Beijing.
"The dearth of talent in the industry cannot be significantly improved within a short period of time," said Michael Zhou, an engineer at the Semiconductor Manufacturing International Corporation, China's largest chip maker, whose development and production of high-end chips has been choked by a slew of US restrictions.
"Technological breakthroughs mainly depend on talent, but China only started to attach great importance to the semiconductor industry roughly five years ago, and those who started out five years ago are still not senior yet.
"Engineers saw some improvement in salaries as investment rose, but a chunk of the money is also allocated to the production line to update the equipment, and there are a lot of places that need the money."
While Xi said China must regard talent as the foremost resource, the country lacks an obvious advantage as other Asian economies scale up their pitches to lure talent from around the world.
Hong Kong and Singapore have also stepped up efforts to woo top global talent.
In Singapore, a scheme starting next year will allow talent to stay five years rather than two or three. Applicants will need to earn S$30,000 (US$21,250) a month to qualify, comparable to the top 5 per cent of employment pass holders. The government has also set up liaison offices overseas to recruit high-end global talent.
Taiwan and Japan are also exploring ways to attract top-tier talent.
The UIBE's Lian said in the paper that China needed to "allow talent to come in, stay, do well, and make real progress".
He said the country needed a more diversified talent-selection mechanism that looked at various accomplishments rather than the number of published papers, and to build a freer environment and help top talent solve the problems they encountered.
It could also consider establishing a national scouting agency and a database to headhunt urgently needed hi-tech talent, while a security-management mechanism to prevent the outflow of top talent was vital, he added.
"In China's current management system, hi-tech talent is managed by different industries and departments, which is decentralised and makes it difficult to effectively respond to the demands and pressing issues of each individual," Lian said in the paper.
He said China should consider establishing a unified and integrated national-level hi-tech talent security management team with members from various government departments.