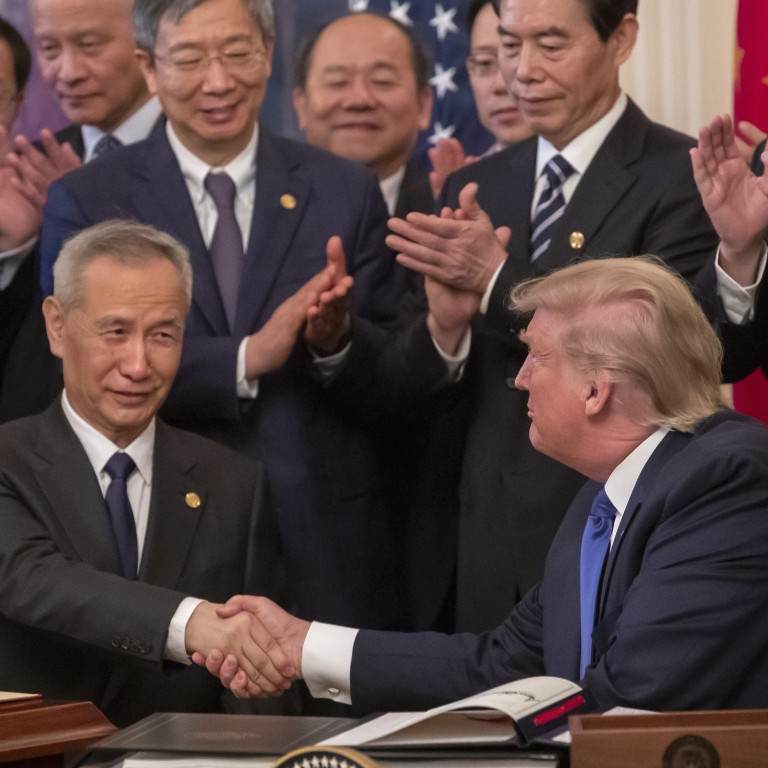 China's economic tsar sends rare public message, warnings to future policymakers
Vice-Premier Liu He, 70, has been instrumental in the development of China's economy over the past decade, but drastic policy shifts could affect his legacy
Liu reiterates the importance of boosting domestic demand and making supply-side reforms, but not reverting to full isolationism
Fresh calls by China's economic tsar – including for continued supply-side reform and closer economic connections with the rest of the world – are not only a testament to his own legacy, they may also serve to muffle expectations for a quick and impactful stimulus.
Vice-Premier Liu He's comments came as the market has been anticipating expansionary measures in the first year of President Xi Jinping's third term, with a shift away from the current preoccupation with debt curbing, financial de-risking, and the removal of obsolete industrial capacity.
His assessment serves both as a reflection of his 10 years in the economic policymaking arena, and as a rare public message to future economic policymakers – potentially Li Qiang and He Lifeng.
Liu's words, in an article published by party mouthpiece People's Daily on Friday, run contrary to a time when excessive government spending on ineffective projects resulted in a massive accumulation of dangerous debt. And they appear as a warning against an overemphasis on self-sufficiency and isolationism.
"The factors restricting our country's economic development mainly lie in the supply side, as manifested in the existence of bottlenecks, blocked points and vulnerable areas, and the current supply structure cannot adapt to the changes in the demand," Liu wrote.
The People's Daily article is part of a series about the new development guidelines – such as high-quality growth and common prosperity – that were outlined at the 20th party congress late last month. The top economic adviser didn't appear in the new 24-member Politburo line-up, in a sign that he will step down in March.
Wang Jun, a director of the China Chief Economist Forum, noted how the party congress document flags the need to boost domestic demand, in addition to further supply-side reform.
"The supply-side reform is a dynamic process, and it has already achieved initial success," he said. "The outstanding issue faced by the Chinese economy is the insufficient domestic demand. New ways of thinking and measures are now needed to tackle the problems on the ground."
While indeed toeing the party line by calling for both a domestic demand boost and supply-side reform, Liu urged the country to focus on economic development, tackle structural issues and quicken the pace of building a big domestic market in case of "extreme conditions".
"Supply-structure adjustment is essentially a reform issue," he said, calling for continued efforts to optimise the development environment, break up monopolies and invigorate market entities.
Liu, 70, was instrumental in Xi's transformation of the world's second-largest economy. In addition to taking the lead in trade negotiations with the United States, Liu played a prominent role in creating the reform document at a key policy meeting known as the
third plenum, in 2013
. That document focused on supply-side structural reform and a financial de-risking campaign.
Reflecting on Liu's time as economic tsar, Ding Shuang, chief Greater China economist with Standard Chartered Bank, said "he has been consistent in solving China's problems with reforms".
"From his viewpoint, the market-oriented approaches to invigorate the private economy, innovation and business start-ups have yet to be completed," Ding said.
Today, Beijing is at a crossroads where it could slip into a more inward-looking strategy amid deteriorating relations with major Western economies that comprise its top export destinations and major sources of technology and parts.
Authorities are also increasingly inclined toward more state-driven economic development, as the national gross domestic product (GDP) growth has already dropped far below the growth baseline, and this may jeopardise its ambition to surpass the US and double its per capita GDP by 2035.
More discussions of new policies could occur internally during December's central economic work conference, which will be attended by a new economic line-up to deliberate on 2023 economic plans, including the disruptive zero-Covid strategy and the widely watched GDP growth target.
The top leadership has been warning since late last year that China faces "
threefold pressure
" from demand contraction, supply shocks and weaker expectations, and in recent months they have downplayed their original full-year growth target of "
around 5.5 per cent
".
China's massive spending on infrastructure – up 8.6 per cent, year on year, in the first nine months – failed to bolster the economy to the desired level, given zero-Covid disruptions and the property downturn.
Liu also foresees rising risks at a broader level, including from China's rapidly ageing population, along with the weakening of the country's traditional advantages in labour and land, plus more constraints pertaining to resources, technology and the environment.
While agreeing on the need to build a strong domestic market and to prevent a big rise or fall, he warned that expansionary policy should target effective demand, rather than create new obsolete capacity or outdated products.
"They must meet the individualised, diversified and escalating needs of the people. Such investments must have a reasonable return and are constrained by principal and debt, while consumption must be based on income."
Liu and his team spent years tackling the severe overcapacity in industries such as steel, aluminium, plate glass and shipbuilding, and preventing the local debt mountain from collapsing. They also refrained from the use of a big stimulus to combat the unprecedented coronavirus pandemic, insulating the country from the type of decades-high inflation seen in the West.
"Fiscal and monetary policy can only be used when effective demand is insufficient and market expectations are weakened, and the overriding principle should be timely, appropriate, targeted and no liquidity flooding," he said.
Ding at Standard Chartered said that Liu's reluctance to rely on big stimulus measures was justified, because they – like the infrastructure spending increase seen this year – would not generate the desired results amid the nation's strict pandemic controls.
However, "it is largely a balance between short-term and long-term objectives", Ding said. "New policymakers also need to weigh the rising economic downward risks and the Covid uncertainties."
Liu also pointed to how policymakers must strive to stay ahead of market curves by enhancing market expectations, policy transparency and credibility.
"The structural change that the Chinese economy is going through is a complex process of market-oriented exploration and trial and error," Liu said.
Meanwhile, Wang Tao, chief China economist of UBS, said China has already signalled additional fiscal and monetary policy easing, and her team expects that China's GDP growth will rebound to 4.5 per cent in 2023, "led by domestic consumption".
"Consumption recovery is key in 2023 and hinges on Covid policy," she wrote in a note on Wednesday.
While years of trade war with the US and greater tech-decoupling endeavours have changed the course of China's development, Liu, who has led trade negotiations with the US and the EU, said his country's massive domestic market offers a significant advantage in helping resist external shocks.
"Some countries, ignorant of international norms and trade rules, try to exert extreme pressure by decoupling, with industrial chain disruptions and punitive measures on enterprises. It has not only hindered our country's economic development and structural upgrade, but also heavily impacted the global balance of supply and demand," his article states.
Relations with the US are expected to continue haunting China for the foreseeable future, as Washington is poised to take more containment measures with its strategic rival.
"We must guarantee a mid-level of domestic cycling under extreme conditions," Liu said while naming three key weak links: basic software, core hardware and basic raw materials.
However, the vice-premier insisted that China must adhere to a high level of opening, deeply participate in the global industrial division, and "interact actively" with the outside world.
"We should aim for international high-standard economic and trade rules, and create a market-oriented, law-based and international business environment," he added.