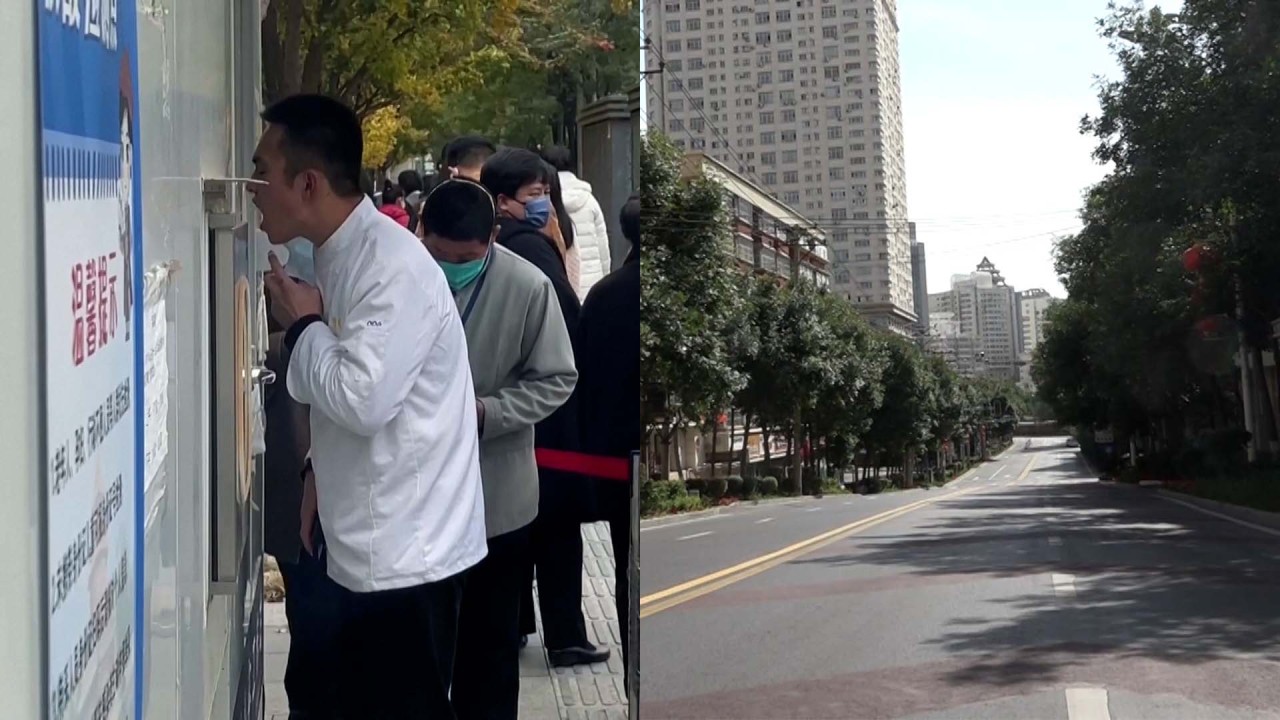 01:30
China's zero-Covid policy under pressure as infections rise in major cities
China's zero-Covid policy under pressure as infections rise in major cities
China's migrant workers forced home, factory owners struggling to survive under coronavirus lockdowns
China's southern manufacturing hub of Guangzhou is at the centre of the latest nationwide surge in cases after it reported more than 2,000 on Wednesday
Migrant workers have been forced to return home as micro- and small-sized enterprises have closed with mass testing and lockdowns in place
Lockdowns in China's southern manufacturing hub of Guangzhou have sent migrant workers scurrying for home and left the thousands of micro- and small-sized enterprises that they rely on for employment wondering if they will survive the latest coronavirus outbreak.
Guangzhou is at the centre of the latest nationwide surge in cases after it reported
more than 2,000 on Wednesday,
with mass testing and lockdowns in place for its 19 million population.
China's largest fabric market, Zhongda, is usually home to some 100,000 employees, but the 5 sq km (1.9 square mile) market, one and a half-times the size of New York's Central Park, is almost empty.
Zhongda had been until last week the home and workplace for Hu An, a skilled migrant worker from Hubei province, but he hurriedly packed up his belongings and returned home to undergo five days of local authority mandated quarantine.
"The outbreak means the end of this year's work for me. The owners and workers at most of the small workshops and factories have much less income this year compared to last year," said 30-something Hu.
On Monday, Huang Weijie, a mobile vendor selling clothes across urban cities in the Pearl River Delta, also returned to his hometown of Yangxi in western Guangdong province to continue his street stall business.
"I was selling clothes travelling in Shenzhen, Foshan, Shunde and Dongguan, and found that the flow of people was much less than last year," said Huang.
"Many factories in industrial areas across the Pearl River Delta have very few people, and many small and medium-sized enterprises have closed down. Workers are not like last year when they were out shopping and spending money.
"The outbreak only makes the situation worse so I decided to leave Guangzhou and go back to my hometown. At least I don't need to pay a high living cost at home."
Hu and Huang are just two of numerous migrant workers who have left the dense and unregulated buildings in the districts of Haizhu, Baiyun and Panyu, which are home to a high concentration of small businesses and industrial firms.
They now face potentially months without a stable and fixed income having been forced to return home earlier than normal with the traditional Lunar New Year break at the end of January when many migrant workers will change jobs having returned to their hometowns after a year away from their families.
Zhongda market usually provides
orders for tens of thousands of workshops
in the surrounding villages and is essential for more than 30,000 small and medium-sized garment factories, warehouses and logistic operations across Guangdong and other neighbouring provinces.
"My warehouse and wholesale shop are locked down at Zhongda market, while my factory in Foshan city has also halted operations," said owner Henry Su, who employs around 30 workers.
"There are thousands of small and micro enterprises like mine, and many of them have to stop work or semi-shut down. The workers can only return to their hometowns.
"I don't know if I can survive this time."
China has around 40 million small- and medium-sized enterprises employing 300 million people, while there are also more than 90 million self-employed individuals in China.
A small- and medium-sized enterprise created on average 4.6 jobs in the second quarter of this year, up from 4.4 in the first quarter but down from 6.12 in the fourth quarter of 2020, according to a Peking University report.
"We just expanded and moved our factory to a new place and encountered a sudden lockdown. We had a dozen salespeople and technicians trapped in the factory," said Bob Yao, the co-founder of a digital printing factory.
"I am very afraid that customers' equipment will need after-sales maintenance, and it will be difficult for us to get to the city where the customers are located, let alone develop new customers."
Alice He, an administrative manager for a trading company, is struggling to buy enough food each day for her few colleagues who are locked inside their office in Guangzhou's Haizhu district.
"But we had to keep working overtime during the lockdown because Double 11, China's biggest online shopping festival, is coming this weekend," she said, referring to China's Singles' Day, which is held on November 11 every year.
"Although deliveries are uncertain, if we don't try our luck, we can only close down and lay off staff.
"The firm has been losing money this year and are really relying on this shopping festival to increase some sales."
Many street lights across Guangzhou have been turned off in an attempt to reduce the number of residents travelling in a blow to many tea shops and small restaurants that rely on foot traffic.
"The lockdown is a throat cut to my business," said Daniel Zhong, a 20-something who opened a cafe earlier this year.